I love decorating for the holidays, but the problem is that it gets boring. Dragging out the same decorations year after year … sometimes it loses fun. Don't get me wrong, there are ornaments and things I have to put up every year, but the motif is always the same. The tinsel goes here, the candles go there … you get the idea. I want something new – and if you do too, then check out these 8 dazzling holiday decorating ideas!
---
1

Retro Madness

Lots of people enjoy having an old-fashioned holiday, stringing popcorn and cranberries to make garlands for the tree. But why not go old-fashioned in a retro way instead? Bring in the noise and bring in the funk with bright colors and unique decorations. Heck, you can even incorporate a disco ball!
---
2

Whimsical Wonderland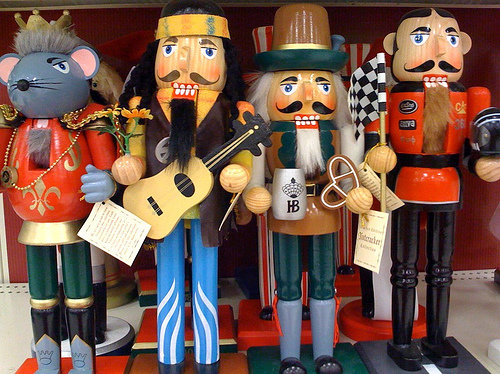 Photo Credit: Chris Devers
One great idea is to take a scene from your favorite holiday story and recreate it, either in decorations or by actually creating a tableau. You might evoke the Sugarplum Fairy in your color scheme, for instance, or you could even put together a tablescape of your favorite scene from The Grinch Who Stole Christmas.
---
3

Take It outside

Don't feel like you need to keep your imagination chained up inside. Taking your decorating outside can create a real winter wonderland. Naturally you can dress up any little pine trees in your yard, but you can also dress up porches, railings, et cetera, with lights, tinsel, even homemade decorations incorporating branches and pinecones.
---
4

Partridges & Turtledoves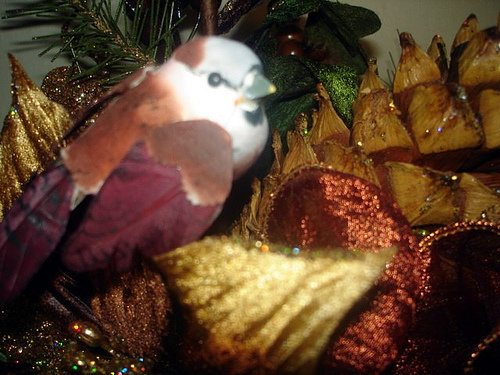 Photo Credit: hillbillyhomemaker
Feathers and avian themes are apparently extremely popular this season, and that presents a lot of opportunities. You can create your own little aviary by placing decorative, brightly colored birds on their own little tree (perhaps a pear tree), or you can simply cut loose with a feathered motif. That would look quite whimsical itself.
---
5

Glitter Craze

Glitter is also in and can create a very dramatic effect. What you want to do here is go with lots of purples and plums, golds and silvers, dark metallic greens and blues. Give your holidays some drama, incorporate feathers with it. You can technically go a little Vegas – just remember, either be tasteful or go all out; there's not really an in-between with this theme!
---
6

Budget Snow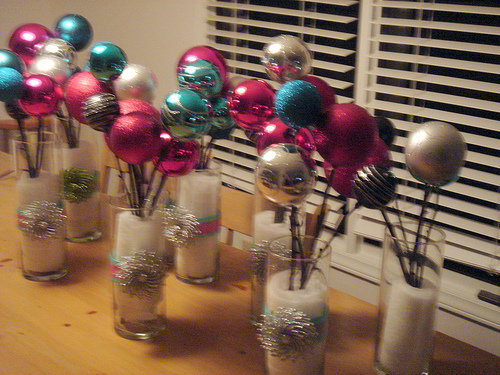 Photo Credit: pcmemories
If you don't have a lot of money to buy new decorations, make do with what you have. For instance, take some vases or pretty glasses, and fill them up halfway with salt. Stick in some pretty branches, boughs of holly, sprigs of spruce, and even some lovely ornaments. Voila! A simple, "snow"-filled accent piece for any room of the house!
---
7

Candy Coated Christmas

You can make lots of decorations with candy, especially gingerbread men and candy canes. You can fill more vases with pretty pieces of candy, you can use the canes to create a very original wreath, and the best part is, you can eat these pieces after the holidays – or during, if you want to steal some nibbles!
---
8

Wax Attack

Take some of your favorite fruits, dip them in wax – for preservation – and then go all out! One option is to skewer the fruits on flexible wire to create a garland or wreath. Longer pieces can be used so you can actually twine literal sugarplums around your bannisters and over your mantel.

You can go with unique colors rather than the traditional ones. Make this a bold, dazzling holiday – even if you don't have the money for new decorations, there are tons of items just lying around the house you can use. What are your favorite pieces to use for decorations?

Top Photo Credit: Made by BeaG
More
---
Popular
Recent