My house has plain white walls, and we are dying to dress them up and make them pop. Winter is a good time to do it for us, because you get stuck inside so often and have nothing else to do. I went on a search for ideas, and found these fantastic 8 ways to dress up your walls!
---
1

Paint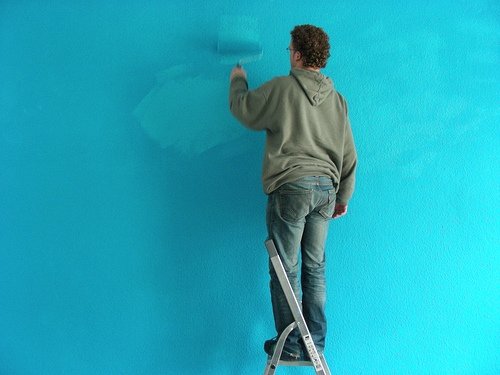 Photo Credit: tiexano
Naturally you can paint, and by that I don't even mean painting everything a solid color. You can do designs, all you need is a can of paint in a different color and a few rolls of painters tape. You can come up with pretty much any design you can think up, and the results are sure to be awesome. If you, too, have white walls, this is especially easy – you may only need one coat, in fact!
---
2

Wallpaper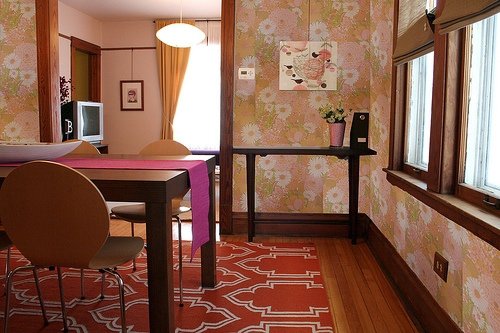 Photo Credit: pinklovesbrown
Wallpaper is a great option, if you find something you like. You don't have to wallpaper your whole room, or even the entire wall. You can stripe this as well, or go half and half with trim in between the paint and the paper. And since wallpapers are getting so much more innovative, you won't have to go with anything old-fashioned – unless you want to, of course!
---
3

Decals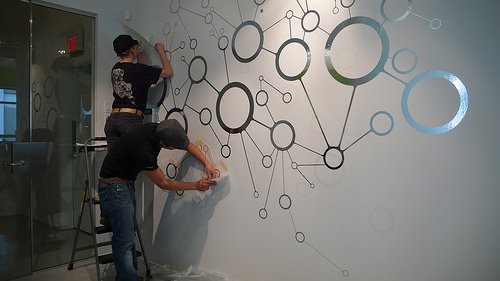 Photo Credit: Wall Tattoos by SURFACE Collective
Wall stickers and decals are becoming increasingly popular. You can find chandelier silhouettes, decals of the Eiffel Tower, and just about anything else you can possibly imagine. They come in all different colors, sizes, and designs, and make it easy to redecorate without doing any hard work. Plus, you can remove them easily as well.
---
4

Posters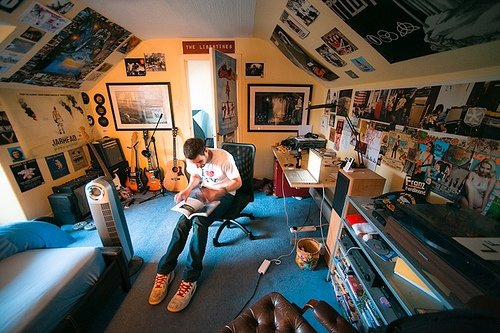 Photo Credit: TGKW
My wall decoration used to consist entirely of Dark Knight and Queer as Folk posters! Not the most stylish things in the world, but they fit the feel I was going for at the time! Besides, there are tons of art posters that actually look really stellar. They are a more casual choice, unless you decide to frame them.
---
5

Pictures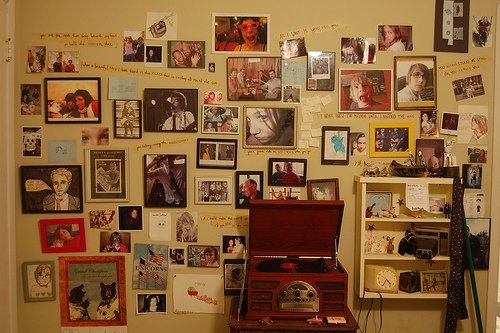 Photo Credit: summer anne
Framed pictures, whether they are photos you've taken or pieces you've purchased, can do a lot to dress up your walls. You might have original artwork on a canvas or frames full of photo collages. Either way, as long as they are meaningful to you and/or complement the room, they're really going to pop!
---
6

Shelving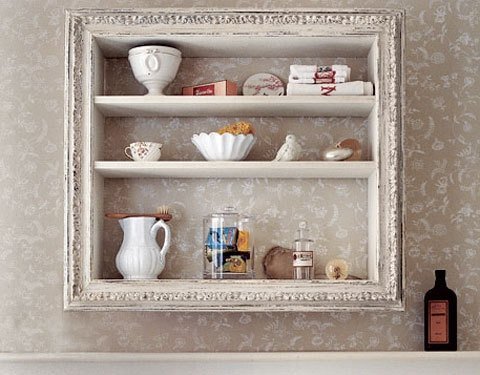 Photo Credit: Rosenatti
You don't need graphic art to work a room. There is a lot of cool shelving out there – like those neat floating shelves that look practically invisible. Arrange them in a unique way, use them to hold vases, candles, picture frames, what have you, and they will be gorgeous.
7

Fabric

Photo Credit: ameubanks.wordpress.com
My dad taught me a trick, where you can stretch flat sheets tightly across your wall so they don't look like sheets at all. This is a great alternative to wallpaper if you can't afford it or live in a place where it's not allowed. You can also paint them as you please, to create your own style of wallpaper.
---
8

Mirrors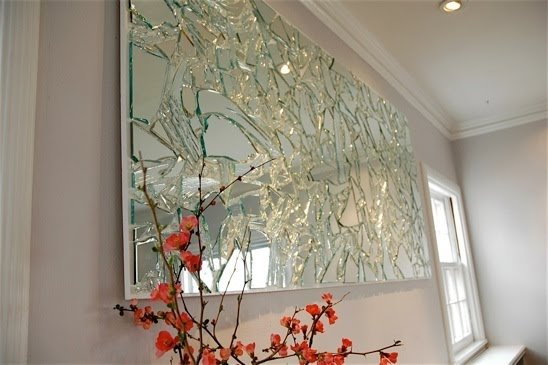 Photo Credit: somedaycrafts.blogspot.com
Mirrors make spaces look larger. Naturally, there are tons of unique and originally designed mirrors available. A well placed mirror will open up the room and act as wall art. Great idea: mirror mosaic; those are incredibly cool and surprisingly easy to design yourself.
And there you have it! As you can see, you don't have to spend a ton of money to make your walls look fantastic. What do your walls look like? Do you have any innovative DIY tips?
Top Photo Credit: swelldesigner
---
Comments
Popular
Related
Recent