You know that quip that men tell about having to remove 20 pillows from the couch before sitting – or the bed, before sleeping? Yes, I'm the butt of that joke. I cannot resist the temptation to add more – and how throw pillows can transform and "finish" a room.
Let's get decorating! Here are eight pillows that I recommend to dress up your couch:
---
1

Star Felt Pillow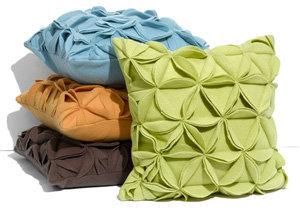 Price: $38.00 shop.nordstrom.com
When beginning to assemble your ideas – and colors – for a living area, muted colors are a good place to start. These gorgeous three-dimensional Star Felt pillows add a balanced feminine touch to your live-in Cave Man – without your male counterpart wanting to hide them from visitors.
---
2

Chunky Knit Accent Pillow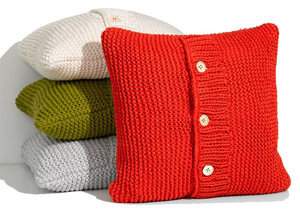 Price: $48.00 shop.nordstrom.com
Like a cozy, chunky knit winter sweater, this accent pillow goes beyond just making your couch look good – it will make YOU feel good. Complete with cardigan-cute wooden buttons, its soft material and cuteness encourages relaxation. And lounging around for hours on the weekends.
3

Osanna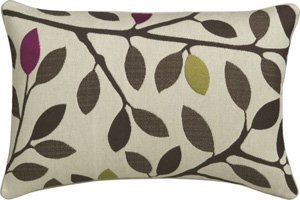 Price: $69.95 crateandbarrel.com
If you're a city girl like me, you need to bring in just a touch of the outdoors in – mostly to save you from all the surrounding concrete! This luxurious pillow has the perfect neutral colored twigs & leaves with a hint of color to add some warmth. But not so color- or earth-changing that you have to redo an entire room.
---
4

Remy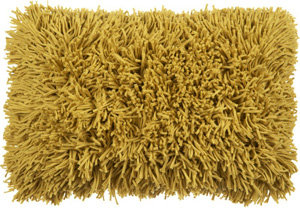 Price: $29.95 crateandbarrel.com
Reminiscent of 70s carpeting – but comfortable like a t-shirt – you will go face first into this shag-ilicious Remy. Because of its disco era canary shade, this Crate & Barrel accessory is best styled on a solid, dark colored couch. And this classic cotton jersey decorative pillow will dress your couch for decades.
---
5

Distressed Metallic Squares Bronze Pillow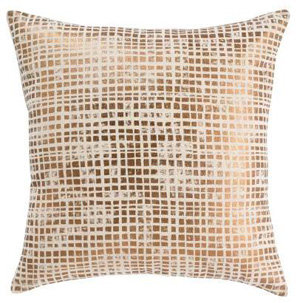 Price: $48.00 dwellstudio.com
A simple accessory to integrate some dimension and fun into your living room motif, the square foil metallic makes even the beigest of beige spaces one pillow beyond neutral. Shine on, happy pillow. And perhaps, try to encourage your (boring) owner to embrace some color?
---
6

Peacock Azure Pillow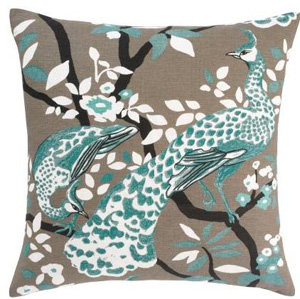 Price: $58.00 dwellstudio.com
Asian influence is a popular trend in home decoration. This Peacock Azure adds varying tints of teal and warm beiges and browns into a style that is mostly dominated by bold (and oftentimes, cold) reds and black. The opposite effect of the white is perhaps the most striking – and gorgeous -- part of this pillow.
---
7

Bird Cage Pillow by Mymimi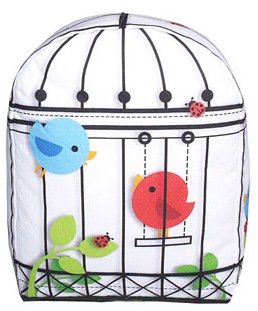 Price: $18.00 shanalogic.com
The ability to resist cute accessories is oftentimes insufferable. And always needs prior permission when you share a living space. While I'm certain this throw pillow from mymimi would NOT get a seal of approval from the boyfriend, a girl can dream that this mini Bird Cage cushion would find a good home… err, couch.
---
8

Owl Deluxe Pillow by Mymimi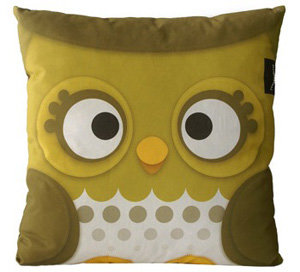 Price: $38.00 shanalogic.com
"Hoot Hoot!" indeed. And nobody will be able to resist that face! The olive color of this Owl Deluxe pillow is in an understated shade of vintage perfection, adding some wildlife fun to any living room. But I'll be sure to keep the cartoon-ish animal away from my cat (he steals everything!).
Pillow Fever! Admit it… you're as guilty as I am. While the boyfriend may have put a moratorium on pillow purchases, I'm bookmarking these lovelies for when I make my next decorating move. Which style would spruce up your sofa?
---
Comments
Popular
Related
Recent