Spring cleaning is underway and with all the dusting and shining, you might notice that your home is starting to look a little boring. Something about spring always puts me in the mood to redecorate, but I don't want to spend a fortune on a new room design. With a little experimentation, I have learned one little trick that can update your space in under a minute. Just adding new throw pillows can transform everything. It can change the color palate in the room and add new textures that change the way your room feels instantly. Here are 8 pretty pillows to update your space for spring. Choose one or combine a few to change up your space in a hurry.
---
1

Little Fish Pillow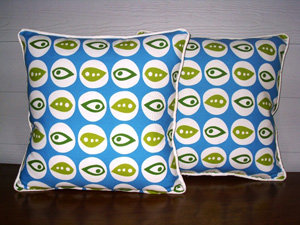 Price: 14.00 at etsy.com
If your room is bland and boring, it is time to add some color! Don't be afraid of graphic prints or bold color schemes. This pretty pillow is small enough that it won't overwhelm your space, but it will still make a big impact on how it feels. Graphic prints like this modernize your room and give it a youthful feel.
---
2

Beige Chrysant Pillow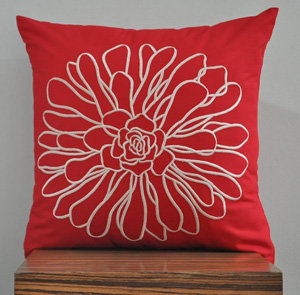 Price: 19.00 at etsy.com
Add a pop of red to your room with this pretty pillow. The red linen fabric is casual and classy so it pairs well with any kind of décor. This is the perfect way to try out a new color and see if you like it in the room. If you love the red after a month or two, you can always add more by painting an accent wall or adding a red arm chair.
Trendinig Stories
More Stories ...
3

Pure Natural Oatmeal Home Pillow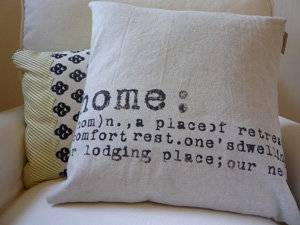 Price: 38.00 at etsy.com
This pillow is all about natural texture and the comforts of home. The typeset font adds a fun twist that will stand out from a neutral color scheme. Adding organic fabrics and soft textures to your space will make it more welcoming and soothing when you come home at the end of the day.
---
4

Thai Silk Blossom Argento Pillow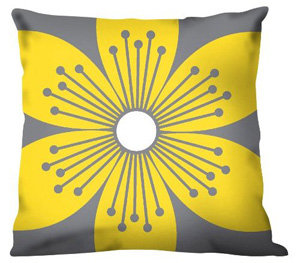 Price: 44.95 at target.com
Luxurious silk is the perfect way to add an extravagant touch to your room. Some silky pillows are too formal and stuffy. You don't want to feel like you are living in your grandma's house, do you? Of course not! That is why the Argento pillow is perfect. It gives you the gorgeous silk style with a youthful design and a cheerful yellow color.
---
5

Diamond Flower Appliqué Pillow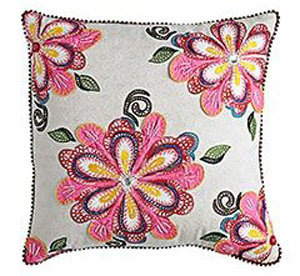 Price: 34.95 at pier1.com
Girly girls love this floral pillow covered in tiny gems. It is frivolous and impractical, but you will smile every time you see it waiting on your sofa. Indulge your inner diva with some sparkles. You know you want to!
---
6

Citron Plush Pillow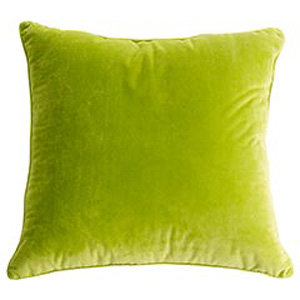 Price: 15.96 at pier1.com
Spring is all about new blooms and the appearance of fresh fruits and vegetables. The lime pillow will bring that fresh look into your space without being overwhelming. The solid color keeps it from looking like a teen's bedroom while still utilizing the bright color that reminds us all of spring.
---
7

Green Floral Lumbar Pillow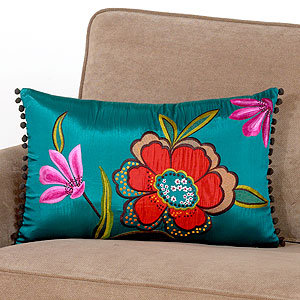 Price: 24.99 at worldmarket.com
Make your space feel a little exotic by adding this embroidered floral pillow. It introduces several new colors into your space which you could complement with more throw pillows in solid colors. Add matching accents like candles and curtains and soon your space will be completely changed by the addition of this one exquisite pillow.
---
8

Blanc Noir Toile Toss Pillow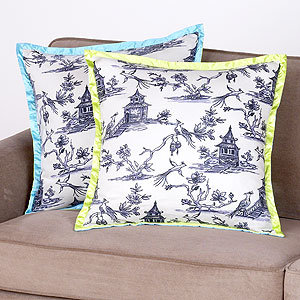 Price: 19.99 at worldmarket.com
If color terrifies you, there is no need to run in panic. There's something here for you too. These black and white pillows are classic and timeless. The simple pastel embroidery just adds enough color to surprise you when you walk by. This is the perfect way to ease your way into a more vivid color palate.
Use these 8 pretty pillows to update your space for spring. You don't need paint or curtains to transform your room. All it takes is a little creativity and a couple of beautiful throw pillows. What is your favorite tip for changing a room's look in a hurry?
Top image source: data.whicdn.com
---
Comments
Popular
Related
Recent