While some people may reserve decorating a fireplace mantel reserved for hanging stockings on Christmas Eve, I think of it as a place that begs for décor year-round. One of my friends have their flat-screen TV mounted over the fireplace, which is a modern take on the mirror or artwork over the fireplace, but I think that's a little extreme. I prefer to decorate the ledge and the space above it with something a little more unique, like the goodies on this list! Here are 7 gorgeous items for your mantel.
---
1

Pepe Vase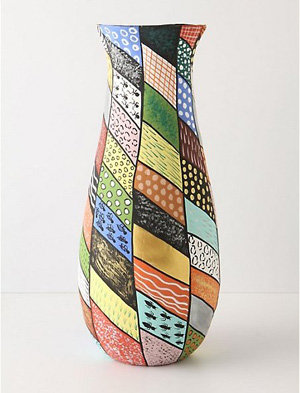 Price: $78.00 at anthropologie.com
Add a little color and a lot of style to your mantel and your room with this papier-mâché vase, handmade in Jacmel, Haiti. It stands more a foot tall, with a curvy shape, a patchwork of textures and patterns, each one beautiful and unique!
2

The Chemist's Jar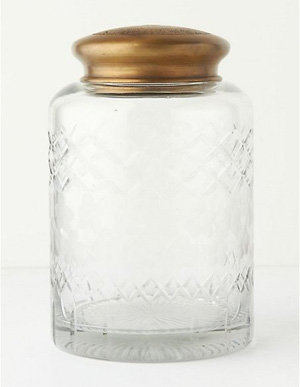 Price: $28.00 at anthropologie.com
Display this jar on your mantel as it is, or fill it with seasonal items, like acorns, faux robin's eggs, seashells, or even pretty beach stones. It's made of clear diamond-textured glass with a brass lid, and measures 4½ inches tall.
---
3

Quartz Cluster
Price: $98.00 at anthropologie.com
Bring a little of nature's wonder and beauty indoors with this 4-inch long piece of natural quartz. It's cut from a naturally-formed Brazilian geode, so each piece is truly unique and one-of-a-kind. Display one on its own, or group them to make a tableau.
---
4

Sepia Sketch Frame

Price: $24.00 at anthropologie.com
What better place to display a treasured photo than on your mantel, especially if it's inside this beautiful frame? It measures almost ten inches wide, and is designed to hold one 4-by-6 inch photo. The frame is made of cotton, brass, MDF, cardboard and glass, ideal for displaying black and white or color photos.
---
5

Gladiator Bird on Blocks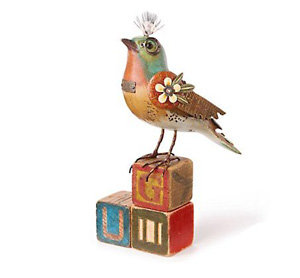 Price: $298.00 at anthropologie.com
This charming little birdie is part of a set of three "Gladiator Bird" sculptures, any of which would be right at home, perched on your mantel. He's constructed by hand of wood, brass, copped, and nickel, and there are no two that are exactly alike. I like this sculpture the best because of the little letter blocks he's standing on — I could display him on my mantel, or on my bookcase… or maybe get two, one for each spot!
---
6

Curvy Chrysanthemum Vase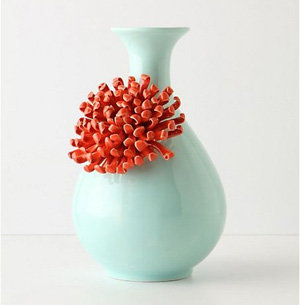 Price: $28.00 at anthropologie.com
This vase is so pretty, you won't need to add real flowers to it at all! It's made of pale turquoise stoneware with a delicate, detailed coral-colored chrysanthemum on the front. It's 9 inches tall, and would look gorgeous on a mantel!
---
7

Collected Memories Mirror

Price: $698.00 at anthropologie.com
This marvelous piece of wall décor is made of a set of found mirrors, seemingly random but matched for their elegance and charm. Each piece is unique, but they all measure approximately 5 feet wide by 4 feet tall, just the right size for hanging over your mantel, or setting along the top of it.

Look at all of these pretty things you could display on your mantel… and not one of them is electronic or a Christmas stocking! I love the mirror… I think it would add so much charm (and light) to the space. Which of these gorgeous things would you put on your mantel… or is the space reserved for your own TV? Do tell!

Top image source: data.whicdn.com
---
Popular
Related
Recent