I loved being pregnant. Truly, I did! And, I loved my maternity clothes. Years ago, when I was younger, it was hard to find stylish, maternity wear. Today, fashionable "pregnant" clothes are easier to find, and not near as expensive. Are you looking for a few great outfits, shits, or dresses to wear this fall and winter? Check out my list of trendy, fashionable, and totally cute maternity clothes!
---
1

Long Sleeve Scoop Neck

**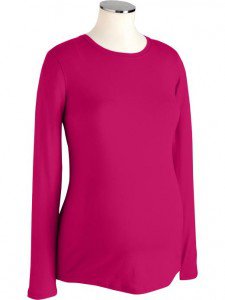 **
Price: $14.50 at oldnavy.com
I love the color of this long sleeve shirt in Blink Pink... isn't it gorgeous? Wear this top with jean material while shopping with your mother-in-law or dress it up with a cute black skirt.
---
2

Short Sleeve Polka Dots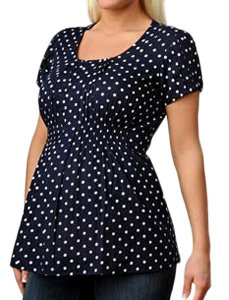 Price: $19.99 at amazon.com
For all you ladies who suffer from hot flashes during your pregnancy months, enjoy this short sleeve baby. Another great shirt you can dress up or dress down, wear it season long. If you do happen to feel a cool breeze, slip on sweater.
---
3

Does This Baby Make Me Look Fat?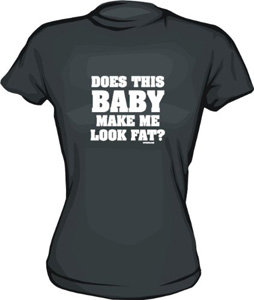 Price: $12.99 - $15.99 at amazon.com
I had to include this little t-shirt! I though it was hilarious because how many times do you ask your best friend, "does this shirt make me look fat?" Comes in size small to extra large and your choice of 6 colors.
Meream
is hilarious. :D Loving #4. Very chic. :)...
---
4

Long Sleeve Sweater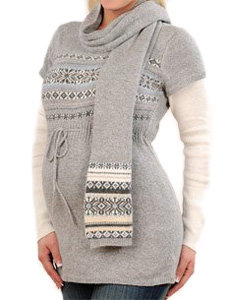 Price: $34.99 at amazon.com
If you live in an area where it gets really cold, even with your pregnant body temps, this adorable sweater was made for you! It shouts joyous songs of snow and snuggly times in front of the fireplace, doesn't it? The scarf is removable.
---
5

Black Skirt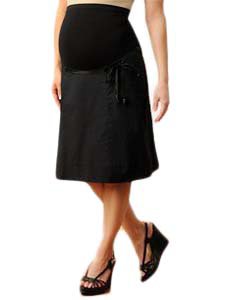 Price: $19.99 at amazon.com
A perfect skirt that goes with everything, this black skirt will be your best friend. You can wear it with a tee, a blouse, or a sweater. It has a secret fit belly and is made from stretch fabric. Let's face it, we need all the stretch we can get during this time! Am I right?
---
6

Jean Skirt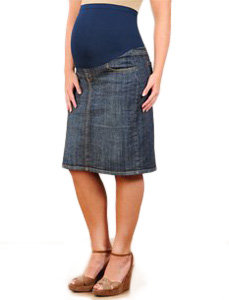 Price: $34.99 at amazon.com
Jean skirts are very hard to find while you are pregnant. So when I find a great deal on the perfect skirt, I snatch it up. This one comes with the secret fit belly and spandex ringspun denim. In other words, it is stretchy! Perfect with a cute tee and jacket.
7

Maxi Dress

Price: $48.99 at amazon.com
A Pea in the Pod dress that comes in a fabulous color. While Maxi dresses are all the rage, it's nice to find some for pregnant ladies who like to dress stylishly and comfortably. Try this maxi dress and you'll feel beautiful!

I know this list is short, but at least you can have an idea of the trendy, cute clothes that are now available for the mommy-to-be. I hope you found this list helpful! If you did, or didn't, let me know! Maybe you have found the perfect outfit. Why not let our other readers in on your fabulous find?

Top Photo Credit: Rhys Albrecht
---
Comments
Popular
Related
Recent