I love getting new pants! From ripped to boyfriend to skinny, my wardrobe is overflowing with the latest trends. But my passion for pants can never be satiated completely. Naturally I love it when designers bring out their new ranges...here's my top ten fashionable pants for 2010!
---
1

Bleached Ripped Skinny Jeans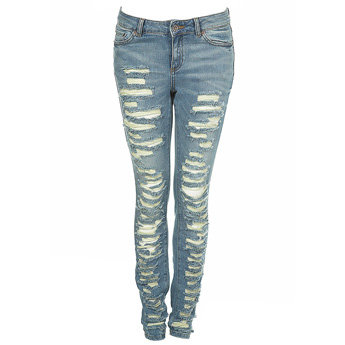 Price: $90 at us.topshop.com
Occasion: Everyday, dates
Great with: Anything! High heels or hot booties and bangles are a must, though!
I love these jeans! Ripped jeans have always been a favourite of mine, but I've never really liked any of the skinny jeansvariety. These are so different, though! From the back they look normal, but the front features lines of gorgeous rips, which are big enough to be fashionable but small enough not to make you freeze. I love teaming these with a white vest top and waistcoat, but they go with everything. A new wardrobe essential!
2

Zappora Skinny Jeans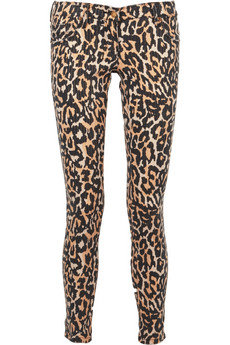 Price: $240 at net-a-porter.com
Occasion: Everyday, out with the girls, shopping
Great with: Plain block coloured tops, black heels
If you are looking for trousers which make a statement, these are the ones for you! Featuring a gorgeous animal print, they are carefully structured and patterned to ensure you look great, and they go well with most things. I'd recommend keeping your top simple, either white or black, and quite long. Add sky-scraper heels, and you've got an outfit to die for!
---
3

Vionnet Sculptural Silk Pants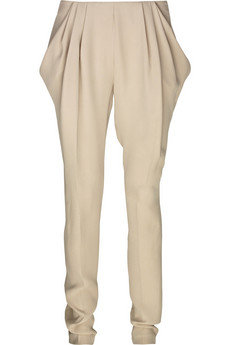 Price: $1,160 at net-a-porter.com
Occasion: Everyday, shopping, dinner
Great with: A fancy top and heels, or a vest top and flats
The sculptured side on these make them look gorgeous and being made of silk, they are amazingly comfortable too! Dress them up with a detailed top in a neutral colour and heels, or simply team with a vest top for chilling out at home. Don't forget to carry a hot handbag with it! Whatever you wear them with, you'll be stylish and comfortable, a definite winner in my book!
---
4

Notify Sequinned Skinny Jeans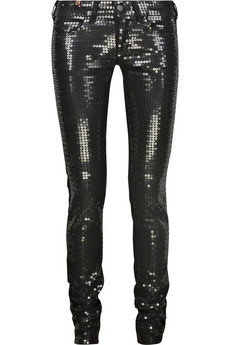 Price: $595 at net-a-porter.com
Occasion: Date, Night out with the girls, Clubbing
Great with: A long top and heels
I love sparkles, so these jeans are on my 'Most Wanted' list! The black denim is stunning on its own, but the front is covered in sparkle and really glams them up. Teamed with chunky heels, they really elongate the legs, which is perfect for short people like me, and are super comfortable too. They are quite low waisted, but surprisingly flattering, and you are sure to catch everyone's eye! Perfect to wear to the club with your bestsmoky eye look!
---
5

Acne Kex Waxed Leather Look Jeans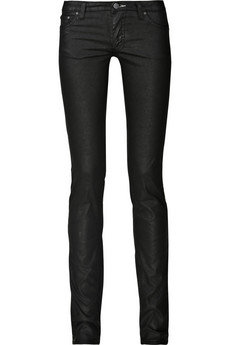 Price: $230 at net-a-porter.com
Occasion: Work, Date, Party
Great with: Heels, and any type of top! These are so versatile!
These pants are a great way to incorporate a rock and roll element into your wardrobe. They are very skin tight, but surprisingly flattering, and teamed with heels they will always look divine. I'd team them with any type of relaxed tank, or a gorgeous girly top on a first date. That will definitely leave him wanting more ;)
---
6

Rebecca Taylor Cropped Silk Harem Pants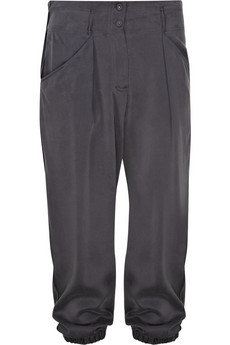 Price: $ 245 at net-a-porter.com
Occasion: Everyday, with the girls
Great with: Vest tops, leotards, waist coat, T's.
These are some seriously stylish and very relaxed pants, and I love the cropped length! It makes them perfect for hotter days, and for showing off gorgeous platform shoes to their full extent. The silk material is so soft and comfortable, and the grey colour (which I'm really digging right now btw) is versatile enough to dress up with a pretty top and sandals, or down with a T or leotard.
---
7

Bleached Piped Skinny Jeans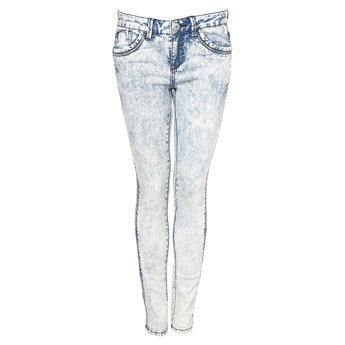 Price: $80 at us.topshop.com
Occasion: Everyday, Out with the girls, Dates,
Great with: Loose fitting tops, jumpers, casual shirts, cardigans
It wasn't long ago that bleached denim was only worn by old rockers and bad boy bands, but its been made stylish with this sexy jeans! The jeans themselves are warm, comfortable and flattering, and the pattern is just eye catching enough to be stylish and casual. I love the piping on the side, too, it's divine! While these look good with most things, cardigans look especially gorgeous, and will keep you warm too!
---
8

J Brand Low Rise Pencil Leg Pants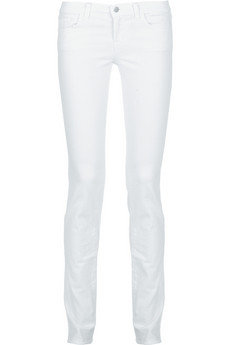 Price: $165 at net-a-porter.com
Occasion: Work, Date, Out with the Girls
Great with: Blouses, detailed tops, high heels, bright coloured coats
I've always thought white pants were so versatile! The only problem is white isn't exactly flattering if you have a big behind. So, here's one more reason to lose that butt fat fast....these gorgeous pants! The pencil leg styling is relaxed and on trend, and makes them perfect for teaming with heels. If you want a smart daytime look, try teaming with a pastel coloured blouse, or dress it up with a detailed top.
---
9

Living Dead Souls Plaid Print Skinny Jeans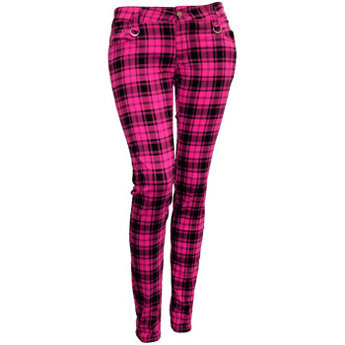 Price: $50 at bluebanana.com
Occasion: Everyday
Great with: Either plain tanks, or patterned tops!
These are so cool! Only for the brave hearted, the bright pattern is very eye catching, and doesn't fade in the wash. The pants themselves are comfortable and well fitted, pulling you in in all the right places. They look best when worn with a black tank, and heels, as the jeans are definitely bright enough to do the talking! My very favourite look with these was wearing them teamed with a leopard print top, which surprisingly looked amazing, so don't be afraid to try patterned tops too! Word of advice: Keep the accessories to a minimum.
---
10

J Brand Light Weight Denim Pants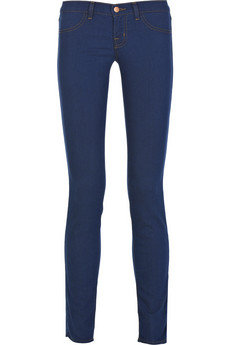 Price: $170 at net-a-porter.com
Occasion: Work, Date, Shopping
Great with: Boots, knitted jackets, tank tops
Apparently the most loved pants on the internet, these lovely mid blue trousers are divine! Smart enough to wear to formal occasions, they are a pleasant variation to normal pants, and being light weight, they are easy to wear too. Team with a tank top, wooly jacket and knee high boots for the perfect casual chic look.
With so many new pairs of pants in such gorgeous colours and styles, I know what part of my wages will be spent on! From leopard print to leather and plain, there really is a style for everyone. Why not be a little daring and buy a pair you love but would never have bought? It's a great way to kickstart a new wardrobe! Have you got a favourite pair of pants? Please let me know!
---
Comments
Popular
Related
Recent