I see a lot of blog postings about clothes for people, but what about our dogs? Dogs need some clothes too! On this posting, you are going to find not only stuff for your little dog to wear, but stuff for your big dog to wear too. Of course, I am going to include stuff for those big boys, because I am a big dog lover. I have a big pit bull and would pick that over a little one any day! No offense to the little dogs though, you're still cutie pies. Well, let's get started…
---
10

Brown Koi Fish Christian Audigier Tattoo Dog T-shirt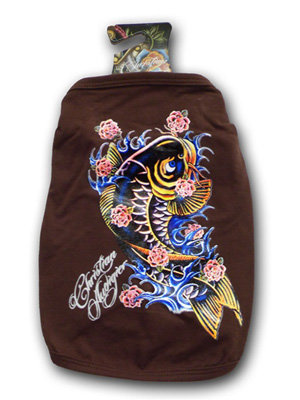 Price: $30.00 at badasspetz.com
This is by Christian Audiigier and has a fish tattoo on it. It's a cute dog shirt that has a brown background on it. It is not just a fish, it is a Koi fish. It is cotton and polyester and can be machine washed. For as little as thirty bucks, your little one could wear this.
---
9

Christian Audigier Hot Pink Dog Hoodie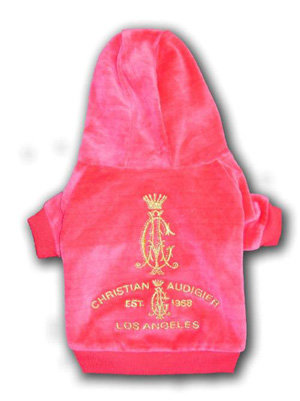 Price: $40.00 at badasspetz.com
This is by Christian Audigier. It is trendy and urban. Since it is hot pink, I only recommend you putting it on your girl. I do not think a boy dog cares too much about wearing a pink velour hoodie this winter! It even has a Christian Audigier logo embroidered on the back.
---
8

Christian Audigier Baby Pink Dog Hoodie Jumpsuit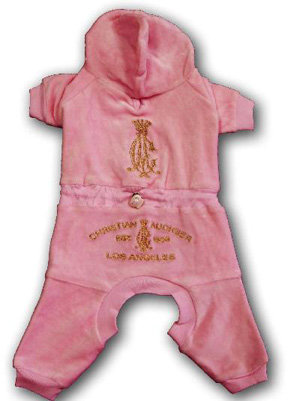 Price: $50.00 at badasspetz.com
This is another baby pink velour dog hoodie that your dog can wear. This one is also by Christian Audigier. Your doggie is going to look so good and stylish in this, just like the celebrities' pups!
---
7

Christian Audigier Apparel Harness Stiletto T-Shirt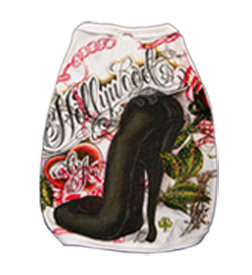 Price: $45.00 at callingalldogs.com
Surely, you want your pup to look fashionable and that is why this one is on my blog posting. Your dog is going to enjoy wearing this one. It is perfect for the tiny dog in your life. It will even make a great dog gift!
---
6

Black Dog Tuxedo

Price: $29.00 at doggieclothesline.com
Hey! Here is one for those big dogs! Do you have an event coming up? Perhaps a family picture? The black dog tuxedo is going to look good on the fellow! This is perfect for any little (more like big) doggie event.
---
5

"I Love My Pitbull" Doggie T-Shirt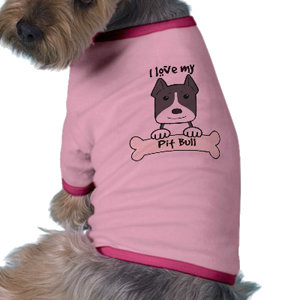 Price: $19.85 at zazzle.com
Dress your dog up in this great two-color baby rib 100% combed ring-spun cotton tee. Available in 2 great color combinations and 4 sizes. Double-needle ribbed binding on the neck, armholes and bottom seam. Select one size larger for long-haired dogs
---
4

"I'm Not a Chihuahua" Pet Tee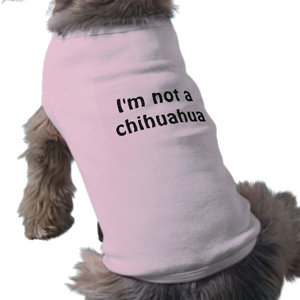 Price: $18.95 at zazzle.com
No, I am not a Chihuahua! Oh, this one will show that your dog is not a Chihuahua! This is great for baby Pit Bulls, Rottweiler's, German Shepherds and Great Danes. It is available in six different colors and seven different sizes. This will be a comfortable fit to that four legged-friend.
---
3

Top Paw Big Dog Shirt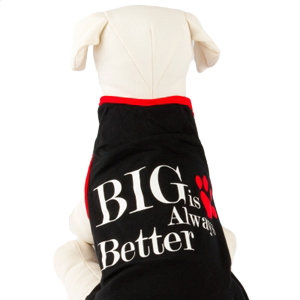 Price: $9.57 at petsmart.com
You know your dog is the top dog in your life and that is why he or she deserves a great shirt. This one comes straight from PetSmart. It says that "Bigger is always better" and in my book, that's true (for dogs). So, for all of you big dog lovers, we know you want to get your paws on this one!
---
2

Christian Audigier Dagger Tee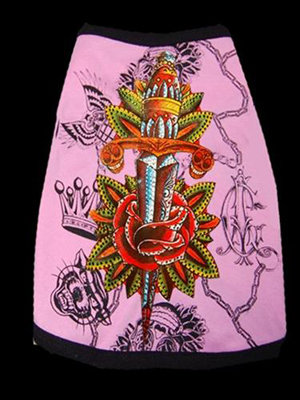 Price: $79.99 at fivestarfido.com
Here is yet another one from Christian Audigier. It has a dagger on it, which is very stylish. It has a pink background with black strip. It is made out of cotton and polyester and it can be washed in your washing machine.
---
1

Bulldog Dog Shirt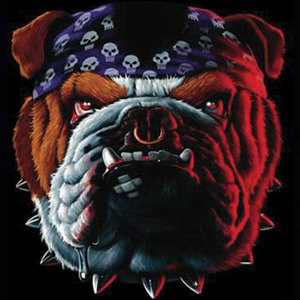 Price: $27.00 at poochieheaven.com
For all of you big bullies out there, this is a must have shirt. The big bulldog on it is adorable. It is perfect for those muscular boys. Our dog used to wear something similar to this. Also, twenty seven dollars is a perfect price for this one.
I have noticed that finding a big dog outfit is hard. Finding a little dog outfit is easy. This is why when my Pit Bull was a puppy, finding an outfit for him was very easy. I love dressing my dog up. Maybe one day, I will get a little dog so that I can take advantages of all of these pretty pink outfits! What about you, do you like dressing up your doggie? Have you found any adorable dogie clothes to share?
Top Photo Credit: Doxieone
More
---
Comments
Popular
Recent