I love looking at cute outfits for my dog. Of course, I have a grown Pit Bull, Copper, so getting my hands on a cute outfit that big is hard to do. Plus, he's a boy. Maybe, one day, I will get a girl dog, then I would dress her up in beautiful dresses. Below, I am going to give you 8 cute outfits for your dog…
---
8

Mama's Boy Doggy T-Shirt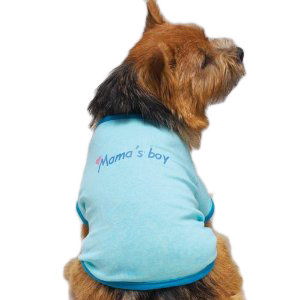 Price: $9.99 at amazon.com
This is a Mama's Boy Doggy T-Shirt that is perfect for your little man. This will tell the world exactly who they are and your dog will feel uber comfortable when he wears this. The logo on the back has been embroidered for lasting durability. Mama's Boy Doggy T-Shirt + your little friend= one adorable dog!
---
7

Psychedelic Tie Dye Peace Sign Dog T-Shirt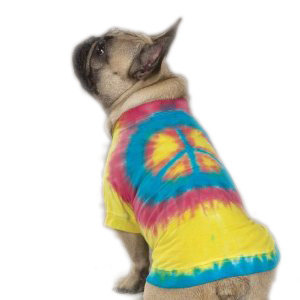 Price: $18.95 at amazon.com
A tie dye peace sign tee that gives your dog a psychedelic look? I'd definitely love to dress my dog in this. It is bright and comfortable. Even more, it is one hundred percent cotton and less than twenty bucks! Wow, girls, you can't go wrong here.
Trendinig Stories
More Stories ...
6

Shaggy Sheik Dress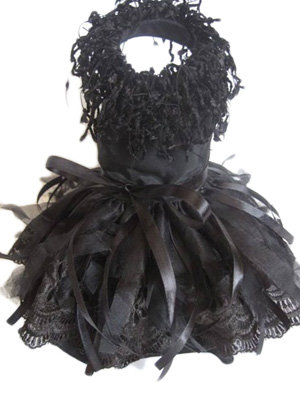 Price: $185.00 at poshpuppyboutique.com
Wow, what a beautiful, black dress! I know the price is a bit steep but if you can afford it, your four legged friend will look adorable at any event you're planning. Imagine her dressing up as a gothic dog at a Halloween party. How cute! I bet Hollywood stars are dressing up their pooches in this.
---
5

Dog Business Suit Shirt Tie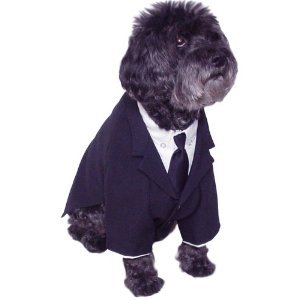 Price: $19.95 at amazon.com
How dapper would your dog look in a business suit?! This adorable outfit could be yours for less than twenty dollars! It's great for special events like weddings and birthdays. I know your dog is going to love it!
---
4

Pink Tigress Tank Dress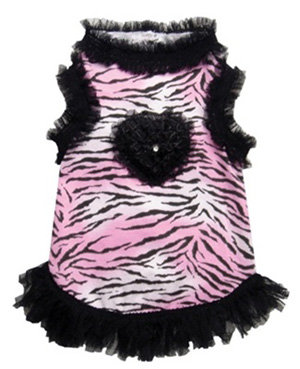 Price: $43.00 at poshpuppyboutique.com
Your girlie pup will be sure to sweep you right off of your feet when you see her wearing this dress. If your poochie has pictures coming up, then you should definitely get this for her. Don't forget to send us pictures of her!
---
3

Simply Divine Valentine Dress

Price: $195.00 at poshpuppyboutique.com
I know what you're thinking,"Wow, why is this dress so expensive?" Because my darlings, this chic outfit is 100% silk! That explains it huh? It is just perfect for weddings, anniversaries, parties or whatever special event you have coming up. Your puppy will look and feel like a million bucks! Too bad I can't put this on my pit bull.
---
2

Gold Duster Dress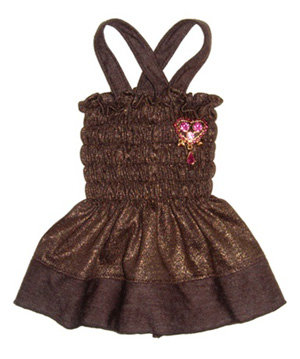 Price: $35.00 at poshpuppyboutique.com
I think this would be great to wear during a stroll down the avenue. If your four legged friend and you have some shoppingto do, then she would love to wear this on her puppy outing. This is a fine gold dusted cotton/lycra smocked dress and it's absolutely gorgeous (and affordable too!)
---
1

Moulin Rouge Jogging Suit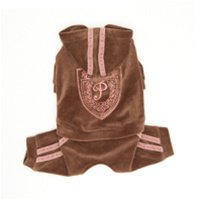 Price: $68.00 at poshpuppyboutique.com
There are a million ways you can use your pet dog to lose weight and isn't it only fair that your puppy look super adorable while at it? This is just a great jogging suit for doggies. Don't you think? And it will be super comfortable as it is made from 95% cotton.
These are 8 cute outfits that I know your dog will look gorgeous in. My favorites are 6, 5 and 3. Which ones do you like the most?
Top Photo Credit: {waynette}
---
Popular
Related
Recent