COMMENT
Manolo Blahnik has been on the scene since 1972 with his fabulous footwear designs. With boutiques all over the world he's a busy man creating some of the trendiest, hottest shoes ever seen. Obviously, you'd expect that from someone who has dedicated his whole life to the art of shoe making. If you're a shoe kind of girl you're going to want to read this! After reviewing pages online and getting my friends' votes, I've chosen his hottest shoes. Here are Manolo Blahnik's 10 Hottest Shoes (In no particular order of preference) listed below...
1. Manolo Blahnik Cava – Camel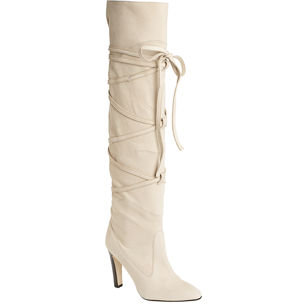 These have got to be the hottest boots Manolo Blahnik has to offer! These knee high boots in suede with a tapered toe are available in camel or black. The part that makes these boots is the wrap around tie. These boots are perfect for keeping your feet warm while still stayingfashionable during the winter. Wear these with a lovely white sweater and a pair of your favorite skinny jeans. These boots are sure to make any outfit look aw-freakin'-some!
Manolo Blahnik Notte – Black