I am a huge fan of boots. I love Payless boots, designer boots, booties, thigh highs, and ankle boots. I'm an enormous fan of Jimmy Choo too. Like, if Brian Molko ever actually said to me, "Let's spend the night at Jimmy Choo's," I'd be all over that. Since I'm not yet a best-selling author or anything, I can't actually afford them, but it doesn't cost a thing to look. That being said, here are 10 hot Jimmy Choo boots I would love to own.
---
1

The Fei Bootie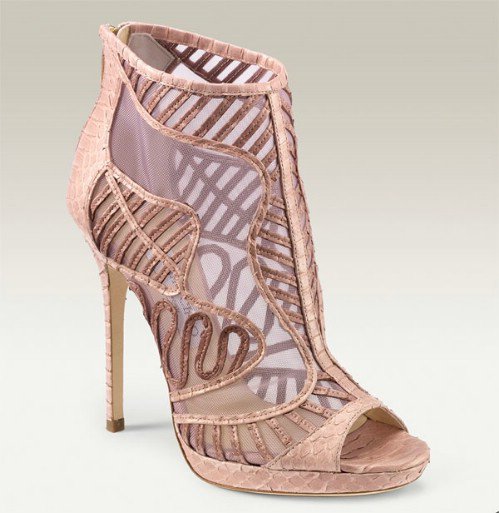 Price: $1,695.00 at shop.nordstrom.com
I don't know what it is about me and pink lately, but I'm all kinds of into various shades. It either has to be a bright, hot, rosy kind of pink or something like this: delicate and feminine. I love the look of filigree and the overlay mixed with the mesh. You could rock this casually with a pair of jeans, you could dress up basic black business attire by adding them, or you could go formal with any number of things.
---
2

The Motorcycle Boot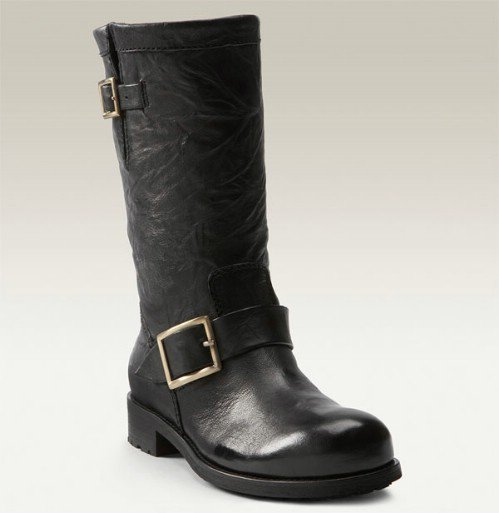 Price: $895.00 at shop.nordstrom.com
Okay, I'll be honest. I don't ride a motorcycle. Due to an unfortunate incident on a motorcycle simulation at Billy Bob's Wonderland when I was a kid, I'm actually deathly afraid of motorcycles. However, I love biker style, and I love these boots. Simple but rugged, they are like biker haute couture.
3

The Ernest over-the-Knee Boot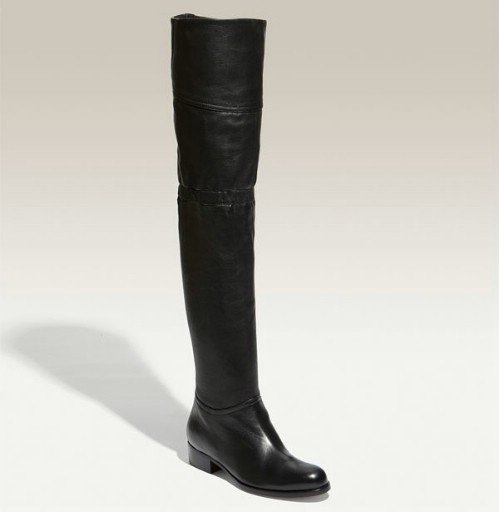 Price: $1,295.00 at shop.nordstrom.com
There's just something hot about boots that hit above the knee. I might still be caught up in the Clueless fashion aesthetic, but a tasteful short skirt paired with high boots is just so cute! I could never pull it off, but a pair like these make me want to try. They are actually designed in the equestrian style, and feature both a zipper and elastic around the top.
---
4

The Kirsten Kidskin Ankle Boot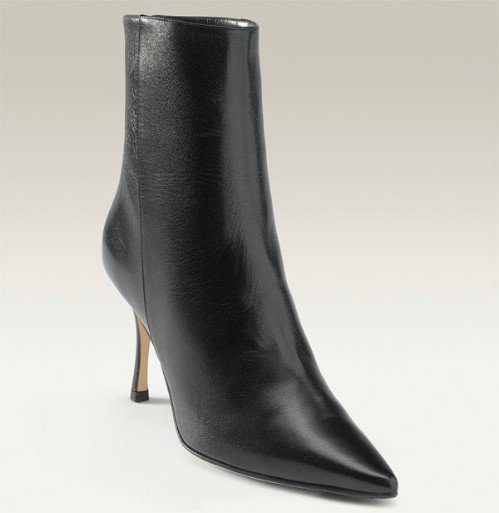 Price: $725.00 at shop.nordstrom.com
I love a stylish ankle boot, and this is just tops. The pointed toe is entirely chic and the kidskin looks luxurious even in the picture. Between me and thee, you can probably easily find a great, affordable boot modeled after this one in any number of retail stores. Still, the real thing is just a masterpiece for your feet.
---
5

The Acton Bootie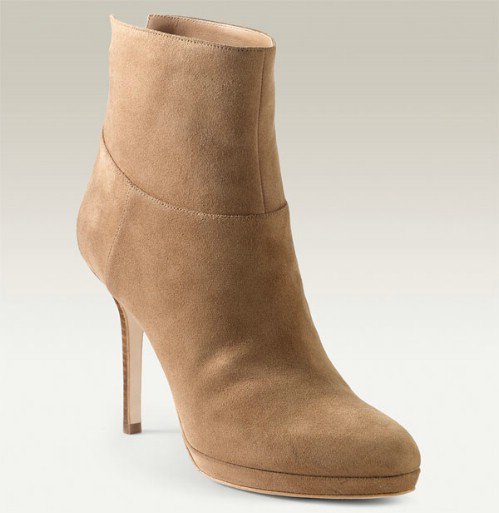 Price: $975.00 at shop.nordstrom.com
Like the previous boot, this bootie is defined as ankle high. It comes in different colors, including black and darker brown, but I like this neutral, beige shade. I think everyone needs at least one pair of neutral colored shoes in their wardrobe, even if you don't often wear the color. These have a rubber inset in the sole, so even though the heel is quite high at 3 and ¾ inches, it could still be quite comfortable.
---
6

The London Cuff Boot

Price: $1,095.00 at shop.nordstrom.com
I don't know what it is about this boot, it just seems so chic. It proves, too, that you don't need to have a high, high heel for your boots to be all kinds of sexy. It looks a bit like a riding boot as well, and being proudly Eurotrash, I'm utterly in love with anything that evokes London fashion.
---
7

The Sora Boot

Price: $695.00 at shop.nordstrom.com
This boot is actually the work of a partnership between Jimmy Choo and UGG Australia. Usually I'm not a big fan of UGGs, but I have to tell you, I like this. It figures that the first UGG I really liked would cost almost seven hundred dollars, you know? I'm normally not a big fan of fringe either, but I think it's cute here, in an ironic sort of way.
---
8

The Hunter Rain Boot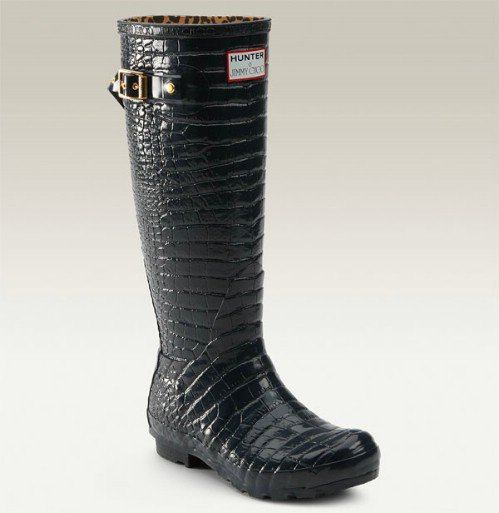 Price: $425.00 at shop.nordstrom.com
These are too much like high end Wellies for me not to absolutely love them. I'd like them better if the buckle accents were silver toned rather than gold, but what can you do? Even though they're rubber boots, the claim is that they release a wax film whenever the weather is really humid or otherwise hot, thus protecting your $400+ boots from the elements. I think they're awesome, but still, for that much money they should also come with someone who cleans and polishes them for you.
---
9

The Haze Exposed Zip Platform Boot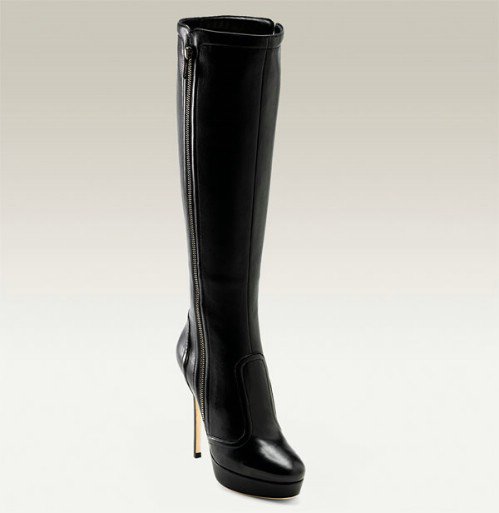 Price: $1,375.00 at shop.nordstrom.com
Now here are some high heeled knee highs for you! I love the embellishment on the top and toe of the boot, as well as the fact that they have a one inch platform to help keep you steady. Tall and sleek and sexy, these definitely make a statement.
---
10

The Faxon Bootie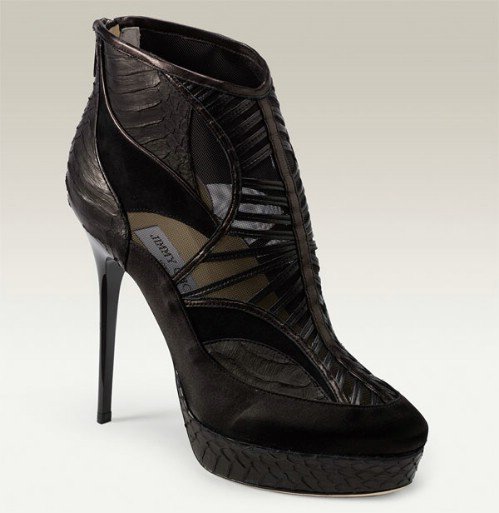 Price: $1,450.00 at shop.nordstrom.com
I love these boots for the same reasons I love those little pink numbers up there. The mix of snakeskin, satin, and luxurious leather creates a work of art rather than a mere boot. The overlay of filigree over mesh is simply gorgeous.
And there you have it. I'd put at least one or two of these on my Christmas list, but I know better. What designer brands do you die for, even if you can't afford them?
---
Comments
Popular
Related
Recent