Every girl knows the right shoes can make an outfit. If you're a punk-rock city-girl updating your work wardrobe or looking for a shoe for a special occasion, Giuseppe Zanotti has the shoe for you! This season, he seems to like inky black suede and glossy leather, with all sorts of rocker-chick details. Here's a list of my favorite Giuseppe Zanotti shoes, all of them gorgeous, high-quality, and worthy of any gal with a killer sense of style.
---
1

Giuseppe Zanotti Leopard-print Leather Pumps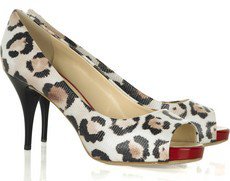 Price: $595 at net-a-porter.com
The perfect shoe for a cougar-in-training or a wild girl of any age! They're made of white leather with an iridescent, glittery leopard print, one-inch red platform, and shiny black three-inch heel. I'd wear these with a white blouse un-buttoned down to THERE, a skinny black pencil shirt, and a business-like updo. Spicy hot! Or wear them with dark skinny jeans and a sheer blouse.
2

Giuseppe Zanotti Swarovski-embellished Sandals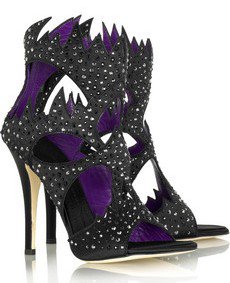 Price: $1,150 at net-a-porter.com
Be bold! Pair these black satin sandals with your favorite little black dress or sheerest black blouse. These shoes are all sumptuous details — embellished with black Swarovski crystals, a tall 4.5-inch stiletto heel, zippers at the back, cutout sides, and feathery, jagged edges. Wear them without hose, or with inky black tights.
---
3

Giuseppe Zanotti Snakeskin and Leather Pumps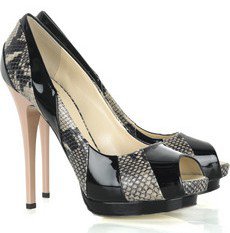 Price: $695 at net-a-porter.com
Instant street-smart attitude! These peep-toe leather pumps feature a unique snakeskin and glossy black patent patchwork that looks great with a slinky dress and tiny clutch bag. Slip on with an impossibly tall, skinny five-inch stiletto heel. These look great with or without tights or hose.
---
4

Giuseppe Zanotti Camouflage Leather Sandals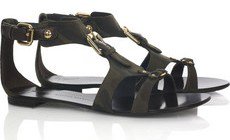 Price: $595 at net-a-porter.com
A city-girl's version of the gladiator sandal! These flats feature a modest half-inch heel and a green and brown leather camouflage print, as well as shiny gold-tone hardware, a buckle on the top of the foot, and another at the ankle. Wear these with skinny cropped jeans and a light-weight, sheer metallic sweater and a slouchy hobo bag. Or wear these with shorts and a peasant top and your biggest sunglasses.
---
5

Giuseppe Zanotti Jeweled T-Strap Sandal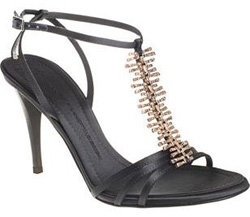 Price: $680 at barneys.com
Delicate and sexy, perfect with a pewter gown for New Year's Eve! These pretty satin sandals feature a triplet of slender straps across the toes and another at the ankle. Endless shine atop the arch with a jeweled t-strap. Demure in dark grey, almost black. I think these would look gorgeous with a deep crimson pedicure and a bold rose-gold bracelet and chandelier earrings.
---
6

Giuseppe Zanotti Crystal Cluster T-Strap Sandal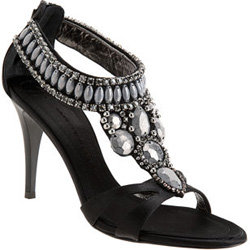 Price: $1,095 at barneys.com
What girl isn't looking to add glitter and glamour to her style? These satin t-strap sandals feature a back zip, leather sole, and, most importantly, a princess-worthy collection of brushed metal discs and crystal embellishments. Wear these with a tiny black skirt and geometric-print cobalt-blue top and tons of sooty kohl around your eyes. Or make waves at the office wearing these with black cigarette pants and a shrunken blazer or sweater.
---
7

Giuseppe Zanotti Glitter Ankle Boot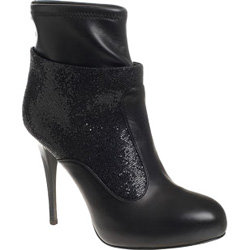 Price: $695 at barneys.com
Belize or Brazil? Paris or Peru? New York or New Delhi? Close your eyes, spin the globe, and choose your destination — just be sure to pack these globe-trotting ankle boots. Inky black leather boots with a rounded toe and glittery mesh inserts at the sides and a tall, skinny heel. Wear these anywhere and everywhere, with everything, anything… or nothing… try a short skirt and sheer blouse with a tiny black biker jacket, for starters.
---
8

Giuseppe Zanotti Skull Ballet Flats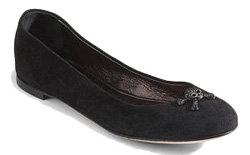 Price: $475 at saksfifthavenue.com
You certainly look like a librarian, all prim and proper and almost mousy. Careful, though… if anyone looks down at your toes, they'll know you're a closet Goth, secretly harboring naughty-girl thoughts. The glittery skull on the rounded toe is a dead give-away on these otherwise pristine, sensible black ballet flats. Get them in black metallic leather or plush, inky suede. Either way, they'll complete your good-girl-gone-bad look…
---
9

Giuseppe Zanotti Fishbone Leather Sandals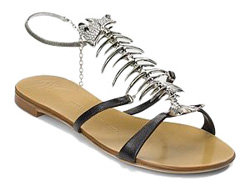 Price: $695 at saksfifthavenue.com
Wear these on a humid, sultry night on Bourbon Street and forgo all other accessories. What else would you need? These flat leather sandals boast a silver-plated fishbone ornament with a glittery abstract fish-head and skinny, eye-catching bones. Slip them on and fasten the hook-and-eye closure, then hit the crowded, smoky dance floor, close your eyes, and lose yourself in the sad, sad story of the wailing blues singer.
---
10

Giuseppe Zanotti D'Orsay Chain-Trim Sandals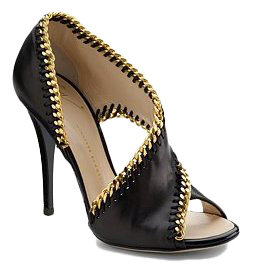 Price: $650 at saksfifthavenue.com
Slinky and curvaceous! With rich black leather and a chunky gold chain trim at the edges, these shoes are daring and sexy without being gaudy or clichéd. The heel is just over four inches with a subtle half-inch platform. Slip these on with your best little black dress and a gold clutch, or any of your tamer outfits that need a little extra punk-rock kick.
I absolutely LOVE the glittery ankle boots and would be tempted to wear them every day! I love all the funky details, and the tall, tall heels. Seriously, is there a pair in here you couldn't imagine adding to your shoe rack? Or is there another pair of Giuseppe Zanotti shoes you're pining for? Which ones, and how would you wear them? Please let me know! See if your opinions match what our other readers have to say over at Twitter!
---
Comments
Popular
Related
Recent