Do you love Valentino shoes? It's pretty impossible not to! Very few names in the fashion world can say they've been dressing stylish celebs and every-day folks for as long, or with as much flair and elegance, as Valentino. Over the weekend, Valentino designers have released a peek at their spring/summer 2010 collection, co-mingled with their marvelous fall/winter 2009 boots and shoes. And here they are, the best, most stylish Valentino shoes. Enjoy!
---
1

Valentino Pumps with Open Toe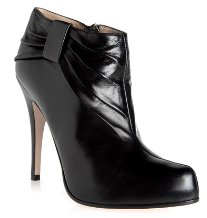 Price: $477 at store.valentino.com
This winter's most perfect little black ankle boot! Made of soft lambskin and Nappa leether, with a zipper at each side and a scrunched bow detail on the other. Stately, tall, and infinitely sexy. Wear with skinny jeans and a backless top, and carry a black Valentino bag, of course!
---
2

Valentino Flats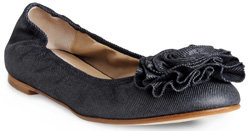 Price: $495 at store.valentino.com
Are you addicted to denim? Then these sweet ballet flats are just the thing to update your spring 2010 wardrobe. In deep blacky-blue cotton/lycra denim with a leather sole and elastic at the back for a perfect fit and — what's that? — a pretty Valentino rosette on the toe! Find these in whole sizes 6 to 11, and check out the matching handbag, too.
3

Valentino High-Heeled Sandals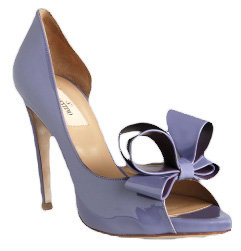 Price: $695 at store.valentino.com
Are you the kind of girl who prefers mischievous periwinkle blue or studious black? Not that it matters, because this curvaceous calf-skin patent-leather pump is available in both glossy hues. Skinny and sleek, with a pretty bow perched atop the pointed peep-toe. These sexy high heels are lovely for librarians and naughty girls alike!
---
4

Valentino Pumps with Open Toe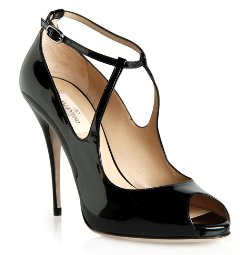 Price: $405 at valentino.com
A twist on the traditional T-strap pump — rather than one strap in the middle, these shoes have one strap on each side, and a delicate ankle strap with a tiny silver buckle. Made of rich patent calfskin leather in glossy black or pretty-in-pink. Available in sizes 5 through 11, with most half-sizes, too. Dare to wear the pink with tan dress pants, or the black with your favorite pin-stripes.
---
5

Valentino Flats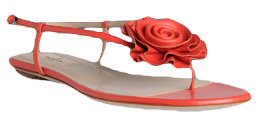 Price: $575 at store.valentino.com
Not sure what to wear with those black cigarette pants and that ruffled geometric-print top? How about a pretty coral necklace and bracelet, and these matching calf-skin leather thong flats. There's a pretty rosette on the top of the foot, and a delicate ankle strap with a tiny, shiny silver buckle.
---
6

Valentino Platform Pumps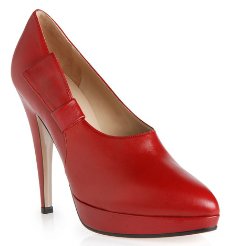 Price: $465 at store.valentino.com
Who needs another pair of boring black work shoes? Not me! I'd rather have these pretty platform pumps in matte red, perfect for adding a little spice to a bland black, white, and grey winter wardrobe. There's an abstract bow detail on the side, and a nicely pointed toe.
---
7

Valentino Ankle Boots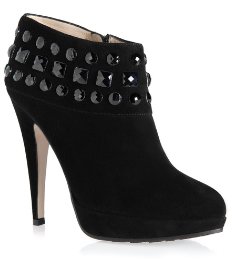 Price: $537 at store.valentino.com
Put a little glitter in your soul, or at least near your soles! These gorgeous glam ankle booties have a cuff of sparkly black gemstones to add an extra dimension of shine to your winter-wear. They have a small platform and are made of soft black suede with a leather/rubber sole. Slide them on, zip them up, and shine on, sister!
---
8

Valentino Flats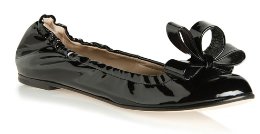 Price: $297 at store.valentino.com
Every season, I find myself yearning for new flats. This season is no different, and I've finally found the ballet flats I've been looking for. These pretty little flats are available in inky, shiny black or pretty periwinkle blue, with a bow detail on the toes. They're made of a sleek, polished polyester/polyurethane blend with elastic at the sides for a perfect fit.
---
9

Valentino Boots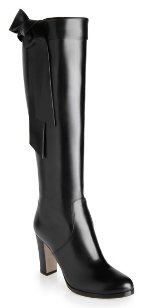 Price: $867 at store.valentino.com
If you've been searching for a new pair of tall black boots, then look no further — here they are! They're tall, shapely, and absolutely gorgeous. They're not flashy or clichéd. They're completely spot-on with their slightly pointed toe and long bow detail at the sides. Made of soft, supple calf-skin and Nappa leather with a leather sole and side zip. Wear with long skirts, short skirts, skinny jeans — everything!
---
10

Valentino High-Heeled Sandals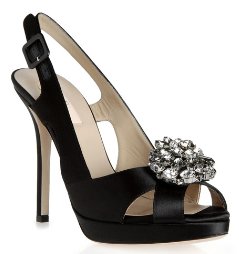 Price: $597 at store.valentino.com
If you need a sandal with a little extra sparkle to enhance your shine on New Year's Eve, this is the shoe for you, girl! These lush, black silk sandals have glamour to spare! They have a leather sole and a delicate sling-back strap with a tonal black buckle at the ankle. Most impressive is the glittering flower detail in Valentino diamante at the toe.
With a shoe for every occasion and outfit, there has to be something on this list you've got to have! I can't wait to see the rest of the spring/summer 2010 collection! Which one is your favorite? Or is there another Valentino shoe you're lusting after? What would you wear it with, and where? Please let me know!
More
---
Comments
Popular
Recent