Well ladies, with the start of Summer we see a lot of changes. We see more sunshine, more leg, more arm and a lot more feet. So good ahead and treat yourself to that pedicure. Maybe, you'll even treat yourself to a couple of these pairs of designer sandals!
---
1

Elizabeth and James Crochet Thong Sandal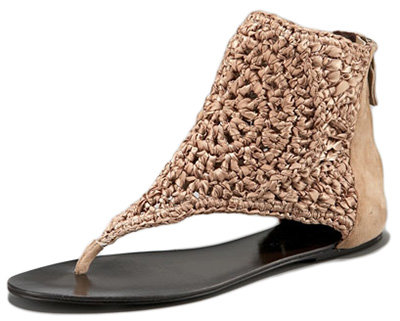 Price: $235 at neimanmarcus.com
The best thing about these sandals is how natural they look. It really looks like someone got really creative and started to braid some grass into their sandals and this was the amazing result. Be careful when wearing though, the braiding of the fabric near the edge begins to wear on your foot after a prolonged period of time!
---
2

Alexander McQueen Metallic Skull Sandal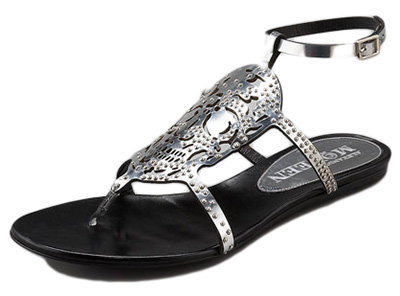 Price: $895 at: neimanmarcus.com
These sandals make the list for two reasons. First, they are absolutely amazing! Second, they are totally unique. Only Alexander McQueen can a metallic skull look phenomenal on your foot! These sandals are definitely rocker chic!
---
3

Christian Louboutin Flat Patent Sandal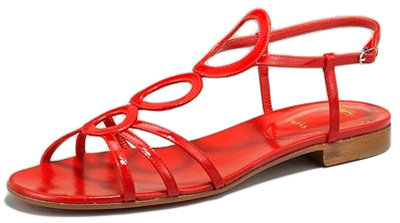 Price: $695 at: neimanmarcus.com
I've always been a woman that adores red shoes, and these sandals were no exception. They're vibrant and simple and yet, they just draw the eye down to your dainty little feet. The small cutouts help too, there's nothing like showing off a bit of foot.
---
4

Dior Stripe Gladiator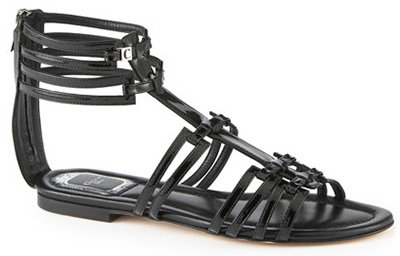 Price: $540 at neimanmarcus.com
These shoes are for lack of a better word, FIERCE. You take a step in these and without even trying you look like someone that no one wants to mess with. Highly fashionable, confident, and all because of two little shoes by Dior!
---
5

Manolo Blahnik Suede Flower Thong Sandal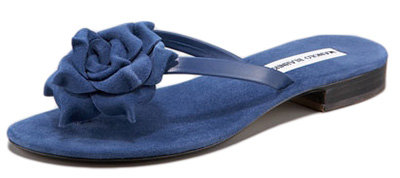 Price: $395 at neimanmarcus.com
This sandal comes in three different colors and blue is definitely my favorite. It doesn't matter if you're pale or tan, this color looks great with any skin tone and with a little French tip on each of your toes, these sandals will make your feet look flawless!
---
6

Stella McCartney Metallic Coif Sandal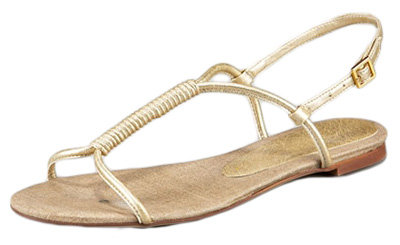 Price: $295 at neimanmarcus.com
Although these sandals are amazing, be careful when purchasing online, your feet may slide around a bit if you're off on the size. But, if you're right, these shoes look amazing on your feet. As long as you're not running anywhere in them, they're pretty comfortable all day!
---
7

Valentino Leather Flowers Sandal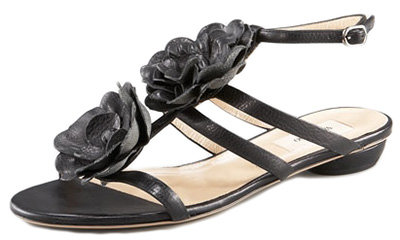 Price: $695 at neimanmarcus.com
The leather on these sandals is so soft it almost feels like you're walking in lotion. There isn't any uncomfortable rubbing and these sandals are phenomenally adorable and sexy. They're a little flirty with just a hint of sass.
---
8

Lavender Label Vera Wang Nita Flat Thong Sandal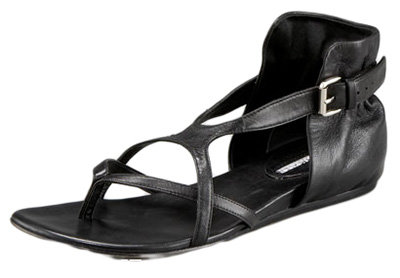 Price: $195 at neimanmarcus.com
Not only are these sandals simple and elegant, they're also pretty functional. The back and thong combination really keeps your foot in place so you can actually move around and do things in these sandals, they're not just there for decoration!
---
9

Sigerson Morrison Two-Tone Toe Loop Sandal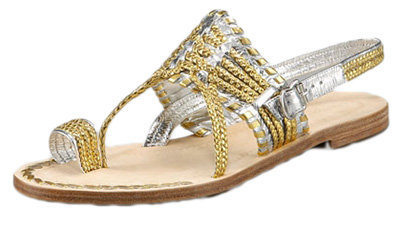 Price: $395 at neimanmarcus.com
These sandals are so unique and fresh that I can hardly describe them! It's very rare that I see sandals that I like as much as these. I mean really, with silver and gold metallic braiding, what can't you wear these with?
---
10

Rene Caovilla Pearl Thong Sandal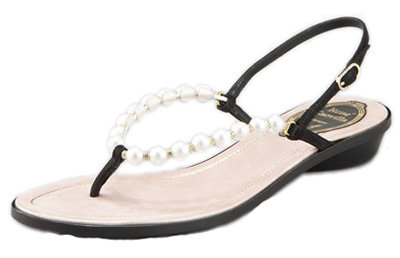 Price: $775 at neimanmarcus.com
These are one of the dressier pairs of sandals on the list but they are so elegant I just couldn't leave them off! Picture them paired with that perfect flowy black dress for Summer nights on the town. They're absolutely perfect!
Well ladies, I've given you my list of the top designer sandals... so what do you think? Should anything be added? Let me know down below!
More
---
Comments
Popular
Recent