Summer is almost here in all its warm glory and you know what that means! Beautiful sundresses, floppy hats, visits to the beach, mojitos and ... Havaianas flip flops, of course! Nothing screams comfort more than Havaianas women's sandals and no one does stylish yet comfy flip flops like this fabulous Brazilian brand. And here are my picks for the 10 Hottest Havaianas Flip Flops that are an absolute fashion must for the summer...
---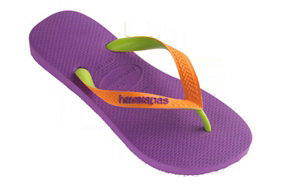 Price: $22.00
My radar automatically detects anything purple and so here we are! These flip flops are basic but the orange gives it a lovely twist. With four other color choices, I'm sure you'll find one that you like. The white with the fuchsia straps are pretty cute too. Check it out!
---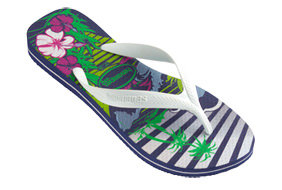 Price: $24.00
A surfer girl knows how to have fun and why should her flip flops be any different? Blue is such a flip flop classic and don't those stripes remind you of warm sun rays?
---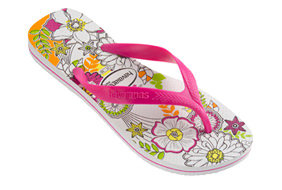 Price: $24.00
Yaay! A happy floral print! These girly white and pink flip flops are perfect for a lazy stroll on the beach or anywhere else. Pair with a cute anklet and don't forget to paint your nails!
---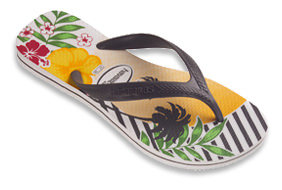 Price: $24.00
If you'd rather do something a little less colorful, how about this black and white pair? It may be a tad plain but it still has that element of fun with the yellow, pink and green vegetation print. Paired with white linen cropped pants and a feminine top, I'm sure you'd look adorable!
---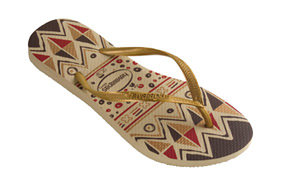 Price: $24.00
Time to move away from the beach and on to a little something more ethnic. Tribal prints are all over the place right now and for someone like me, who is a little unsure about them, this is a great way to incorporate the trend. This one is from the Havaianas slim section which translates to thinner, more delicate straps. Of course it also helps that the print is so pretty!
---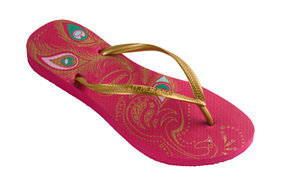 Price: $24.00
I think this might be one of my favorites of the ten choices. Why? Simply because it's whimsical and fun and pink! If pink is not your thing, check out the other three options they offer. I think I might actually get these for a possible future vacation in October. *crossed fingers*
---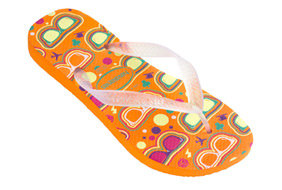 Price: $22.00
The style itself is called fun! Need I say more? It's literally an explosion of fantastic colors and it glows in the dark! I'm sold!
---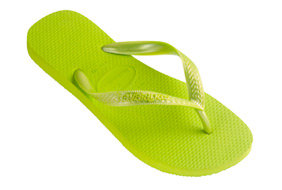 Price: $18.00
Of course a flip flop collection is incomplete without a basic pair. But basic doesn't have to be boring, does it? So how about this neon green pair of flip flops with metallic straps? If the neon green is too eye popping for you, check out their other color options. I quite like the dark brown and grey ones as well.
---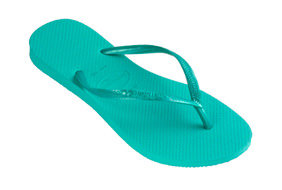 Price: $24.00
Available in 11 different colors, these fabulous Havaianas slim flip flops are comfort and style at its best! I am personally head over heels in love with this Mint Green pair here, and which color would you pick?
---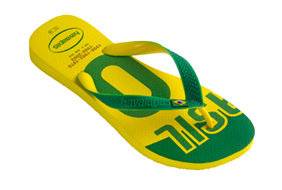 Price: $24.00
If you're a sports girl and not afraid to show it, how about this set of flip flops of teams from all over. This one is dedicated to a dear friend and her everlasting love for Kaka. (This does represent the Brazilian team right?)
These are only ten of the many wonderful choices they have on their site. Besides women's sandals they also have a section for men and kids! Are you a flip flop girl? Which of these fabulous **Havaianas**** flip flops** you like best? Tell me all!
More
---
Comments
Popular
Recent