A woman can never have enough shoes, but now that spring is right around the corner, it's the perfect time to spice up your wardrobe with sexy new sandals. The designers have been working hard, and there are some stunning new pairs. I really struggled to pick my favourites! Here they are though, my top ten sexy high heel sandals!
---
1

The Classics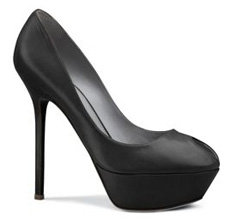 Price: $690 at sergiorossi.com
These are just a fabulous pair of shoes! While I have lots of pairs of black shoes, these ones just seem so superior. I can't put my finger on why though... from the four inch high heels to the shiny black leather, they scream understated chic, and would be the perfect finishing touch to any outfit. I want them and I want them now!
---
2

Golden Cage Pump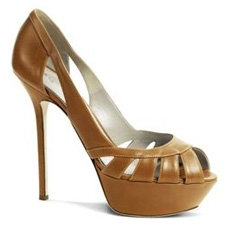 Price: $750 at sergiorossi.com
I love the autumnal colour of these shoes... it's such a pure, pretty gold! I usually avoid gold shoes, as they can look tacky, but these are an instant injection of smart, classy colour. The four inch heel helps with the sexiness too. Teamed witha skirt or dress and tights, these will look fabulous!
3

Cut out Satin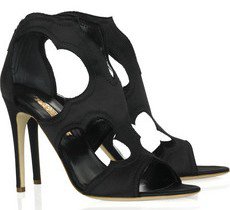 Price: $660 at net-a-porter.com
Cutout shoes are all the rage right now and I can see why! Made with soft satin, these are very girly, and the four inch heels make them sexy too. Add in the rocky cut outs, and you've some seriously statement shoes! Wear with a suit to add some spice, or with a skirt for an evening look.
---
4

Animal Print

Price: $295 at net-a-porter.com
I love animal print, but less is usually more, and I've never risked it with shoes before. Until now! Diane von Furstenberg has made the perfect animal print shoes, mixing 4.5 inch heels, sexy straps and statement zebra print. I love them! Even just with your favorite pair of skinny jeans, these hot shoes will transform your outfit.
---
5

Bright Slingbacks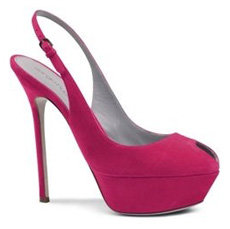 Price: $695 at sergiorossi.com
Brown slingbacks are far too common these days and black ones remind me of my gran most of the time. These ones are gorgeous though! Given a colourful update in this hot pink and a higher heel, these are modern and super comfy too. They'd look perfect with summer dresses, and to brighten up a suit!
---
6

Chain Trimmed Fendi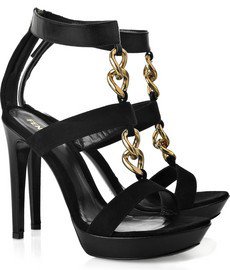 Price: $795 at net-a-porter.com
Five inch heels, shiny black leather, soft suede, matte gold chain. What else could you want? These are the perfect shoes for injecting attitude into an outfit, and making your shoes the focal point. They are so comfy and the straps are well placed to elongate the legs. Whether you are rocking a little black dressor a jumpsuit, these will go perfectly with anything.
---
7

Rivets and Suede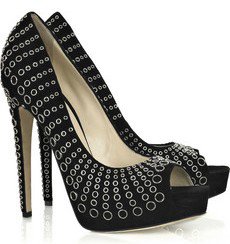 Price: $1,485 at net-a-porter.com
I love unusual, cool shoes so these are right up my street! These shoes have a classic shape, and feel so comfortable, but the well placed rivets look sexy and stylish. They scream confidence, attitude and sexiness, and due to their tame colour and nature, you can wear them anywhere. It's impossible not to feel good in these!
---
8

Vintage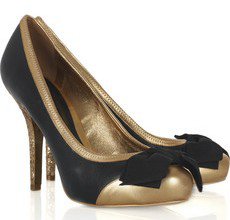 Price: $260 at net-a-porter.com
These might be my favourite shoes ever! The black is classic and keeps them suitable for every occasion while the gold spices them up and gives them a new look. It's the bow though that adds vintage appeal and really finishes the shoe off. I love the sparkly heel too! These really are the most beautiful evening shoes ever!
---
9

Gladiator Style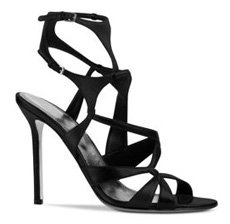 Price: $740 at sergiorossi.com
Gladiator flats were huge throughout the summer and with shoes like these around, thisfashion trend is set to continue! Soft and comfortable, they are very chic, and also amazingly flattering. My legs looked so much longer and sexier! These would look tres chic with a gorgeous cocktail dress.
Fatima
come to me!! Look at the price tag. $740! I won't ...
---
10

Bright and Colourful!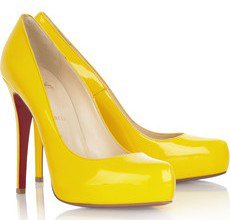 Price: $625 at net-a-porter.com
There's nothing that will make you feel summery like a pair of colourful shoes and this is the perfect pair. Anyone who looks at your feet will smile, and the red underside is the perfect finishing touch. Surprisingly, they go well with most colours, too! Team with a white sundress for maximum impact or with straight jeans and a white shirt and spread the smiles!
I love sandals, and you can never have too many pairs. Whether they are bright and tall or sexy and full of attitude, new shoes are sure to put a smile on your face and make you feel good about yourself. That's a good enough reason to splurge in my book! Have you got a favourite pair of sexy sandals? Please let me know!
---
Comments
Popular
Related
Recent