With so many Fashion Trends appearing in all of our favorite shops, it can be a little confusing to figure out which of these fabulous fashion trends to add to your wardrobe, and how. You know coral is a hot color, but how to wear it? And is layering still okay? After scouring video of the trendiest catwalks across the globe, I've compiled this primer, a go-to list of the Top 20 Fashion Trends for Summer, along with ideas on how to wear them. Print it, hang it in your dressing room, and get ready to wow with this ultimate list of Top 20 Fashion Trends of this season!
HOT FASHION TRENDS TO TRY THIS SEASON:
---
1

A Blast of Bright Color - One of This Season's Most Favorite Fashion Trends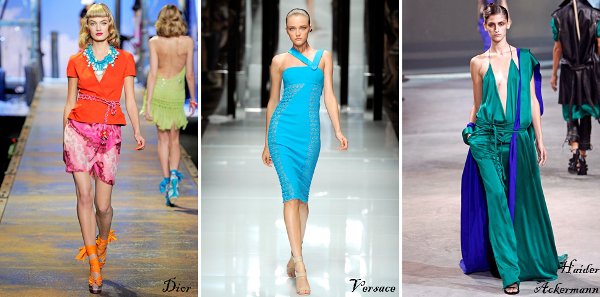 ****
Best of This Fashion Trend: An off-the-shoulder blouse in coral, or hot pink, or azur blue or any other bright color that's equally fabulous.
Whether you prefer coral or turquoise, this summer, the pastels have taken a second row, replaced by look-at-me brights, marvelous for mixing with other hot summer fashion trends of 2011: bright white and color-blocking! All over catwalks and store shelves, these vivid hues are gracing everything from belts and blouses to skirts and shoes, so it's easy to add this hot trend to your wardrobe! And don't be afraid to mix these bold colors, you'll be surprised at how well bright green works with hot pink and purple and how coral looks fantastic with golden hues and bright blues. Think Gucci ads for Spring-Summer 2011 and you will do no wrong.
---
2

Layers of Lace - One of the Sexiest Fashion Trends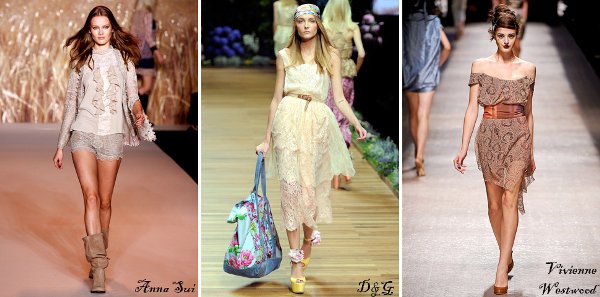 ****
Best of This Fashion Trend: Sheer lacy blouse or lacy shorts in neutral hues.
There's nothing quite as romantic and feminine as lace, and this season, it's everywhere, from Dolce&Gabbana to Ralph Lauren. Pick one stellar piece, like a blouse or a frilly skirt or even short flirty shorts and make it the focal point of a retro-inspired, frothy feminine outfit! High waist will help to create an even more feminine look. Some of the laced shorts and skirts have a bow, don't shy away from it thinking it will be too much. It's just dramatic enough to make a fashion statement without being too much. Throw on a pair of black cat eye sunglasses and a few long strings of pearls (nothing wrong with fake), and voila! You are all ready to pull off this fabulous summer fashion trend!
---
3

Powerful Prints and Patterns - a Fashion Trend for the Daring Fashionistas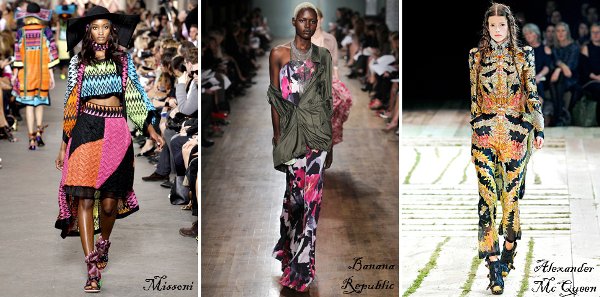 ****
Best of This Fashion Trend: A botanical-print dress
One of my favorite hot fashion trends for Spring-Summer 2011 is the prevalence of prints, and not justtiny little florals, like seasons past. No, this season's prints are bold, from lush botanicals to bold animalprints to pretty polka dots. They're so much fun to wear… but be careful! Only one print piece perensemble, please!
---
4

Modern Maxis and Midis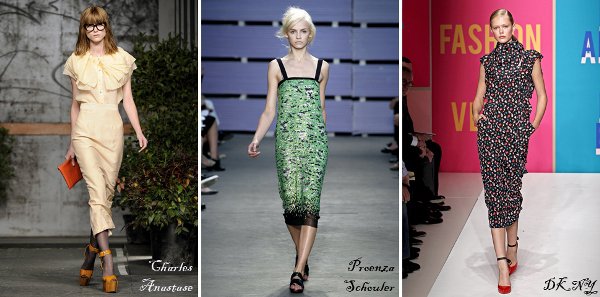 ****
Best of This Fashion Trend: A full-skirt midi
Last season, the maxi dress ruled, and it's still at the top of the hottest fashion trends for Spring-Summer2011, but it's made a little room for calf-grazing skirts and dresses, otherwise known as midis. They'reultra-flattering, and they look marvelous with cropped, off-the-shoulder tops and frilly peasant blouses.
---
5

Bright White - a Summer Fashion Trend That Suits Everyone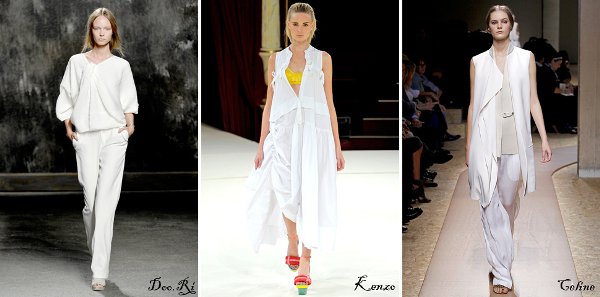 ****
Best of This Fashion Trend: A crisp white shirt
In the last decade, black was the color to wear, but starting this season, it's white, and I'm thrilled! It'seasy to pair with this season's brights, and makes a clever, eye-catching background when paired withprints. Add a key piece (the crisp white shirt) to a menswear-inspired pair of pants, and you're sartoriallyset for a day at the office!
---
6

Retro YSL-Inspired Pieces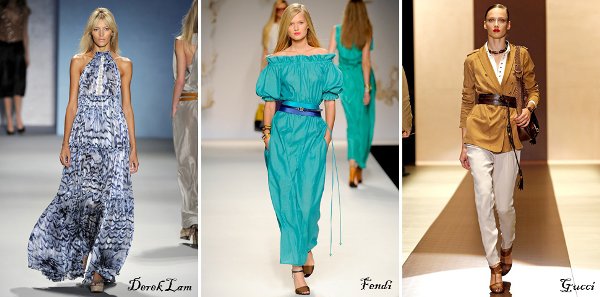 Best of This Fashion Trend: Anything Marc Jacobs!
Wondering where many of these hot fashion trends for Spring-Summer 2011 came from? Many ofthem are throw-backs, nods to the glam of Yves Saint Laurent in the seventies. Colors, hemlines, andinspiration are each an homage to the designer in that era… and I'm glad they're back!
7

40-s Inspired Pant-Suits - the Most Interesting Summer Fashion Trend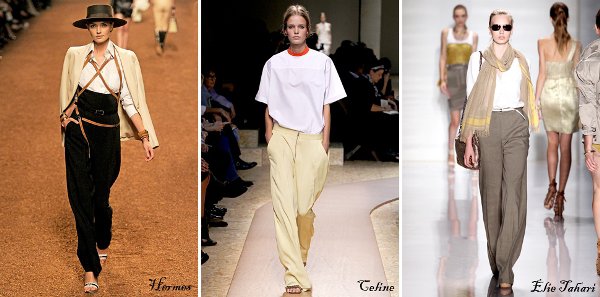 ****
Best of This Fashion Trend: One singular pin-stripe suit
The glamor of the 1940s is back, and you can see it in the menswear-inspired pantsuits, as well as theelegant eveningwear that have both become one of the hottest fashion trends for Spring-Summer 2011.We'll talk about gowns later. For now, let's focus on office wear! Add a crisp white blouse to a pair oftailored trousers, and add a jacket (or not) and a pair of retro-inspired patent heels for a look that's athrow-back to a more genteel era… with an update!
---
9

Mad about Plaid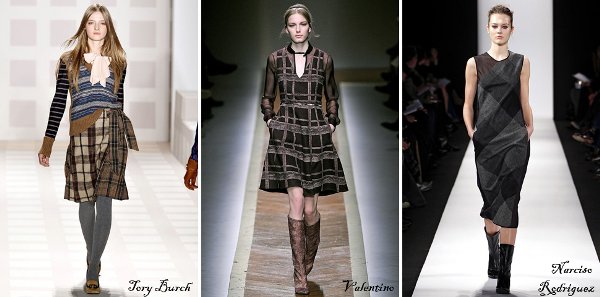 ****
Best of This Fashion Trend: Calf-length big plaid pencil skirt
If you're mad about plaid, this may be the hottest of the hot fashion trends for Spring-Summer 2011!Plaid, hound's-tooth, and checks are everywhere, especially on skirts and trousers. The colors aren't theclassic red and blues but rather neutrals, all the easier to pair with vivid jewel tones and brights! Or gosubtle and pair your plaid pencil skirt with the key piece from Whites, above: the crisp white blouse!
---
10

Long Tunics Paired with Trousers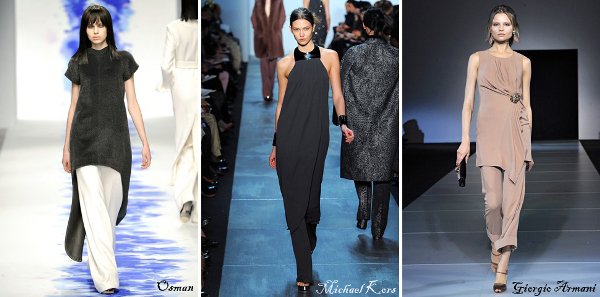 ****
Best of This Fashion Trend: Jewel-tone or bright sleeveless tunic and color-block or monochrome trousers
Is this perhaps a nod to the elegance and comfort of tunics-and-trousers dressing of the Far and MiddleEast? Perhaps! I love this look, and with temperatures rising across the globe, opt for floaty fabricsrather than thicker material.
---
11

Color-Blocking - Another Hot, Hot, Hot Fashion Trend to Try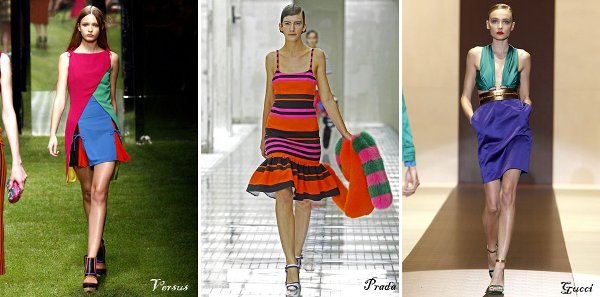 ****
Best of This Fashion Trend: Bright on top, light on bottom, or vice-versa, depending on body type
This trend is a lot of fun to wear, especially if you've already got a bright top from the list above. Pair itwith white skinny jeans, or buy a midi or maxi that's already blocked with color… see? Simple!
---
12

Vintage-Inspired Jewelry (especially Chokers)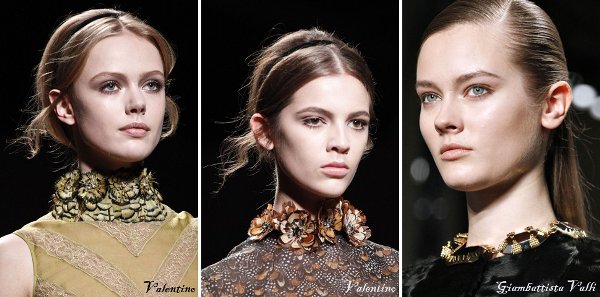 ****
Best of This Fashion Trend: The cameo your grandmother wore on her wedding day (or a knock-off)
What better to pair with the lace-look, or to add a little feminine flair to the menswear-inspired pants-suit than an intricate, vintage-look choker? These precious bits of bracelets, glam glittery rings, andclassic chokers are one of my favorite of all the hot fashion trends for Spring-Summer 2011, and it's nothard to see why. Check out the jewelry department of your favorite shop. Aren't they pretty?
---
13

Wide Belts - Top Fashion Trend in Accessories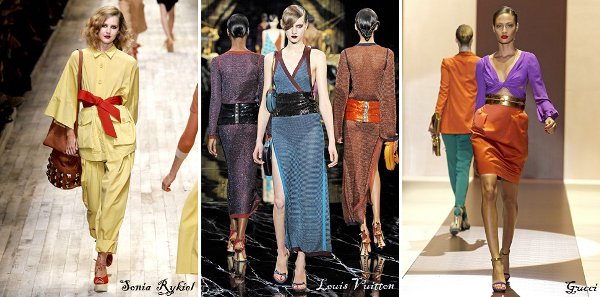 ****
Best of This Fashion Trend: A braided or woven wide leather belt in brown
They nip your waist and add a layer of interest to maxis and midis and even tunic. They're belts, andthe wider, the better though not too wide, or you'll look odd). Some designers have even featured obi-inspired wide belts, and they're gorgeous, though hard to fasten on your own. The best part? Belts,because they're accessories, tend to be less pricey, giving lots of bang for your sartorial buck!
---
14

Nautical Stripes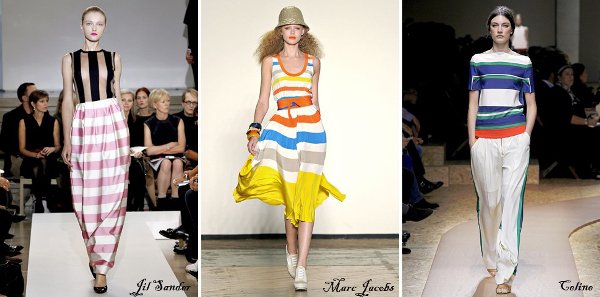 ****
Best of This Fashion Trend: A wide-stripe top to pair with white shorts
Planning a vacation on the East Coast this summer? Why not pack a suitcase full of another hot fashiontrend for Spring-Summer 2011: wide, nautical-inspired stripes! They're fun to color-block, but even ifyou just wear a classic blue-and-white striped top with cuffed white linen shorts and boat shoes, you'llrock this trend!
---
15

Glam Eveningwear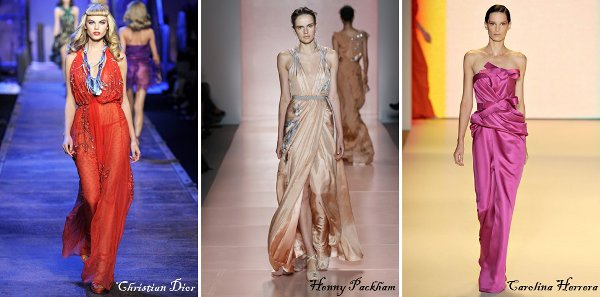 ****
Best of This Fashion Trend: Midi-length ruby red silk gown
Along with the 1940s-inspired suits comes this hot fashion trend for the season — the glamorousevening gown! They're figure-flattering and lady-like, turning every formal summer event into your ownred carpet-worthy photo op. Wear your gown with a choker or strand of pearls and rhinestones, andwear your hair in an intricate updo. So glamorous!
---
16

Sexy Swimwear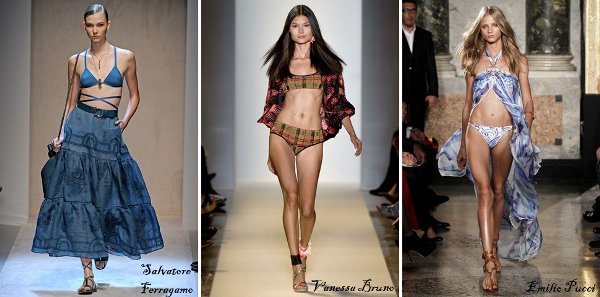 ****
Best of This Fashion Trend: Something two-piece and bright, or print
Let's talk about swimwear for a moment, shall we? Gone are the days of wearing the same boringswimsuit season after season… this season, switch it up and add something sexy to your beach bag!Whether you choose a halter-cut one-piece in a lush botanical print, or a turquoise two-piece thatleaves little to the imagination, sexy swimwear is a must-have!
---
17

Floaty Sheer Fabrics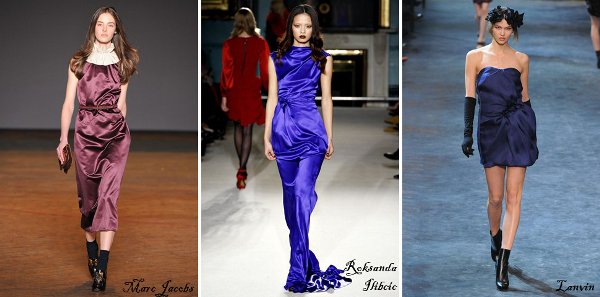 ****
Best of This Fashion Trend: A sheer lace-trimmed blouse
Pair the dreamy elegance of sheer fabric with the rich jewel tones or vivid brights, and you'vesuccessfully added another of the hottest fashion trends for Spring-Summer 2011 into your wardrobe!Don't try to wear this fabric with a print on it (they tend to look cheap, even when they're not) and stickto solid colors instead.
---
18

Flora, Fauna and Feathers - a Fabulous Fashion Trend for This Summer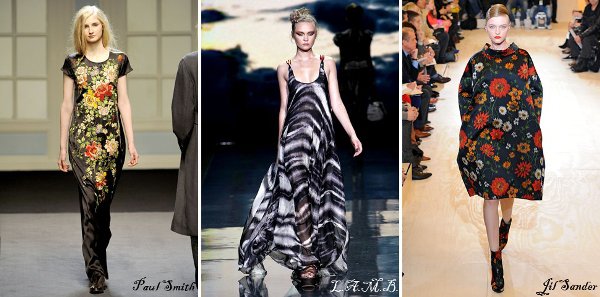 ****
Best of This Fashion Trend: A peacock feather headband
A big, bold flower pinned to your lapel. A brilliant green peacock feather in your hair. Either of these are an ideal way to wear another of the hottest fashion trends of Spring-Summer 2011. The more realistic,the better, with this trend, though we don't recommend wearing a REAL flower unless you have a way to water it (or it'll wilt in this summer heat!).
---
19

Apotropaic Jewelry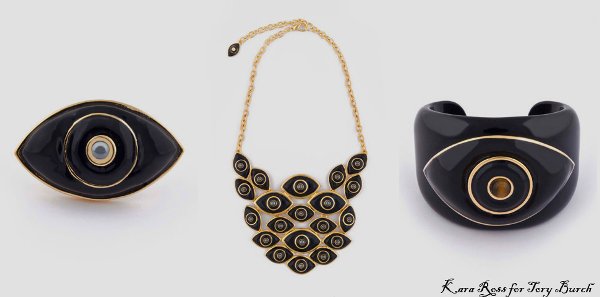 Best of This Fashion Trend: A glittery rhinestone pendant or amulet
According to Vogue, starlets and cove-models and the designers themselves have been spotted wearingthese evil-eye warding amulets, from Naomi Campbell to Diane Von Furstenberg. No-one's sure howexactly the trend got started, but now you can protect yourself from light-eyed bad luck with your ownglittering ring or pendant.
---
20

Wedges - the Most Comfortable Fashion Trend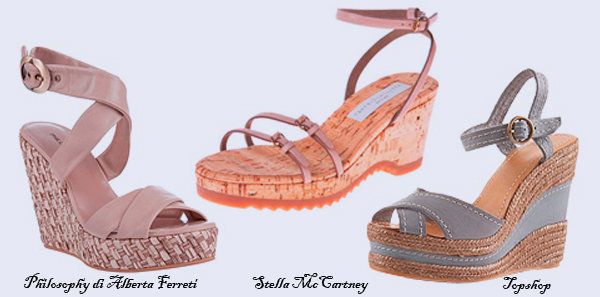 Best of This Fashion Trend: A pair of straw-heeled wedges
You don't have to tell me twice that sometimes, the shoes make the outfit. This season, the shoes to have are wedges or modern boat shoes. Wedges look great with nearly all of the season's hottest trends, and the deck shoes will work with the rest.
Now that you know** which trends are hot**, and which are not, you can shop and dress with confidence this season! With these Top 20 Fashion Trends for Summer you will be the envy of all your friends, co-workers, and frenemies with your new sartorialsavvy! I love the lush botanicals and vibrant colors, and I love that I can wear white so much… even I look tan! And which of these top fashion trends are your favorite, and how do you wear them? Please, tell...
Photo Credit: style.com, weheartit.com
---
Comments
Popular
Related
Recent