I love Spring, and this years has been better than ever... as well as gorgeous weather and great events, there's been amazing new fashion too! But with so many hot new styles to choose from, it can be hard deciding what to buy... after all, a girl only has so much money! I've been searching through the hottest clothes to find my 10 favourite fashion finds for Spring...
---
1

Mango Hitch Ditsy Dress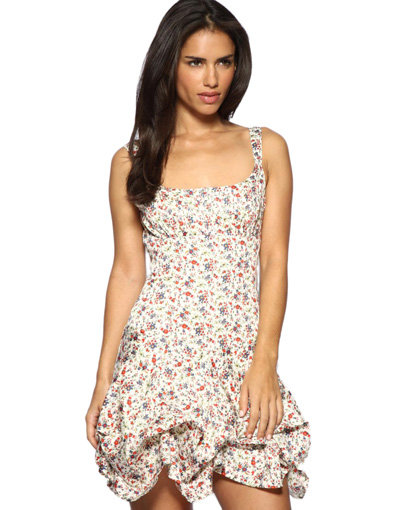 Price: $49 at asos.com
If you buy one dress this Spring, make it this super cute vintage tea dress. From the gorgeous hitched bottom to the adorable pattern... what's not to love? Go girly with cute sandals and a delicate necklace, and keep your make up natural. Dreamy!
---
2

ASOS Split Side Maxi Dress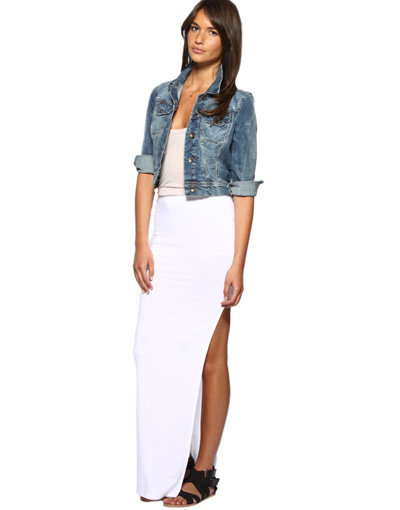 Price: $33 at asos.com
Maxi dresses are set to stay big for a while, and this is a refreshing new take on the style, and it's perfect for Summer too! I love the mix of crisp white and the slit, which looks great showing off tanned legs... it's super easy to accessorize too, with wooden bangles and a white vest top finishing the outfit perfectly. Simple!
3

Flamingo Sands Garden of Eden Halter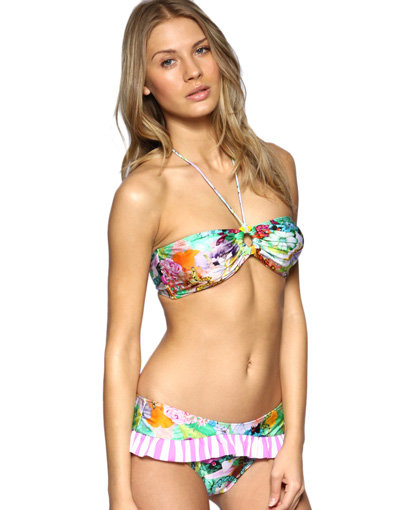 Price: $190 at asos.com
I love this super cute halter neck bikini! The pattern is simply stunning, but the cut is also super flattering, and I love the retro frill on the briefs. It's just too cute! Team with nude sandals and a white cover up for pool side drinking, or denim hotpants look amazing too.
---
4

ASOS Sleeveless Ruffle Front Blouse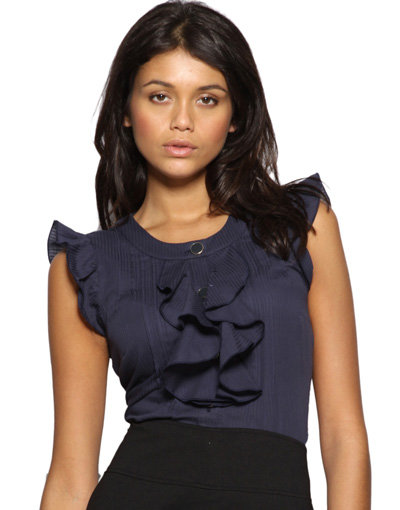 Price: $47 at asos.com
Office wear gets a hot new update too, with this deep blue sleeveless blouse. The colour goes perfectly with black, making it look great worn with a suit, but also goes well with denim. It's the vintage styling, feminine ruffles and flattering fit that make this a favourite, though. And for the Winter, you can just team it with a blazer!
---
5

Rare Two Tone Studded Trim Shoulder Dress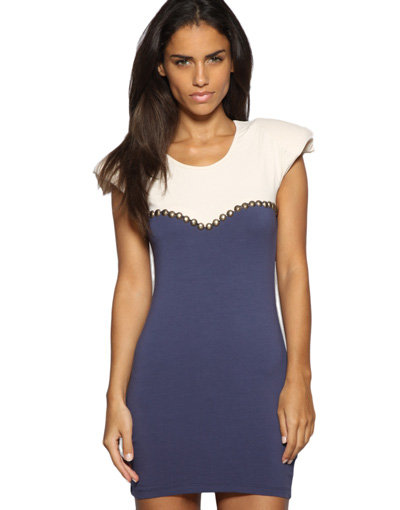 Price: $47 at asos.com
The rodeo trend is big right now, and I'm in love with this perfect dress! It's lightweight enough to wear in the heat, and the cute blue looks just like denim, which is great for the denim trend! The studs really set off the look, and teamed with lace up sandals, it makes a fantastic look, and you'll feel unstoppable. The real girl power outfit!
---
6

Blank Cargo Pocketed Shorts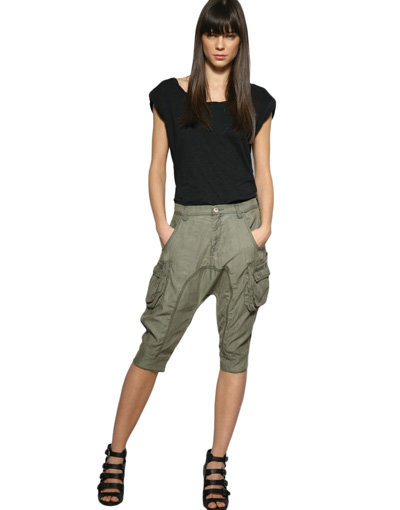 Price: $109 at asos.com
The khaki trend is huge, and one of my personal faves... I love camouflage, khaki and utility! These shorts are a really easy way to master the trend, though, and are really flattering too. They slim the legs, and look great teamed with a longline tee or a cami, in almost any colour. And there is enough pockets to take anything you could need! I love them.
---
7

Rare Military Detail Long Cardigan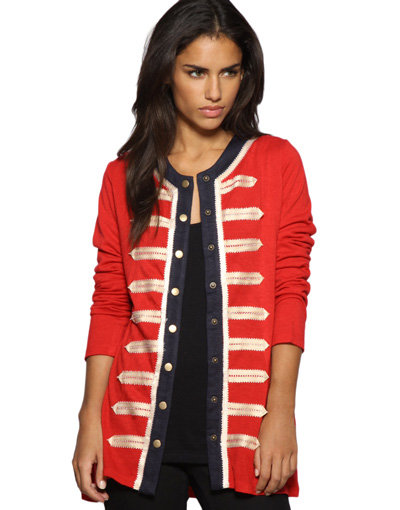 Price: $76 at asos.com
It might be getting warmer but there are still some chilly days, and this military cardigan is the perfect on trend way to keep warm. From the bright red colour, which looks great against a tan, to the intricate detailing and half length sleeves... everything about it is the perfect mix of chic and comfort. What's not to love?
---
8

Pauls Boutique Flower Twister Bag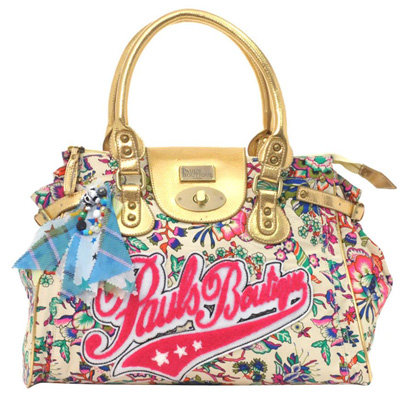 Price: $101 at asos.com
This gorgeous canvas bag is big enough to carry everything you need, and with a great pattern and charm clusters it's very stylish too! Pauls Boutique bags always sell out fast, so grab yours now for the ultimate 2010 bag.
---
9

Guess Mini Heart Charm Necklace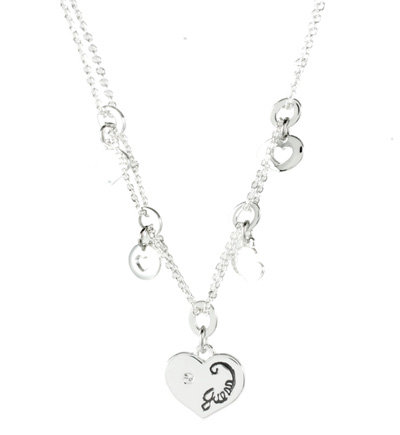 Price: $93 at asos.com
I LOVE this necklace! From the dainty silver chain, which goes perfectly with a vintage tea dress, to the detailed and stunning heart charms, everything about it is gorgeous. It's even got an adjustable chain, so you can use it to make maximum impact! Stunning.
---
10

KG by Kurt Geiger Haruko Platform Heeled Sandals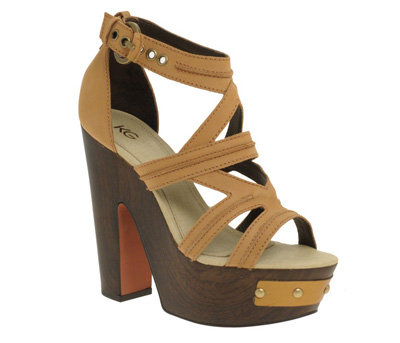 Price: $270 at asos.com
Nude sandals go perfectly with some of the biggest trends right now, so a stylish pair is vital to keeping your outfits looking amazing. These gorgeous KG shoes are perfect! From the thick wooden sole to the soft beige leather straps, they look gorgeous on and off the feet... and they are so, so comfortable too. Wow!
I love these items, and they'll definitely be my next Spring purchases... they are simply stunning! From shoes to jewelry to cute vintage dresses, there's something for every style, and you are sure to look fabulous too. And what could beat that? Have you found a super hot Spring item? Please share it with me!
---
Popular
Related
Recent