Everywhere I look, I see tailored vests and crisp white oxfords, or boyfriend blazers and pinstripe pants... the menswear trend is hot right now, and I love the look! Not sure how to get the look without looking too masculine or over-the-top? Here's a handy list of 8 menswear-inspired looks to give you some ideas!
---
1

Helmut Lang Smoking Wool-Blend Tux Vest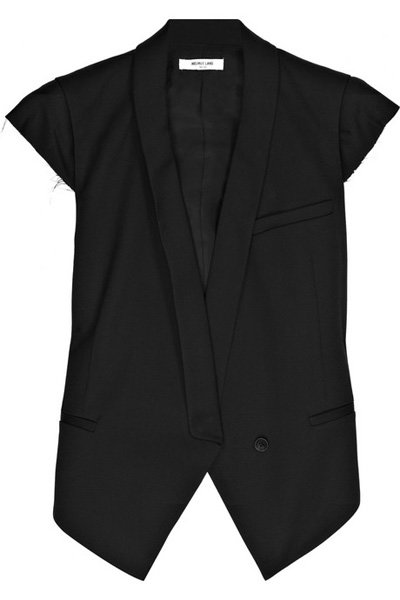 Price: $345 at net-a-porter.com
I love this vest because it's so different than everything else out there. The cap sleeves, the cropped back, the slightly elongated and very flattering front. Pair with your darkest skinny jeans, or with cute pin-stripe short s and tall sandals. Perfect!
---
2

Vivienne Westwood Red Label Bold-Shouldered Wool-Blend Jacket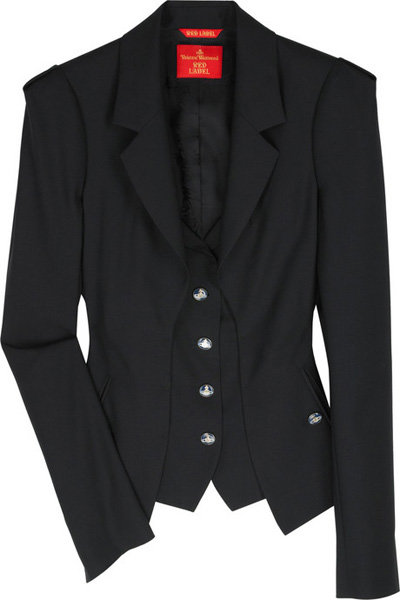 Price: $835 at net-a-porter.com
IS it a shapely, menswear-inspired jacket? Or a slinky nipped vest? Actually, it's both! All that's missing is your choice of bottoms and of course, a crisp white shirt. Play up your femininity with ruffles or lace, and pair with a bold, pretty necklace.
---
3

Day Birger Et Mikkelsen Tail-Detail Cotton-Blend Waistcoat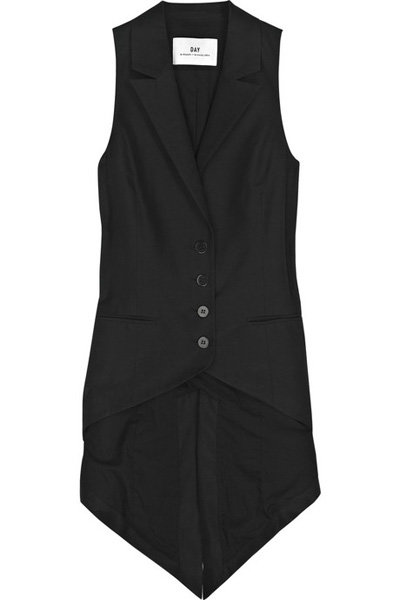 Price: $300 at net-a-porter.com
Some of us are blessed with perfect, round derrieres. If you're one for the lucky ones, show off that round bottom with a long-tailed vest! Leave it open at the front and wear with a tiny tee and inky black jeans… sexy, and not at all masculine!
---
4

D & G Wool-Twill Pinstripe Shorts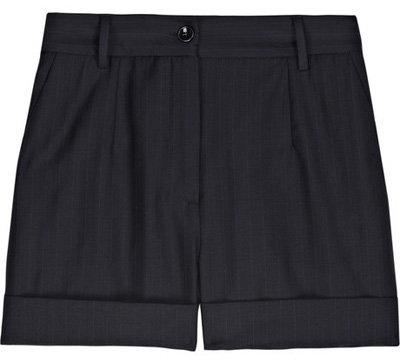 Price: $235 at net-a-porter.com
My very favorite menswear-inspired look has always been pinstripe pants with a cuff, but summer's here, so let's show some leg! These shorts are tailored, striped, and cuffed, perfect for pairing with a stark graphic tee and a cute blazer, and don't forget your strappiest sandals!
---
5

Roberto Cavalli Pinstripe Cotton Blazer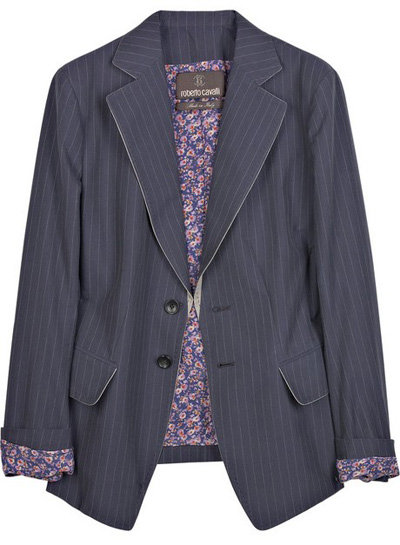 Price: $1,735 at net-a-porter.com
Menswear-inspired looks are hot, and so are blazers! This one mixes both trends and throws in a gorgeous floral silk lining just for fun. I'd wear this over a pretty white sundress or with white linen shorts, with or without the cuffs rolled up to show the lining!
---
6

Sandro Riposte Mini Shirt Dress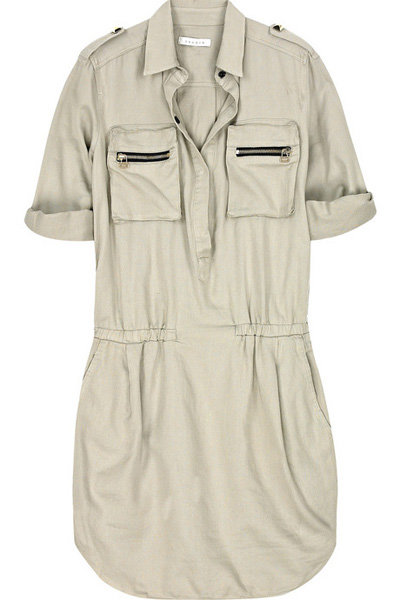 Price: $325 at net-a-porter.com
Oh, silly, girl, you say, how can a dress be inspired by men's clothing? Well, this one is, I say! Look at its slouchy lines and chest pockets. Add a belt and some ankle-booties or sandals for your own very girlie take on what I maintain is a manly-looking dress…
---
7

Balmain Metal-Insert Military Shirt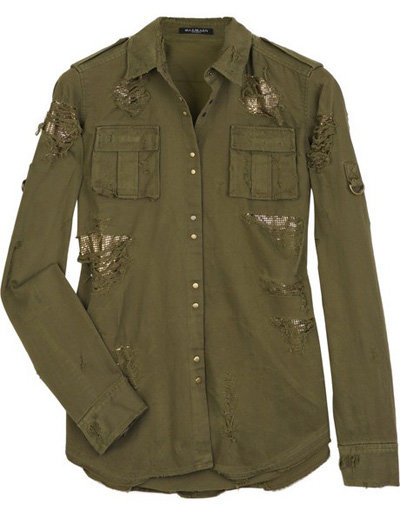 Price: $6,450 at net-a-porter.com
Is there anything more masculine than a military uniform? And what girl doesn't love a man in uniform? The crisp lines, the manly details. Wear a little of your own to remind you of your favorite armed-forced G.I. Joe hottie… this jacket looks smashing with cuffed khaki linen shorts or even a short skirt!
---
8

Bess Rollover Vintage Leather Boots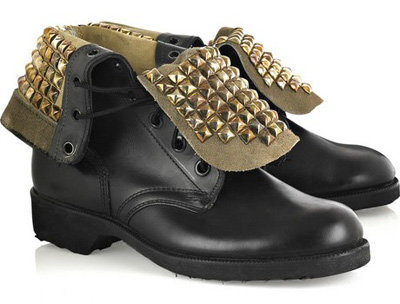 Price: $460 at net-a-porter.com
I adore these boots, and their obvious menswear lineage. They're meant to be worn with the cuffs left down, to show off their dazzling gold and silver studs. Who knew combat boots could be so chic?
Who knew menswear-inspired looks could be so sexy and so feminine? I love the sculpted vests, and can't wait to wear one with those pinstripe shorts! Which of these menswear-inspired looks do you like best? How would you accessorize it? Please share!
More
Popular
Recent