There is never any inspiration too odd or literal to appear on a Marc Jacobs shoe, and next season's collection is no exception. I doubt any other designer could pull off some of these design cues, but somehow they all look interesting, fun, whimsical, and completely wearable. Here's my list of the ten trendiest, inarguably coolest Marc Jacobs shoes. And please note that this collection is so new prices haven't been listed yet — or even named! —so if you're pining for a pair of these shoes, phone or visit a Marc Jacobs store to secure a pair.
---
1

Marc Jacobs #MJ14318 – Silver Talaria Thong Sandal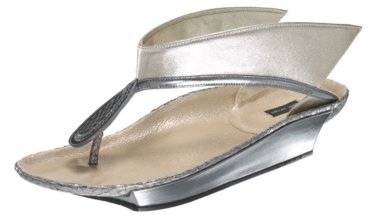 Review at: marcjacobs.com
Greek mythology tell us that Hermes, messenger to the gods, wore winged sandals, or talaria. Those winged sandals must have inspired these, made of silver, with a wedge heel and stark, abstract wings. Wear them on your fleet-footed city travels, or on a sandy beach or cruise ship.
---
2

Marc Jacobs #MJ14464 – Floral Print Sling-Back Heel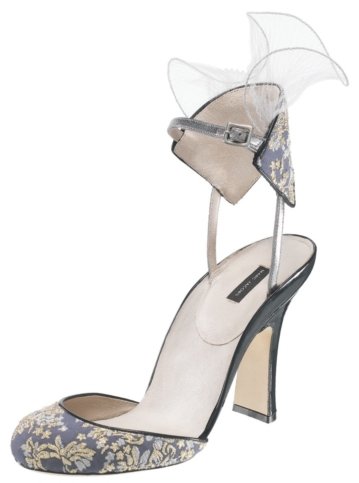 Review at: marcjacobs.com
Shapely and feminine! These blue floral-print heels feature a rounded toe, contrasting silver ankle strap and buckle, and a delicate stand-up chiffon ruffle at your ankle. The shape is curvaceous, the overall effect stunning. Wear these on the red carpet or to any black-tie affair with a short, ephemeral gown.
---
3

Marc Jacobs #MJ14351 – Maroon Velvet Thong Sandal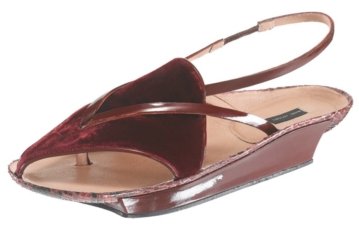 Review at: marcjacobs.com
There are so many design cues and details here! Start with a simple thong sandal, add lush maroon velvet at the toes, a shiny patent wedge heel and straps, and one thin snake-skin pipe along the silhouette of the shoe. Marvelously unique!
---
4

Marc Jacobs #MJ14453 – Gold Talaria Heel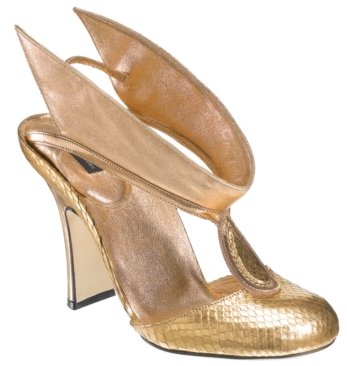 Review at: marcjacobs.com
Similar to the talaria thong listed as item one, with a few modifications. These are gold snake-skin with a curvy heel and a rounded toe. Slide on and secure with a thin elastic strap in the back. Details include a sparkling inset on the top of the foot and pair golden Greek Hermes (or Roman Mercury) wings. Wear these to any event where you want to shine… or make a quick getaway.
---
5

Marc Jacobs #MJ14481 – Jester Bootie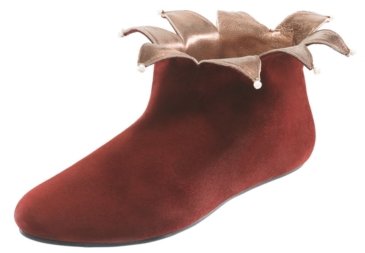 Review at: marcjacobs.com
There is no other way to describe these booties — court jester. That being said, they're gorgeous, almost lush. Amber-colored suede, flat heel, ankle booties. And of course, the gold leather cuff with points, capped with tiny pearls. Available in amber and gold or black and bronze.
---
6

Marc Jacobs #MJ14441 – Black and Pearl Heels with Ankle Strap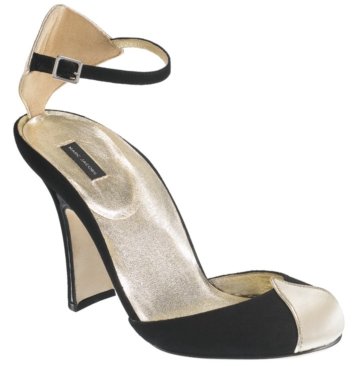 Review at: marcjacobs.com
Possibly inspired by classic spectator pumps, then updated with spot-on modern sues. Inky black suede meets pearlescent ivory leather at the toe. Add a thin, elegant ankle strap with a shiny silver buckle. Wear these with a black pencil skirt and carry a tiny silver clutch.
7

Marc Jacobs #MJ14431 – Black and Pearl Sling-back Sandal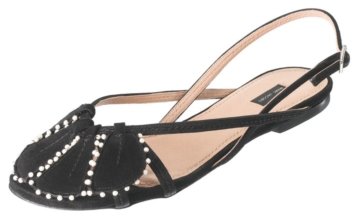 Review at: marcjacobs.com
Ultra feminine, clearly inspired by flora and fauna. Soft black suede flower petals edged with creamy pearls. Modest heel with black ankle strap and a tiny silver buckle. Wear these with a knee-length patterned skirt and a hobo bag with fringe.
---
8

Marc Jacobs #MJ14482 – Patent Ballet Flat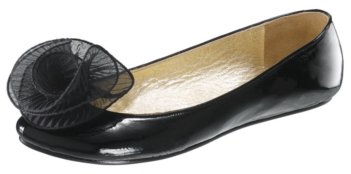 Review at: marcjacobs.com
A ballet flat inspired by the dance itself. Glossy black parent leather with a poufy chiffon tutu rose perched on the toe. Shapely and flirty, wear these with skinny cropped pants and a sheer blouse, or with an evening gown in hushed tones. Perhaps wear them to the ballet? Also available in soft black suede with a white peony on the toes.
---
9

Marc Jacobs #MJ14401 – Silver Snakeskin Flat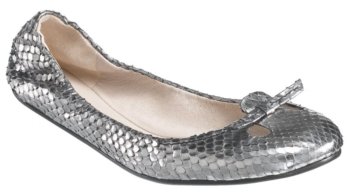 Review at: marcjacobs.com
Shiny silver snakeskin in a tiny flat shoe. There's a tiny cut-out at the toes and a small, straight bow detail, and elastic at the back for a perfect fit. I'd wear these with skinny jeans and a chunky-knit sweater, or a slinky dress. Either way, the silver adds a flash of cool.
---
10

Marc Jacobs #MJ14413 – Patent Ballet Flat with Turned-up Toe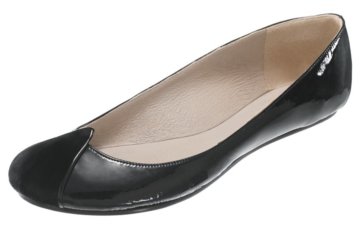 Review at: marcjacobs.com
Perhaps inspired by a Renaissance Faire? These smooth black patent ballet flats are simple and traditional, until you get to the toes — turned up and flattened back, with a delicate point. Wear these with anything in your closet for work or for play.
I can't wait to see the rest of the Marc Jacobs spring 2010 collection! I love the funky details and the interesting materials. Which pair do you like best, and which made you giggle? How would you wear them, and where? Please let me know!
---
Comments
Popular
Related
Recent