I save ALL of my shoes (yes, all 103 pairs and counting! unless they are damaged or broken beyond the cobbler's repair), in hopes that even the most ridiculous style statements could come back around in this ever-fluctuating world of fashion (and if not, then hello, collector pieces or you know, Halloween costume accessories).
My highest-heights platforms were no exception to this rule. Of COURSE, I heard it a million times over that "there is NO chance" that these clod-hopper, heavy pieces of high-shoe heaven would ever be considered "in" again, as if to chalk it away to one of those fashion mistakes, like, wearing thin white pants. To clubs with black lights. *shudder* And then, the 90s fashion trend hit this year, and I had hope. My former self ...say, from ten-to-fifteen years ago... is squealing (or all SQUEE!!!, in my excitable internet-friendly speak of today) that stacked shoes are featured inside my fashion catalogs, magazines, and within several online e-retailers' collections. I invite you to drool along with me on my 7 favorite platforms for fall. Did you hear that? My 20-year-old self just went all SQUEE!!!... so very, very far from the days living, and shopping , WITHOUT internet.
---
1

MICHAEL KORS BELINDA PUMP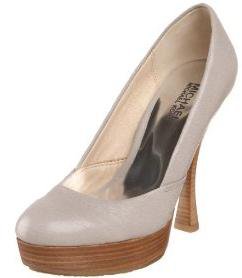 Price: $150.00 at macys.com
This hot pump, especially in the cement color, intrigues and encourages me, mostly to find a new outfit to wear with them. I love a great POWER HEEL. It's a powerful word that makes me feel even more so strutting. And this platform from Micheal Kors is so gorgeous. I love the casualness and versatility of the wood platform that can be paired with skinny jeans or the fabulous wide-leg dress pants of this season.
---
2

STUART WEITZMAN KEEN PLATFORM BOOT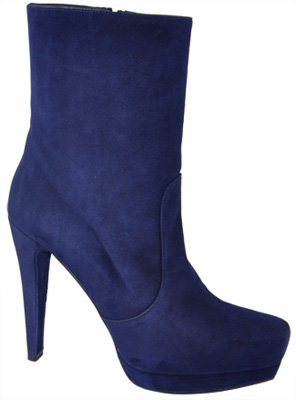 Price: $450.00 at footnotesonline.com
How amazing is this navy suede boot? In much more than a fashion statement, this platform boot is a vibrant expression of personal style. Or an outfit that you would create around the shoe. I drool over this blue suede. Now, my mission: to find a fall-to-winter coat to match.
3

TROUVE ALLIANCE WEDGE BOOTIE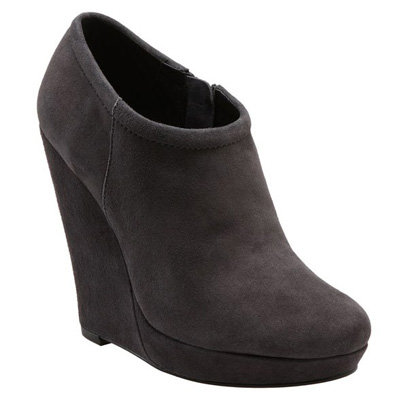 Price: $119.95 at shop.nordstrom.com
I'll be honest, I am not into the clog trend. Perhaps it has something to do with my inability to walk in a shoe without a solid back, but I seemingly have trouble with wedges too. So, since I learned the art of "walking" this past summer, instead of "stomping" (I swear, it's because my feet are proportionally too large to my small frame), I am a newly converted fan of wedge platforms. And that high, hidden heel is ah-mazing. This bootie from Trouve is like, a gateway drug... err, accessory, for an up-and-coming shoe addict.
---
4

STEVE MADDEN "CHELSEEY" BOOTIE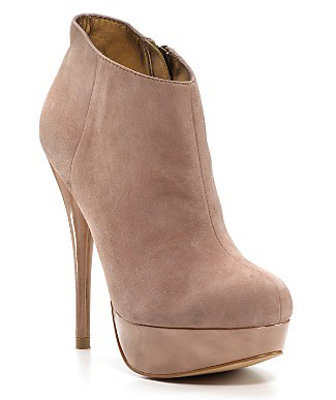 Price: $99.00 at bloomingdales.com
I am obsessed with any shoe in blush, almost as much as suede, for this season. The pastel-like shade adds to last year,s trend of the nude shoe for a great match to feminine outfits (without being overly girly). What will happen when you wear this unique platform bootie: duh, total hotness.
---
5

ELIZABETH and JAMES E-MASON2 PUMP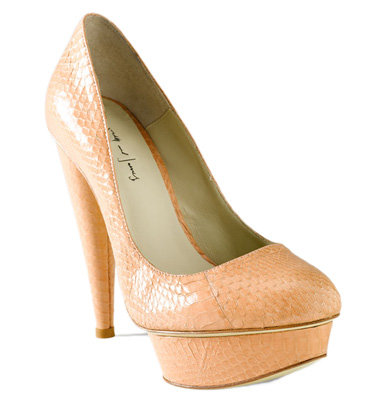 Price: $395.00 at shop.nordstrom.com
The genuine snakeskin makes me faint, in and of itself, but the blush color and unique platform inspire so many outfits in my corresponding dream state. Blush shoes are hot for fall, and still as classic as nude. Can we take a look at that platform again? Interestingly galactic, perhaps? Good thing, I geek out over all-things-space-like too. Can you say conversation piece? I just love when people talk about my shoes.
---
6

KG by KURT GEIGER ECHINACEA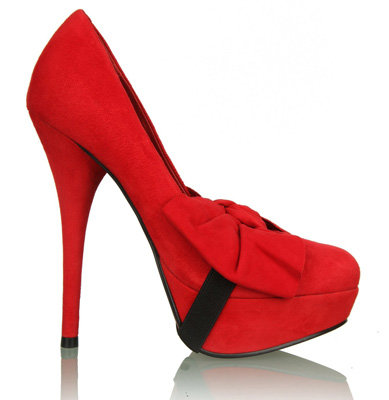 Price: $280.50 at my-wardrobe.com
Does the owner even consider the intentions of its wear before purchasing this platform? They better! Because this heel is out to get some serious attention. Or affection. But that's neither here nor there. I love convertible shoes as much as convertible cars, and of course, both in red. This super bad heel includes a removable bow for creating a few different looks. Are shoe clips back in vogue (oh please, oh please!)?
---
7

L.a.M.B. HIDDEN PLATFORM PUMP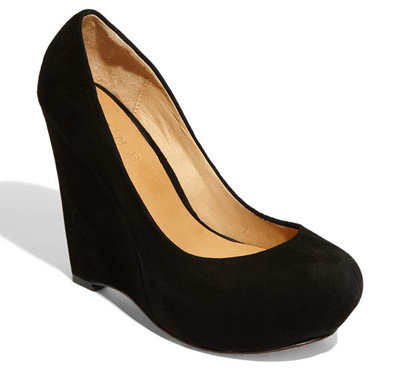 Price: $275.00 at shop.nordstrom.com
Rounding out our Hot 7 is one of those MUST HAVE fall accessories for a variety of wardrobes and person styles. This all black, hidden wedge heel from Ms. Gwen Stefani in this season's hottest fabric: SUEDE. And in all its sassiness, will take you everywhere, from work to happy hour to your boss' wedding this weekend. And casual enough to make it to a Sunday brunch in the morning, without the least bit of second looks. What? You just came from church!
I am now most definitely in a shoe coma, and entirely thankful for a city apartment with a large amount of square footage devoted to closet space. There is PLENTY of room in here for a few more pairs.
Which platform shoe trend are you currently coveting?
---
Comments
Popular
Related
Recent