With winter fast approaching, it's about time to pull out our furry little snow bunny boots and start thinking about ways to keep our feet toasty warm! If you're like me, you must be very picky when it comes to your boots. It just doesn't seem fair to keep a lovely pedicure hidden all winter long. But with these 7 cutest winter boots you may change your mind- just as I did mine! Now I can't wait to romp about in the snow sporting one of these adorable, fuzzy pair of clunkers and I know you won't be able to either!
1

Moccasin Winter Boots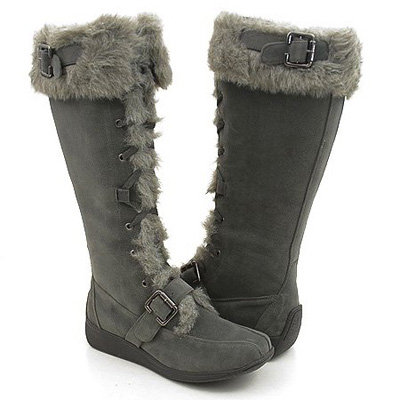 Price: $39.99 at amazon.com
How could you NOT want to wear these soft, sweet moccasin lace-up boots? Trimmed with faux fur that is ultra-soft, you can wear these boots with peace of mind that no animals were hurt in order for you to look fashionable and stay warm this winter. Fully adjustable laces and buckles so that you can be comfortable no matter the size of your ankles and legs. And the best thing about these boots? They come in a variety of colors including white, brown, black, navy and many more!
2

Wedge Winter Boots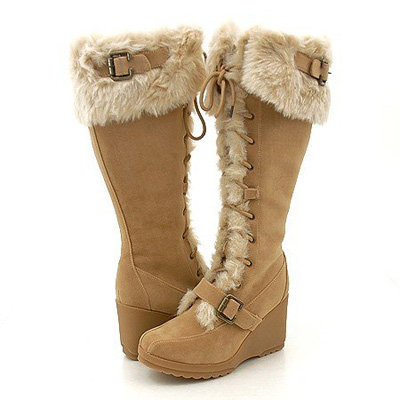 Price: $49.99 at amazon.com
For the fashionista inside all of us, you won't want to take these boots off! These boots are very versatile; they could be transformed from day to evening with the simple change from a hoodie and jeans to a sweater and slacks. Faux fur and suede-like material add charm and a touch of sophistication. Go ahead, strut your stuff, 'cause it will be beyond permissible in these babies!
3

Tama Boots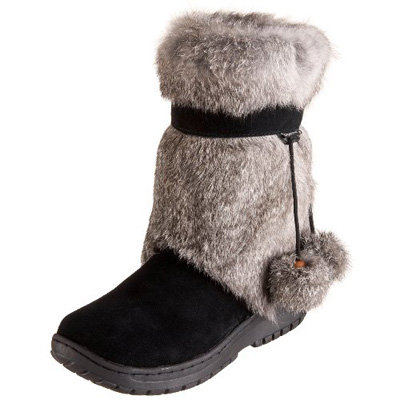 Price: $70.00 at amazon.com
These Tama boots are sure to give you that extra flare and turn heads when you wear them! Made with the highest quality natural furs and genuine sheepskin, your tootsies will be cozy and snuggly warm nestled inside these comforts! If you live in a super cold climate, snatch these boots up before your neighbor finds them and then says you copied her style!
4

Sweater Boots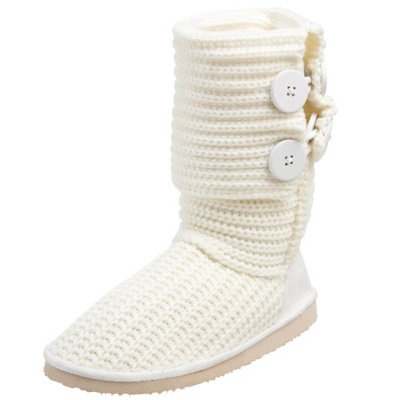 Price: $27.99 at amazon.com
Perfect for the fashion chameleon! If your style is forever changing, or you like to mix things up a lot, these stylish knitted sweater boots will satisfy your longing for fashion and warm piggies at the same time! You decide whether you want the boots to be worn cuffed over or flipped up, and the large buttons on either side add personality. Super soft and comfy, these boots will not be on your list of regretted purchases!
Shakti
and #2 are my choices,...
5

Peron Boots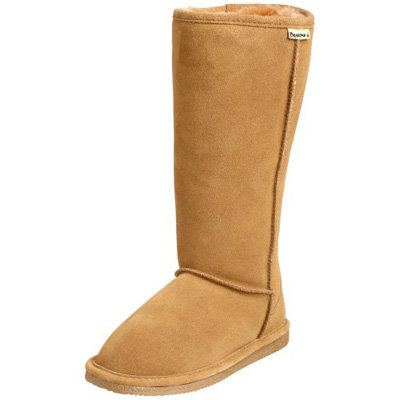 Price: $37.98 at amazon.com
Peron boots are the ultimate for warmth and comfort! Lined with genuine shearling, the high shaft offers easy pull-on style that can be folded down for an additional styling option. The rubber outsole brings flexibility and traction so you can be cozy on the go. This 13"-height women's boot by Bearpaw is a new style that's well paired with denim, a casual skirt, or country dress, with a ruggedly comfortable design ideal for kicking around town. This height gives extra warmth to your calves!
6

Emu Australian Boots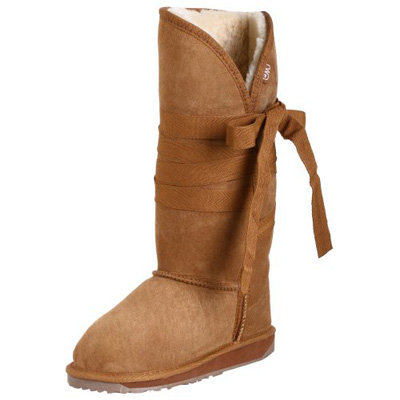 Price: $80.38 at amazon.com
Such a cute little bow embellishment! So girly and cute, yet quite chic. These boots are fun and easy to wear. The dual EVA sole provides extra support for all-day wear and its double-stitched construction adds durability. The warm, woolly sheepskin insulation insures that your feet stay warm and dry!
7

Leather Boots
Price: $27.99 at amazon.com
Be prepared for catcalls and approving stares from passersby if you walk out of your house in these dangerously stylish leather high-heeled boots! Full of texture and personality, the dual buckled straps create a rocker-chic appeal. The rounded heel and platform have deep lugs to keep you steady when you're on the run! Available also in black, you may find that you need a pair in each color as hot as these stompers are!
Whew! That list certainly made your decision a lot harder, didn't it? These boots are quite frankly, all perfectly adorable and cozily warm. Now if only money grew on trees right? Have fun shopping and looking for the perfect boots. Now that you know boots can be attractive and sexy just like heels or sandals, you should have no problem finding a great pair that you love!