It's time to gear up for the summer time again! There are so many lovely shoes that you can wear during the summer months. Some of them can carry your all the way into fall and winter. Below, I am going to give you the top 8 shoes for the summer I am personally lusting after…
8

Black Suede High Heel Shoes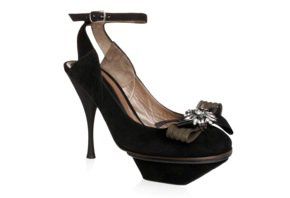 Price: $960.00 at marni.com
To start with, these shoes are made in Italy, so you know they are going to be good. The rounded toe is embellished by a satin bow and metal mesh. It also has a Swarovski stone on it. It has been re-interpreted with a double ankle strap.
7

Women's Spring Step Marsi

Price: $69.95 at shoebuy.com
I'm not really into flat shoes, like these, but I figured that since it is the Spring time, I had to add some color in here! The yellow looks great. I think you could wear these on the beach and get away with it. What do you think?
6

The Casa Shoe from Jessica Simpson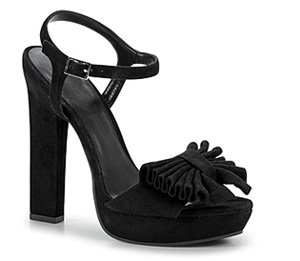 Price: $59.99 at jessicasimpsoncollection.com
I'm not that big of a fan of Jessica Simpson, but I can't turn down these shoes. I think they are adorable and they are just my style. The combination of the towering heel and the feminine bow really go hand and hand. Do you like these shoes? Where would you wear them this summer?
5

Dr Martens Flocking 1460 8 Eye Boot

Price: $95.99 at onlineshoes.com
I think these would make great boots! I absolutely adore them. With these, you can work hard and let your sweet side show through all at the same time. It is definitely a unique look and I must say, they are also comfortable.
4

Pink Shoes by Christian Louboutin

Price: $695.00 at footcandyshoes.com
Christian Louboutin has joined with Footcandy in order to raise money for the elephants in Asia by designing a shoe that is for Footcandy and you are staring right at it. This is the perfect sandal for the spring time. This zipper accented strappy sandal cannot be looked away from! It comes in hot pink, so it's perfect for the spring time.
3

Women's D2 by Dikuza Hayden

Price: $88.95 at shoebuy.com
If you love the look of elegance, then you are going to love these shoes. The Hayden is a romantic ankle strap sandal that has quick release buckles. The rhinestones and bow is beautiful and definitely adds some style.
2

Luichiny Getting Hitched Purple Shoes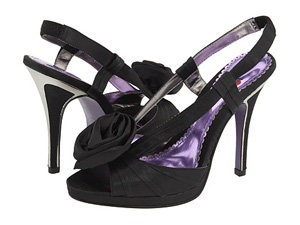 Price: $74.00 at zappos.com
When he sees you in these, he is going to go crazy! When your girlfriends see you wearing these, they are going to want to know where you got them! I love these shoes in the color purple. The rose on it really is a great accent.
1

Martinez Valero Pink Shoes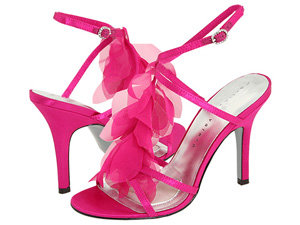 Price: $134.00 at zappos.com
I really love these shoes! Even my five year old daughter said they look good. So, you not only have my word on them, you have her word on them too! I think the frilly stuff is what really captured her attention. It captured my attention too!
Out of all of these shoes, I would have to say I like number one the best. I can't wait until they come in the mail! So, what about you? Which shoes do you want for this summer?