Are you still looking for stocking stuffers, hostess gifts, or just a little something fun for yourself? I know I am — ALWAYS! If you're going to stuff a stocking, or give a gift, it might as well be fun, funky, and stylish… right? These ten Marc Jacobs accessories would be the most fashionable gifts… maybe you ought to pick up a few for yourself, too. You've been good this year!
---
1

Marc Jacobs Charm Necklace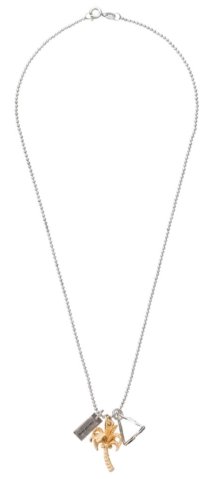 Price: $16 at marcjacobs.com
My mother has this amazing charm bracelet she's been adding to since she was a girl. This charm necklace is an updated version of her charm bracelet, brass-plated and with seven custom three-charm sets to choose from. There's Shade, I Love New York, Knock Out, Pirate Ship, Paris Je T'Aime, Lucky, and All-Star. All of them are super-cool… which one do you want?
---
2

Marc Jacobs Zipper Necklace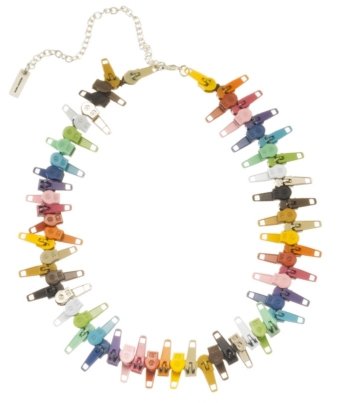 Price: $13 at marcjacobs.com
Zipper heads as jewelry? Why not? Made of plated brass and available in all black, silver, gold, or in a rainbow of colors. Adjustable-length with a claw clasp and dozens of funky zipper heads. Wear this necklace to funk-ify a demure office outfit, or wear it on the weekends with your favorite punk-girl ensemble. Yow!
---
3

Marc Jacobs Printed Snap Bracelets

Price: $9 at marcjacobs.com
Funky flirty fun for every city girl! Choose from one of four leather-and-vinyl designs — a yellow and black or red and black zebra stripe, a multi-color geometric design, or a color-block grid. Wear them alone or pair them up! Snap closure for two different sizes.
---
4

Marc Jacobs Latin Rings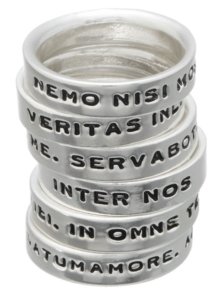 Price: $3 at marcjacobs.com
Stackable silver-plated lead-free alloy rings with various Latin phrases for all occasions and sentiments, such as Veritas Inlustrat (truth enlightens), Inter Nos (between us), Serva Me Serva Bote (save me and I will save you), and Tibi In Omne Tempus (for you forever). Wear one of six of them alone, or stack them; buy for yourself or give as a gift.
---
5

Marc Jacobs Pyramid Stud Bracelet

Price: $9 at marcjacobs.com
Plated brass pyramid bracelets, just like the studs on popular belts and choker necklaces. Available in silver, gold, or shiny black. Wear them alone or together, and shine on. Wear with skinny jeans, a retro-style geometric print top and an obnoxiously loud belt. Add a pair of old-school Converse Chuck Taylor All Start high tops, and your look is complete!
---
6

Marc Jacobs Two Tone Belt
Price: $5 at marcjacobs.com
Super-skinny PVC belts in a rainbow of yummy colors with contrasting black buckles and straps. Available in pink, purple, blue, green, yellow, and orange to wear alone or in a couple… or a triplet for the truly daring! Wear the pink one with a black pencil skirt, impossibly high stilettos, and a green blouse.
---
7

Marc Jacobs Skull Necklace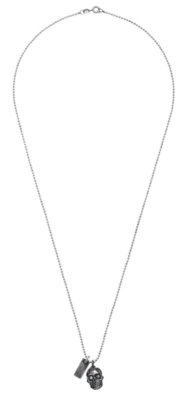 Price: $10 at marcjacobs.com
A plated brass necklace with a graphic skull and signature Marc Jacobs tag. Don't put it away after Halloween! Wear with your most straight-laced business suit and hide your secret Goth side. Or give as a gift to your skater-punk boyfriend and make him swoon just a little.
---
8

Marc Jacobs Turquoise Bauble Bracelet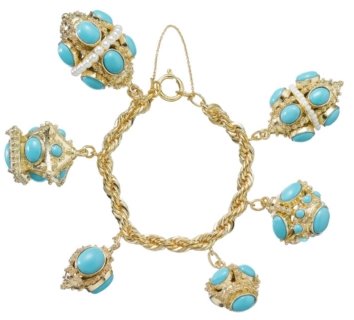 Price: $5 at marcjacobs.com
Old-World swank meets kitsch and camp, all in one. Gold-tone plated brass with a safety catch and six beaded baubles. Did your grandfather, the Major, bring this back from India for his favorite granddaughter? Or did your sister find this on her road-trip to New Mexico? Pretend pearls and turquoise make it look like either one's a possibility.
---
9

Marc Jacobs Key Loops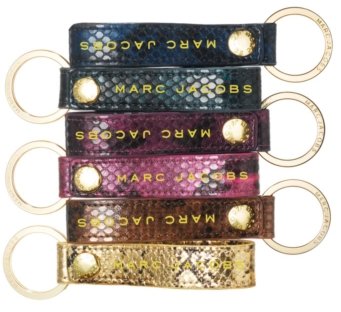 Price: $5 at marcjacobs.com
If you're like me, always losing your keys, give yourself an incentive to keep them close — like one of these faux snakeskin key loops in navy, dark green, burgundy, fuchsia, bronze, or gold. Gold-tine rings and hardware, and stamped with the Marc Jacobs signature. One for car keys, one for house keys, one for the key to his place! You'll never lose your keys again.
---
10

Marc Jacobs Plastic Bangles
Price: $2 at marcjacobs.com
Who knew plastic could be so much fun? These molded plastic bangles come in mix-and-matchable purple, hottest pink, neon orange, neon green, fuchsia, black, coral, yellow, and blue. Wear these one at a time, or all up your arm in a riot of color. With nine colors, there's one (or more!) for every fun outfit you own.
See? Something for everyone, from your kid sister, to your best friend, and even for you. Mix and match these and put them in one pretty bag or box and you'll be on everyone's list next year! Fashionable, fun, funky, who wouldn't want some of these? Or is there another hot Marc Jacobs accessory (or two!) you've got on your wish list? Please let me know… thanks!
More
Comments
Popular
Recent