I live 300 miles from the nearest Marc Jacobs store, so when I have the chance to go, I'm ecstatic. I especially love his accessories, including his handbags and wallets! Here's my list of the top 7 Marc Jacob's travel wallets… I'm going to buy most of these the next time I visit my brother in Las Vegas… or the next time I'm in Chicago… or anywhere else they have a Marc Jacobs store! Please note that all of these wallets are only available at Marc Jacobs stores, but you can still review them at the links provided.
---
1

Marc Jacobs Color Block Billfold

Price: $26 at marcjacobs.com
I love love LOVE these! Choose from grey with blue, purple, and black inside, blue with yellow, white, and navy inside, or pink with blue, brown, and black inside. That's a lot of color and who doesn't love color. All three are 100% leather and are stamped with the super-cool Marc Jacobs signature. Hmm… the pink one would make a great Valentine's Day gift, wouldn't it? There are also coordinating snap wallets, long wallets, coin purses, and ID holders… an entire color block collection!
---
2

Pebble Elastic Billfold

img.allw.mn
Price: $22 at marcjacobs.com
This collection looks completely traditional and square, until you notice the thin, neon-electric elastic band. Choose from black with purple, pink, orange, green, or blue. The wallet is constructed of 100% leather with a slightly nubby pebble finish. If you're not a billfold user, there's also an ID case.
---
3

Mirror Heart Small Pouch

img.allw.mn
Price: $16 at marcjacobs.com
So very cute, so very glam! This 100% PVC pouch has a zipper along the top and a leather liner. It's stamped with sweet little hearts and the signature MJ initials. Choose from shiny, metallic gold, blue, dark grey, purple, red, or silver. Cheeky, sweet, and so stylish! Also available in a billfold, coin purse, long wallet, zipper clutch or evening bag with a chain. Another perfect gift to make your Valentine's Day unforgettable!
---
4

Shiny Punk Wallet

img.allw.mn
Price: $18 at marcjacobs.com
Ooh! I love this one! It's shiny black made of 60% PU and 40% PVC. It's super-glossy and you can choose from a black wallet with a wrist strap in neon pink, blue, green, orange, or purple. Also available in a tiny zippered pouch… just the perfect Marc Jacobs accessory for the perfect punk rock look!
---
5

Creative Growth Clutches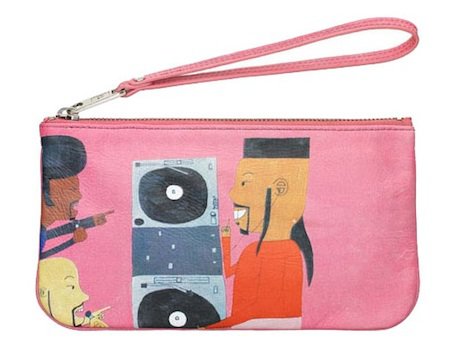 Price: $24 at marcjacobs.com
These 100% leather zipper-topped clutches feature truly unique designs and all proceeds benefit the Creative Growth Art Center. The Center serves adult artists with developmental, mental, and physical disabilities. Buy a great clutch, team it up with a fun dress, hot shoes and support a great cause!
---
6

Croc Print Billfold

img.allw.mn
Price: $45 at marcjacobs.com
Oo la la! Very fancy! This croc-style wallet is 100% leather and is available in six cool colors: light grey, yellow, navy blue, plum, and white. I wonder if I could findbeautiful shoes to match? There appear to be enough slots inside to hold all the necessities, like your ID, debit card, blood donor card, and library card. Oh, and some paper currency. There's also a matching long wallet and portfolio.
7

Skull Billfold

img.allw.mn
Price: $19 at marcjacobs.com
Made of 100% leather, this fashionable wallet is sure to be a hit with any bad boy (or girl!). It's matte black and features a white skull graphic, folded in half at the crease of the billfold. There are slots inside for storing ID, credit or debit card, and that sort of thing.

Now you know what I mean by über-cool Marc Jacobs wallets! Buy a few for yourself and a few for your friends, and share the joy! Which of these do you like best? Or do you have another favorite?
---
Comments
Popular
Related
Recent