It seems like everyone has a laptop these days, and I'm always interested to see what kinds of bags and sleeves people use for their own laptops. Alas, it seems that even some of the most stylish and chic girls are carrying their laptops in boring bags… but not anymore! Here are my picks of eight great lap-top bags…
---
1

Lillian's Lovebirds Laptop Sleeve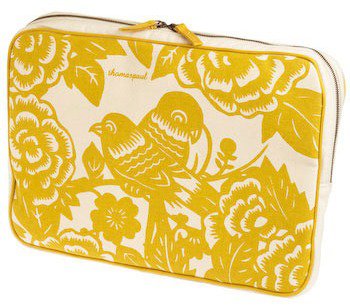 Price: $49.99 at modcloth.com
Thomas Paul's take on the traditional laptop bag is charming, sure to set your heart a-flutter. I love the bright yellow print, featuring two sweet love birds perched on a branch. The bag closes with two sturdy zippers, and has plenty of room for your laptop, notebooks, and papers… perfect!
---
2

Luddite Collection Laptop Case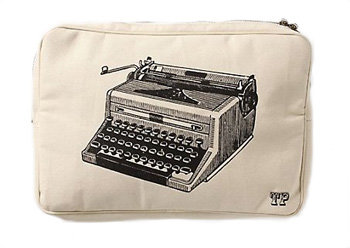 Price: $68.00 at anthropologie.com
Remember the days before computers, the days of the click-clack of busy typewriters? Recall those days by stashing and protecting your laptop in this natural-canvas bag by Thomas Paul. The typewriter on the front in silk-screened, and the bag closes securely with two large zippers.
---
3

All a-Twitter Laptop Bag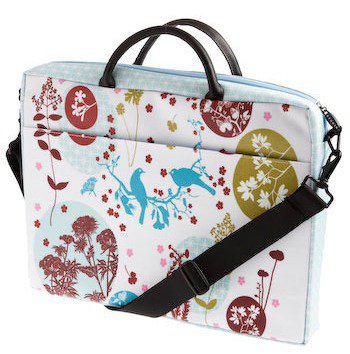 Price: $54.99 at modcloth.com
Sometimes we can all use a little cheer, and this laptop bag is a great way to carry your computer and get a little pick-me-up. Its bright birdie print and contrasting handles make it the ideal way to port your school things and your laptop, and to brighten even the greyest days.
---
4

The Brothers Bray and Co. Laptop Briefcase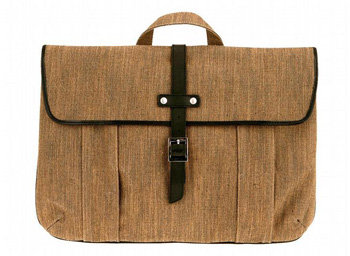 Price: $48.00 at urbanoutfitters.com
Perhaps you'd prefer something subtle, classic, elegant. This bag is the perfect solution — spare, simple, chic, but completely upper crust. The brown also makes it neutral enough to carry with another bag, perhaps your favorite print handbag or tote?
---
5

Undercover Stealth Laptop Case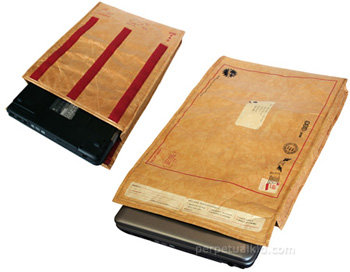 Price: $24.99 at perpetualkid.com
Very clever! Disguising your laptop as a beat-up padded mailer, so no-one will give it a second glance, and it will look right at home in that stack of papers and notebooks you keep in the passenger seat of you car. I like this one not only because it's unique, but also because it's large enough to hold my gigantic 17" laptop — not many bags do!
---
6

Marc Jacobs "Sketchy Miss Marc" Laptop Case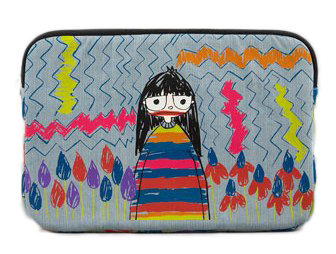 Price: $78.00 at neimanmarcus.com
Hooray! Another laptop bag that's large enough to hold my huge 17" laptop… and with style! I love the Miss Marc character (she already graces one of my favorite coin purses), and she looks right at home, frowning on this denim bag. The double-zip at the top and hardware are a shiny gold, which contrasts nicely with the print…
---
7

Juicy Couture Charm-Dotted Laptop Case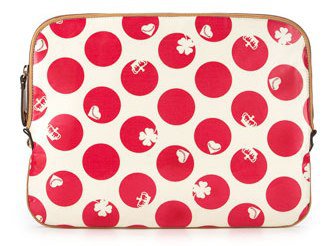 Price: $98.00 at neimanmarcus.com
Who doesn't love polka dots, especially ones that are customized with pretty charms? This laptop bag by Juicy Couture features rows of big, bright pink dots with tiny white charms, a heart, a crown, and a clever little clover.
---
8

Diesel Neosole Laptop Case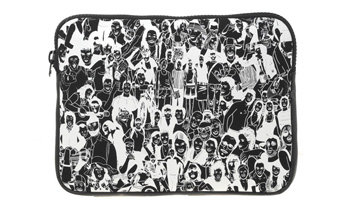 Price: £38.00 at asos.com
Looking for an urban-print laptop bag, something guaranteed to get compliments from just about everyone? This one by Diesel is a zip-around with an all-over black-and-white print. It's cushy enough to protect your laptop or netbook, but is very lightweight.
So you see, you really don't have to stash and protect for laptop in a boring solid-color or black canvas laptop bag — there are so many cute and stylish options, you'll have a hard time choosing just one! Which of these laptop bags and cases do you like best? Or is there another one you love more? Please let me know!
More
Comments
Popular
Recent