What girl doesn't love a new handbag, especially this time of year? One of my all-time favorite handbag brands in Nine West, because their styles are always so fresh and exciting, and their Spring 2010 collection is no exception! Here's my list of the ten hottest Nine West handbags… some of them are so new, you have to pre-order them!
---
1

Nine West Cozumel Backpack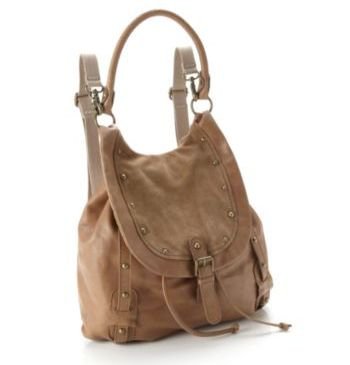 Price: $159.00 at bonton.com
This bag is so versatile, and so trendy! It's studded and a neutral, natural leather, with detachable canvas backpack straps and a leather top handle. I love the handy pockets, and the tidy nylon liner. I doubt I'd use this as something so pedestrain as a backpack, though — it's just too gorgeous!
---
2

Nine West Clio Shopper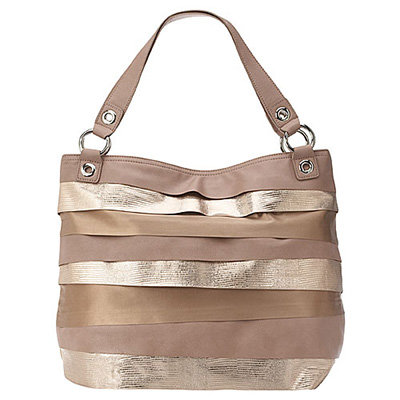 Price: $99.00 at ninewest.com
I love this bag! It comes in a neutral pinky beige and slinky black, and no matter which color you choose, it also features strips of sheers and metallics. I love the animal print lining, and the roomy interior. This is a great every-day carry-all or even a bag for a night out!
---
3

Nine West Ginger Hobo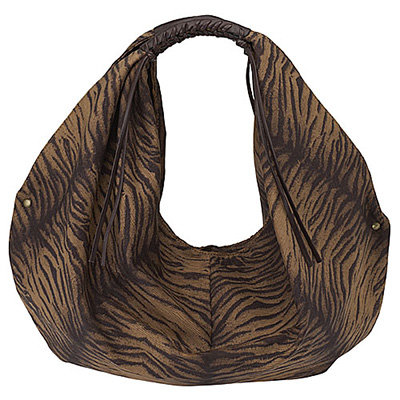 Price: $89.00 at ninewest.com
Go a little wild with this brown and black animal print hobo bag! I love the slouchy look and it's so roomy! I'd pair this with dark skinny jeans, tall black heels, big sunglasses, and a sheer, racy top.
---
4

Nine West Cross Body Envelope Bag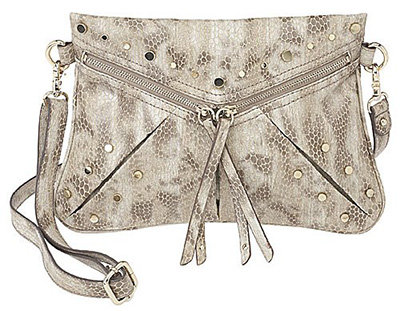 Price: $69.00 at ninewest.com
Go glam-rock with this sleek little envelope bag! I love the faux python finish, the leopard print inside lining, and the cool metal studs and detailing. And the double-zipper detail on the front really sets this bag apart! Wear this with tons of sooty eyeliner, sky-high heels, and big hair...
---
5

Nine West Ruffle Satin Clutch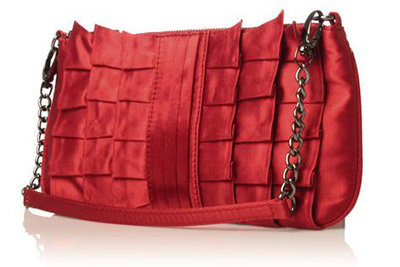 Price: $29.99 at kurtgeiger.com">http://www.kurtgeiger.com%2Fonline-shop%2F163120-nine-west-ruffles-clutch">kurtgeiger.com
This sweet little bag is such a bargain! Choose from inky black or ruby red, or maybe take both! It can be a delicate shoulder bag, or detach the chain strap and it's a pretty clutch! I love the ruffle-bow detailing on the front, and the convenient inside zipper pocket.
---
6

Nine West Tikabead Canvas Hobo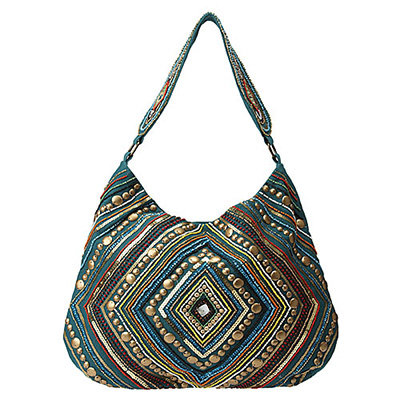 Price: $69.00 at ninewest.com
Beaded tribal accessories are finally getting their due this season, and on this handbag! It's a unique, slouchy, roomy canvas hobo bag with beading on the front and on the strap, available in yellow, teal, or blue. Pair with a sheer, pretty peasant blouse and faded jeans... so pretty, so boho!
---
7

Nine West Box Pleat Satchel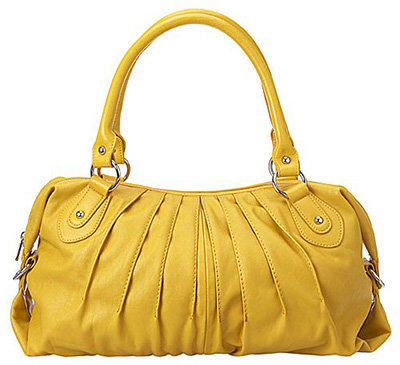 Price: $44.99 at ninewest.com
This is a modern take on the classic satchel, roomy enough for all of your must-haves, but with style to spare! It closes at the top with a silver-tone zipper, with a handy inside pocket and two smaller pockets for the goodies oyu'll need often. Choose from pretty yellow or basic black... both have the same silver-tone hardware and box-pleat detail!
---
8

Nine West Minimum Hobo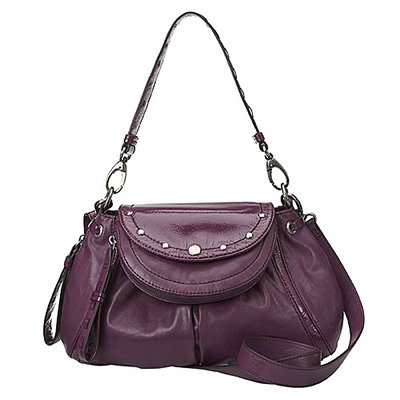 Price: $69.00 at ninewest.com
This is the hobo bag for me! I love the shiny, sleek patent trim and the detachable shoulder strap. The animal print lining gives it a little extra sass, and it's not as huge and ungainly as larger bags. I also love that you can choose from dark purple, bright turquoise, or inky black. I want the turquoise one!
---
9

Nine West Melinda Metallic Shopper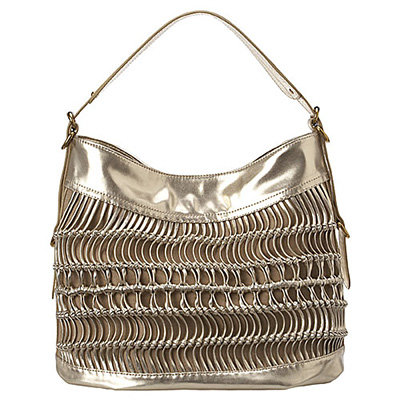 Price: $89.00 at ninewest.com
Metallics are hot this season, and this handbag is bang on trend! I love the shiny platinum finish and the weave-look detail on the front. This bag has plenty of room for all of the essentials, like a checkbook, wallet, planner, and cell phone. I'd carry this with a pretty floral dress or linen short shorts and a sheer camp shirt.
I love these handbags, and I can't wait for my pre-orders to ship! Now I just have to find shoes to go with all of these… hmm… ! Which of these hot Nine West handbags do you like best? Or is there another one you've seen that you just have to have? Please let me know!
More
Comments
Popular
Recent