As girls, we're so lucky — we can change our look from priss to prim to punk with just a few accessories! If you're looking to add a few key pieces of punk to rev up your wardrobe, I can help! Here are 7 great punk rock accessories for girls!
---
1

Double Heart Padlock Bracelet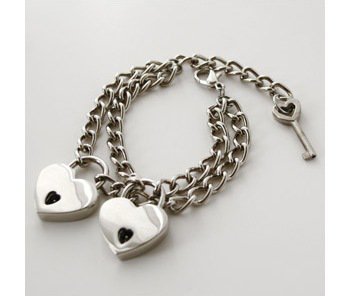 Price: $20.00 at shanalogic.com
This sturdy, chunky bracelet is the punk sister of that pretty, proper Tiffany heart locket bracelet. It features two working heart-shaped padlocks with one working key, and is so cute in a very punk way!
---
2

Ninja Pirate Bunny Necklace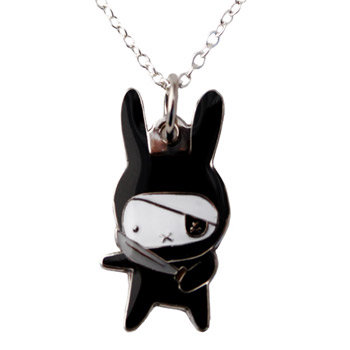 Price: $20.00 at shanalogic.com
What's scarier, ninjas, pirates, or bunnies? How about the ultimate in punk scariness, a ninja pirate bunny! He may look cute, but he's truly bad-ass! Like the bunny, but not the necklace? He also comes as a super-cute, super-scary pin, too!
---
3

Sassy Handcuff Choker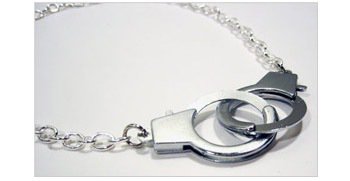 Price: $15.00 at shanalogic.com
What a perfect necklace for a naughty punk girl! The handcuffs clasp together and also fasten the necklace. The choker measures 15" long, and will add a little punk sass to any outfit.
---
4

The White Rabbit Bracelet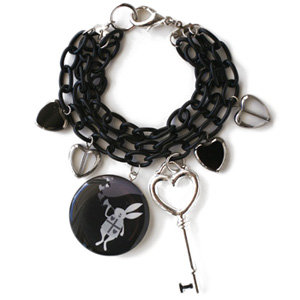 Price: $65.00 at shanalogic.com
If you're a fan of Alice and her Wonderland (what punk girl isn't?), add a bit of her fantasy to your wardrobe with this triple-strand charm bracelet. Dangling from the black Lucite chain is a key, the White Rabbit, and four hearts.
---
5

Ukiyo5 Skull Keychain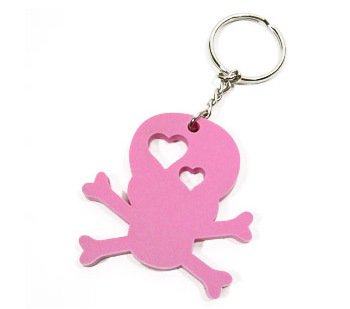 Price: $6.00 at shanalogic.com
Another must-have for any punk girl is anything by Ukiyo5 … including this super-awesome PVC/rubber pink skull key ring! I love the little heart eyes and the squishiness of the PVC… cool!
---
6

Skull & Pick Bracelet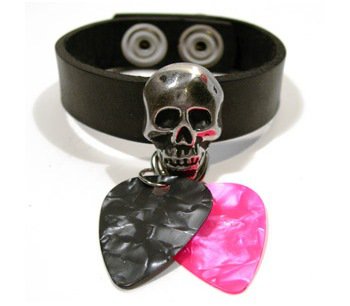 Price: $24.00 at shanalogic.com
What does a punk girl get when she mixes a metal skull, a leather bracelet, and two cool guitar picks? This hot sass bracelet! It snaps shut and is adjustable for a great fit, and it features two pearly picks, one pink, one black.
7

Thin Leather Cuff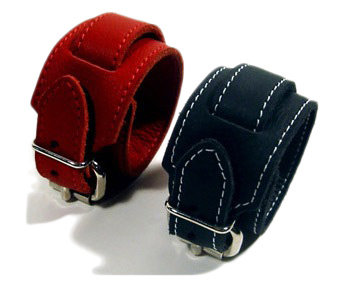 Price: $25.00 at shanalogic.com
Red or black, medium or large? Either way you choose, this semi-thin, very cool leather cuff bracelet is all punk, all attitude. The medium fits most girls, the large fits most guys. Get matching cuffs for you and your guy!
Add any of these punk sass accessories to just about anything in your closet for a truly edgy look! I love the ninja pirate bunny stuff, and that heart padlock bracelet is fantastic! Which of these punk rock accessories do you like best? How would you wear it? Please let me know?
---
Comments
Popular
Related
Recent