Don't you hate when the sun gets in your eyes and you don't want to wear your sunglasses? Of course you do. Well, it's time to get some protection because I am going to give you 7 sexiest hats to keep the sun away…
---
7

Laura Floppy Sunhat
Price: $123.00 at shopbop.com
I don't exactly dig this hat. Maybe it is the color? I know that some out there will like it, so I decided to put it on this blog. It is a striped linen sunhat. It's made of one hundred percent linen. It has floral lining and has a six inch crown with a four and a half inch brim. I'm interested in your opinion on this hat.
6

Sun & Sand Turquoise and Brown Beaded Floppy Hat
Price: $30.00 at southmoonunder.com
Wow, you're never going to let that sun get in your eyes with this hat. This hat has turquoise stones on it, which are really cool looking. It has a single strand of tied leather, which adds something to it. This is a straw hat, but it's a straw hat with style!
---
5

Cotton Canvas Sun Hat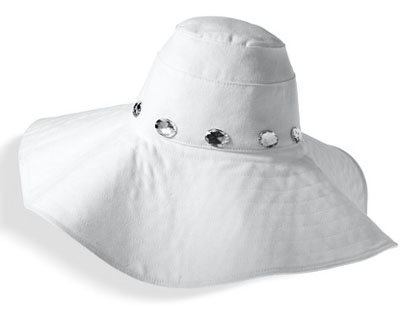 Price: $29.00 at newport-news.com
This is a white hat, so it will go with all of your outfits. It's one of those neat floppy hats. It has faceted beads running around the top of it, which adds a good look to it. So, what do you think of this one? It would make a great hat to wear to the beach providing the fact you can keep it on your head!
---
4

Halsley Sun Hat
Price: $49.95 a colehaan.com
I usually don't enjoy these type of hats, but I think this one looks pretty cool! This is one hundred percent paper straw. It is a large brimmed sun hat, which will be sure to keep the sun out of your eyes during the day. It has a cute leather flower and perforated band.
---
3

Capeline Sun Hat with Bow
Price: $45.00 at ronherman.com
First of all, I'm going to tell you that when it says "bow," it is talking about a little bow on it, like a shoestring type bow. When I heard "bow" in the description, I was expecting to see a big old bow. Other than this, I think this sun hat looks pretty cool. It's purple in color and would look good with a purple, black or white outfit. If you want a big bow on it, you could always add one!
---
2

Helene Berman Striped Straw Hat
Price: $112.00 at bloomingdales.com
Wow, I actually like this hat! It's pretty and looks like it would definitely add some glamor to a look. It has contrasting stripes and of course, it's a sun hat, so it has a large brim. The brim is seven inches and it is made out of straw. This is a neat straw hat!
---
1

Medina Sun Hat
Price: $118.00 at freepeople.com
This is a nice looking sun hat that would go good with a pair of jeans. It is a woven straw hat that has a big, floppy brim. I'm not sure if it is my favorite, but my friend said that it is her favorite, so I had to include it as number 1 on this list.
I know that some (well, most) of these prices on this list are a big expensive as they are in the hundred dollar range, however, they are well worth it and are of high quality. They will protect your eyes, which is exactly what you need. It will also look good on you at the same time! So, what do you think? Are you a hat person?
---
Comments
Popular
Related
Recent