Stylish, fun, useful and totally adorable, floppy hats are a must-have! They can make an everyday outfit look wow and they can make your beach attire look glam but one thing is for sure – they will prevent that pretty little head of yours from overheating and minimize the negative effect sunrays have on your hair and skin. Yup, adorable floppy hats are the way to go and these 7 right here are just too cute to be left out…
---
1

Natural Straw Bow Front Floppy Hat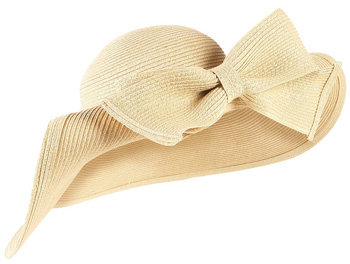 Price: $65.00 at us.topshop.com
Posh, glam, refined- I'd say these three words describe this hat perfectly but, just in case you could use more details, I might decide to throw in and "elegant", "expensive-looking", "upscale" and "trendy". So, if your style can be described as "classy", you need not to look any further as this is the hat for you.
---
2

Kate Spade New York Boardwalk June Floppy Hat

Price: $75.00 at zappos.com
Fab black and white bikini, stylish tote and this Kate Spade hat are a match made in heaven. But before you say something like, "C'mon, that's just boring!", take a look at the yellow lining and think about all those fun accessories you'll be inspired to wear. Like chunky yellow plastic bangles or necklaces, for example. Now, wouldn't that be a fun and, not to mention, eye-catching and totally summer-appropriate combo?
2

San Diego Hat Company Denim Floppy Hat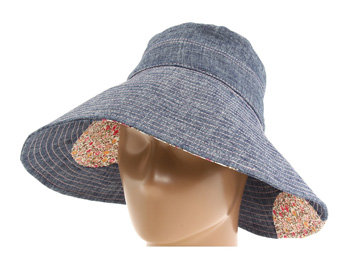 Price: $54.00 at zappos.com
Next one on my list of adorable floppy hats is this casual and totally fun wide brim hat by San Diego Hat Company. This baby will definitely put your mind at ease, partially because you won't have to worry about how to match it with other clothes and partially because you'll give your head that much needed shade. So wear it with all your favorite jeans and tees and don't forget to ruffle the brim enough to allow these cute floral patches to show!
---
3

San Diego Hat Company Floral Floppy Hat

Price: $60.00 at zappos.com
Our biological CPUs require a cool environment to work properly, too, so we'd better upgrade ourselves with a good cooler ASAP. Yup, I know a hat doesn't look like much comparing to fans and air conditioners but hey, at least they are mobile and stylish! This coral shade and floral print will get you noticed on the beach or anywhere you decide to turn up sporting this fabulous piece of "sun-block".
---
4

San Diego Hat Company Grommet and Scarf Floppy Hat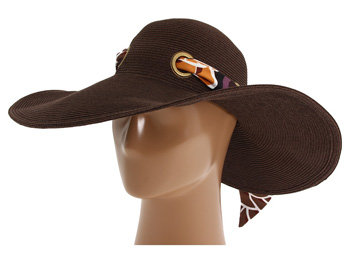 Price: $48.00 at zappos.com
City Diva coming through, move out of the way! Take a good look at this lovely hat, ladies, and next time you go shopping for some adorable floppy hats to wear this summer, do your best to come home with an interesting piece like this. I love, love, looove it and, since black is ao easy to combine, I'll definitely have to start searching for something like this, too!
---
5

Grosgrain Floppy Hat

Price: $12.80 at forever21.com
Sweet, girly and not too over the top – if you don't like huge, colorful headwear, this hat might be the perfect one for you. I prefer a bit larger, colorful ones so this one wouldn't exactly be my first choice but I'm guessing my sister would fall in love with it immediately and I doubt she's the only one out there who likes this type of hats. Am I right?
---
6

Basketweave Floppy Hat

Price: $12.80 at forever21.com
Romantic and kind of retro- if adorable floppy hats are must-haves than this one is a must-must-must-have! Wear it with jeans and espadrilles or raffia wedges for a more casual girly look or change into a linen dress and throw in a few pieces of stylish, eye-catching jewelry and you'll have a perfect, romantic look to make you stand out and feel great this summer.
---
7

Sand Diego Hat Company Colorful Floppy Hat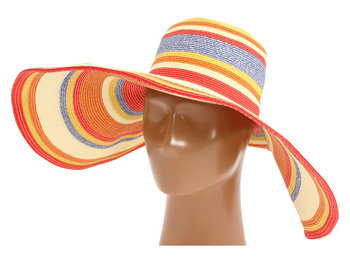 Price: $52.00 at zappos.com
The last one on my list of adorable floppy hats is this huge rainbow hat that's bound to score its wearer some major style points. Now, I'm not sure if this is your style but I'd wear it any day and, since it's one of my favorites, I just had to mention it here. Sport this baby at the beach and you'll not only enjoy your very own patch of shade but a ton of amazed and surprised looks, too!
Hope you liked these 7 adorable floppy hats, ladies. But tell me what are you planning to wear this summer. Will that be floppy hats, scarves or maybe even both?
Top image source: legacyentries.weheartit.netdna-cdn.com
---
Comments
Popular
Related
Recent