There's really nothing quite like the delicate, pretty tinkle of a wind chime to announce a breeze on your patio or in your garden. My favorite chimes are the kind that give a gentle, tranquil sound, but there are so many chimes with so many types of sounds. With summer nearly at an end, I've been looking for a new set of chimes to replace a set I lost in a storm, and I've found so many I love, I'm not sure yet which to buy… here's my list of 7 pretty wind chimes…
1

Pachelbel's Canon in D Wind Chime

Price: $39.99 at signals.com
What if you could hear one of your favorite pieces of classical music each time the wind blows? That's exactly what happens when this wind chime is hit with a breeze… all six tubes are tuned to play notes from Pachelbel's beloved "Canon in D." So gorgeous!
2

Personal Wind Chime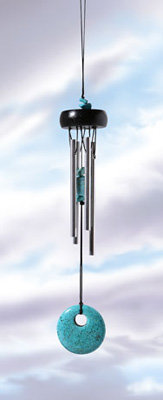 Price: $15.00 at signals.com
This travel-sized wind chime may look small, but it's perfect for taking on the road with you, or for hanging indoors in a window. The clapper is solid turquoise, and it looks lovely with the silvery tubes. So pretty!
3

Angel Wind Chime

Price: $29.95 at signals.com
If you have a thing for angels, or just want to add a touch of serene elegance to your garden or patio, then hang this pretty wind chime anywhere you like. She's made of sturdy cast aluminum and will add grace to any quiet corner of your yard.
4

Crystal Raindrops Wind Chime

Price: $24.95 at signals.com
It's a rainbow-producing cascade of glassy raindrops and a wind chime — what more could you ask for? I l love that you can use this one indoors or out, and that on occasion, in just the right sunlight, it can cast rainbows about!
Shakti
and #5 are lovely....
5

Autumn Leaves Capiz Chime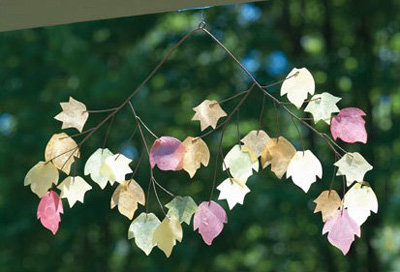 Price: $29.95 at signals.com
Of all the wind chimes I've seen and heard, this may be my favorite. I love the hand-crafted autumn-hued leaves made in Bali of capiz shells, and the pretty, subtle tinkling sounds it makes! This wind chime also makes a lovely house-warming gift…
6

Flotsam and Jetsam Garland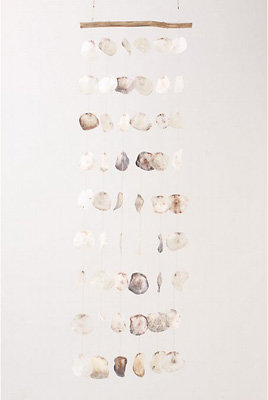 Price: $98.00 at anthropologie.com
This delicate wind chime is all sun-washed, beach-inspired elegance and beauty, made of smooth bamboo and sea shells. Hang it on your patio or porch and instantly add the sounds and sights of summer at the beach.
7

Locally Grown Tin Can Wind Chimes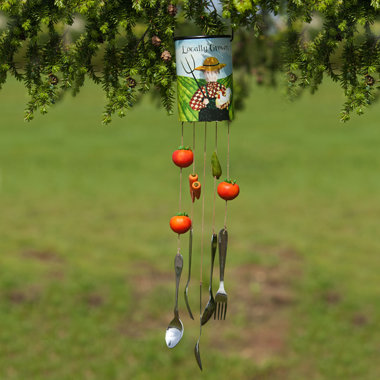 Price: $21.99 at bedbathandbeyond.com
What gardener really needs any more encouragement to grow and eat their own vegetables? But just in case, this whimsical wind chime is there to provide a gentle reminder, made of bright faux veggies and silverware. It's so cute!
With so many wonderful wind chimes in so many styles, there's bound to be one to give as a perfect gift, or to keep for yourself. Which of these wind chimes do you like best? Or have you found another you like more? Please let me know!