I love statement jewelry, and this fall, I've seen so many gorgeous pieces! There are so many outstanding rings, eye-catching necklaces, and extraordinary bracelets, I can't decide which ones to buy and wear! I've narrowed my list a little, but I think I still need some help choosing which ones are must-haves, and which ones I can add as fall goes on. Here are 8 gorgeous pieces of statement jewelry — can you help me choose?
---
1

Archive Jewelry Coco Necklace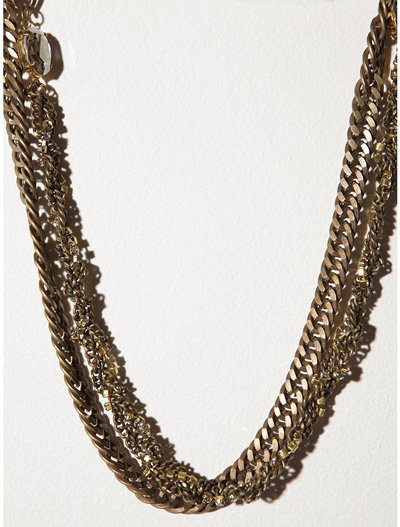 Price: $130.00 at urbanoutfitters.com
This necklace is so unique! It's perfect for pairing with long cozy sweaters and leggings, or with a white blouse and pencil skirt and boots. I love the distinctly vintage feel, and the chunky but elegant long lines. Gorgeous!
---
2

Archive Jewelry Revolution Bracelet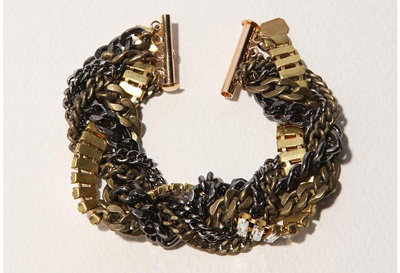 Price: $138.00 at urbanoutfitters.com
I absolutely must have this bracelet at some point this fall, but when? Do I need it now, so it can peek out from the sleeve of my favorite tweedy fall blazer? Or should I wait and wear it closer to winter, with my long skirts and tall boots? I love the mixed metals and the over-sized design of it… but when do I have to have it? Soon, I think, rather than later…
3

Dara Ettinger Angelica Knuckle Ring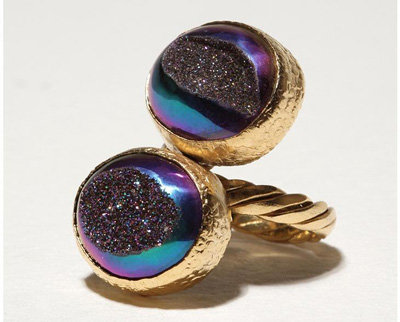 Price: $118.00 at urbanoutfitters.com
This ring reminds me of the deep violet-blue of an early fall night, when it's still warm enough for star-gazing, as long as you have the right company. I love the contrast of the blue stones with the gold finish… so pretty!
---
4

Amlapura & Kuta Necklace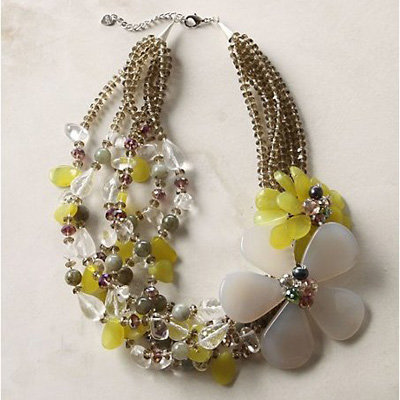 Price: $198.00 at anthropologie.com
What gorgeous colors! I challenge any gold maple tree to rival the color, even at its autumnal best. The flowers could be mums, the crystals bits of frost or dew… I'd pair this with a long-line Henley, a vest, and skinny jeans…
---
5

Perfect Skippers Necklace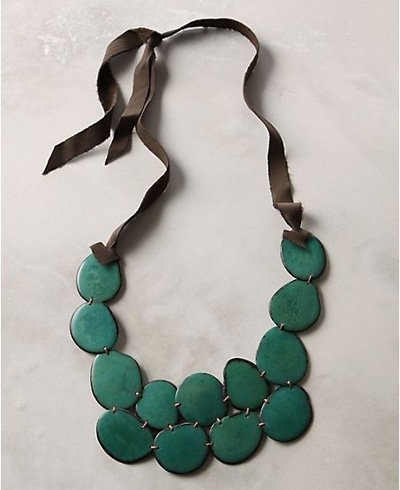 Price: $68.00 at anthropologie.com
These truly could be the perfect skipping stones, rounded and smooth and ideal for bouncing across a pond. I could choose from an array of gorgeous colors: grey, red, purple, or blue. All are so pretty, and make such a statement! But which color… hmm…
---
6

Rainbow Burst Bracelet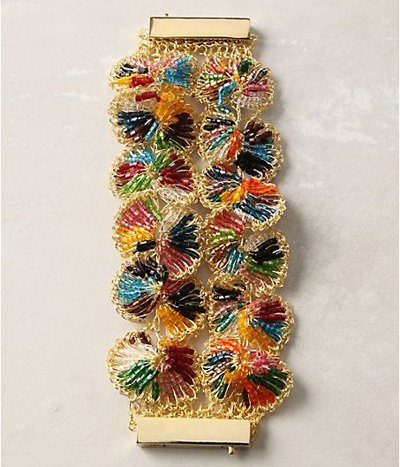 Price: $168.00 at anthropologie.com
This bracelet clearly says the wearer is a traveler, a gypsy at heart… that could be me! It reminds me so much of a pretty beaded bag my mother had when I was a child… I love the bright colors and the whimsical pinwheel shapes… this is a must-have, for sure!
---
7

Concentricity Earrings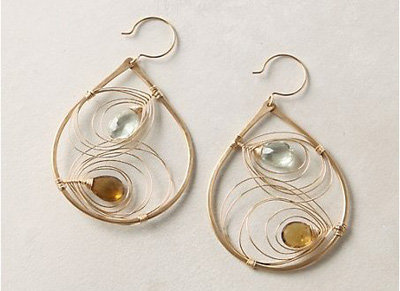 Price: $98.00 at anthropologie.com
Statement earrings? Why not? These remind me of spider-webs, delicate and sparkling with dew. The shape is liquid and graceful, and would call attention to a long neck, especially with a messy bun or sleek ponytail.
---
8

Coalescing Necklace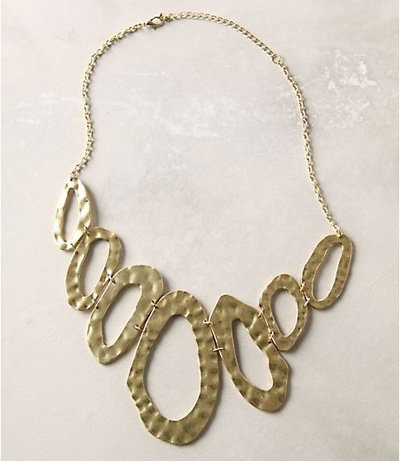 Price: $58.00 at anthropologie.com
Sometimes, everything in my day just seems to come together exactly as it should, kismet and chance all around. This necklace would be perfect to wear on those days… I love the chunky, irregular ovals. Wouldn't this look pretty with layers of shells, leggings, and tall boots?
Now do you see my dilemma? Which of these gorgeous pieces of statement jewelry should I buy? Advise, please! Which would YOU buy, and how would you wear it? Please share with me… I just can't decide!
---
Comments
Popular
Related
Recent