It is my firm belief that jewelry is an investment, and I am unwavering in my devotion to a particular brand of jewelry, too: Tiffany. When my oldest daughter turned 7, she received her first Tiffany jewelry, a pair of earrings. Now that my youngest daughter is about to turn 7, I've been searching the Tiffany catalog and have found so many beautiful earrings to start her "investment" collection. Here are 8 pretty pairs of earring for little girls… among them the pair my Sophie will get to start her appreciation for Tiffany, too!
---
1

Tiffany Elsa Peretti® Color by the Yard Earrings

Price: $375.00 at tiffany.com
These tiny sterling silver posts feature carefully matched brilliant green tsavorites with a total carat weight of 0.14. The combination of the Kelly green with the clean silver make them perfect for a little girl. They're also available with pink sapphires or pale blue aquamarines.
---
2

Tiffany "Paloma's Crown of Hearts" Earrings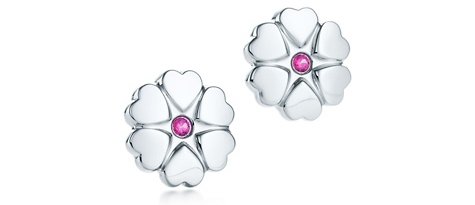 Price: $350.00 at tiffany.com
Look closely at these delicate sterling silver flowers and you'll notice they're actually a ring of hearts with a tiny pink sapphire in the middle. They're also available with a diamond in the center, but the pink sapphire makes them ideal for a young girl, perfect for a princess.
3

Tiffany Bow Earrings

Price: $125.00 at tiffany.com
These sweet little bows, made of sterling silver, are so tiny and delicate they look as though they were made for a little girl. The detail is exquisite, and they're so small the Tiffany site describes them as "tiny."
---
4

Tiffany Pearl Earrings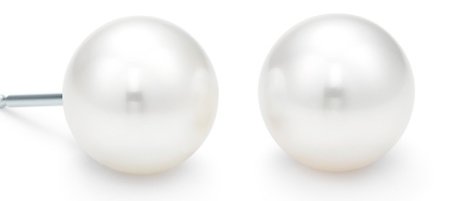 Price: $150.00 at tiffany.com
The creamy cultured freshwater pearl posts measure 8-9mm each, carefully matched for size and color. These would make a lovely gift for a teenage girl, one that she could wear for her graduation and then later as a bride. They're a classic, too, and will never go out of style.
---
5

Tiffany Double Drop Heart Earrings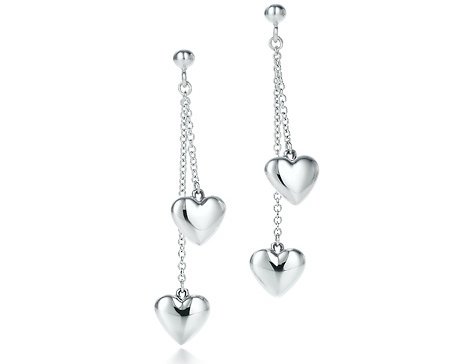 Price: $275.00 at tiffany.com
These modern dangle earrings would be perfect for a slightly older girl. They're made of sterling silver for pierced ears, and feature a set of puffy classic Tiffany hearts.
---
6

Tiffany Hearts® Earrings

Price: $175.00 at tiffany.com
These are just like the ones I bought my older daughter, and she still loves them. They're the classic Tiffany heart, slightly puffy, in brilliant sterling silver on posts (for pierced ears only). They're a perfecr every-day earring, and are so adorable!
---
7

Tiffany Elsa Peretti® Apple Earrings

Price: $195.00 at tiffany.com
Apples have long been the symbol of education, and of learning. I would give these to m daughter to tell her I know how brilliant she is, and that she's the apple of my eye. They're so tiny, and are so beautifully detailed… I love the little stems, and the tiny seeds in the middle.
---
8

Tiffany Elsa Peretti® Starfish Earrings

Price: $300.00 at tiffany.com
These pretty sterling silver starfish can serve as a reminder of a special trip to the ocean, or of that first star at night, made for wishing on. They're tiny, perfect for little ears.
These are the earrings I'm considering for my daughter's first real jewelry, and I'm fairly certain I'll end up buying those precious apples, or perhaps the tiny hearts. Either way, they're an investment, and heirloom to be handed down, worn, and loved for generations! Which of these earrings do you think would be best for a little girl? Or do you disagree that fine jewelry is an investment?
More
---
Comments
Popular
Recent