When picking out your jewelry for your wedding day, there are a few things to keep in mind. You want to pick out something that goes along with your theme and wedding style, but you want it to be unique to your personality and feel like "you," only better. Here are 7 gorgeous wedding necklaces to give you an idea of the many different styles and types of necklaces you can choose to go with!
---
1

Drop Necklace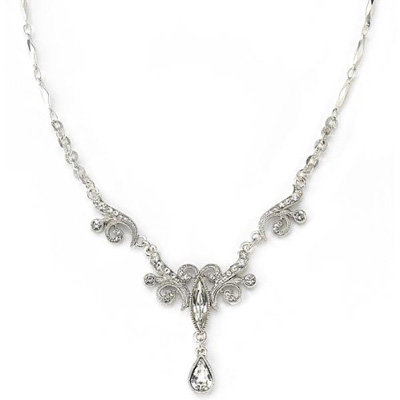 Price: $38.00 at amazon.com
This necklace is utterly stunning! Any bride who wore this crystal gem would feel like a princess . I especially love the crystal drop at the center; it pulls the whole necklace together and gives it such an elegant touch.
---
2

Pearl Necklace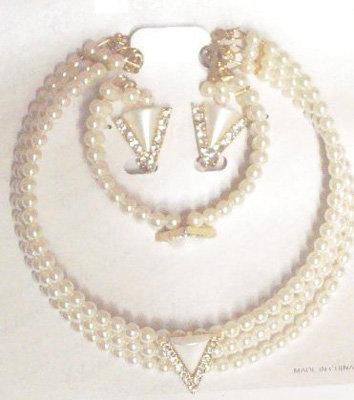 Price: $55.99 at amazon.com
Pearl necklaces are timeless and classic for any bride no matter her style. Pearls add a regal sort of elegance and look lovely in photos. You can even get the pearl earrings and a pearl bracelet to match your necklace and your look will be well pulled together! I love the center triangle design on this triple-stranded choker.
---
3

Flower Necklace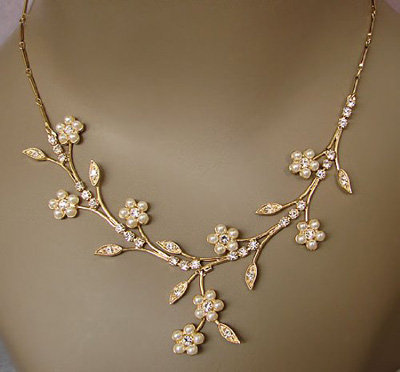 Price: $46.95 at amazon.com
This necklace has lovely flowers and tiny crystal leaves branching off of a silver chain all the way down with a center drop. Perfect for a spring or an outdoor wedding! I love the girlish charm and sophistication this necklace carries. Perfect for an adventurous bride who has a carefree attitude!
---
4

Sparkly Necklace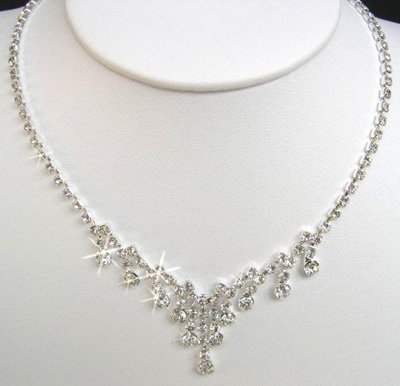 Price: $15.99 at amazon.com
I love the simple yet beautiful elegance of this necklace! Look at that sparkle and shine! It would go great with a sweetheart neckline or a strapless gown. You could probably find some drop earrings to match, and then you would be all set!
---
5

Crystal Necklace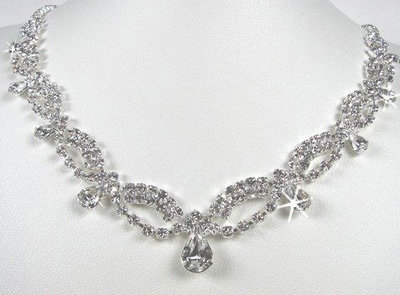 Price: $22.99 at amazon.com
If you want to make a dramatic entrance, this is the necklace to do it in! This crystal chain screams, "notice me!" but in a very trendy, demure way. If you plan to have an evening wedding with lots of candlelight, your necklace will shimmer and sparkle as brightly as your eyes while you proclaim your love for your groom.
---
6

Rhinestone Choker Necklace
Price: $19.99 at amazon.com
I'm loving the sheer beauty that this chic choker will lend to any bride who dons it! Perfect for just about any neckline, it even has the matching earrings. This necklace would be easy to wear again, to any black tie event or a holiday party. It would also make a great gift for your bridesmaids!
7

Colored Necklace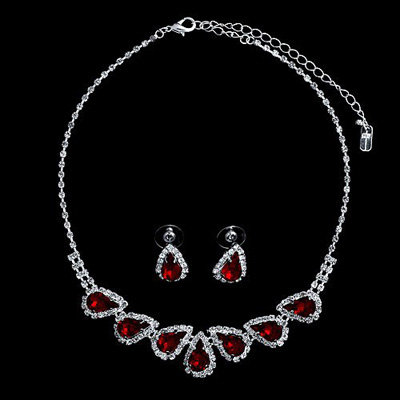 Price: $23.99 at amazon.com
If you are a bride who loves to break tradition, snatch this bargain up! While most brides tend to wear diamonds or pearls on their big day, some of us want something a little more exciting. This necklace has lovely red stones set into it and if your colors won't clash, it's a great option as opposed to traditional jewelry!
For most brides, it's important that every little detail from their hair, to their skin to their shoes be perfect. While it is necessary to look your best (those pictures will haunt you!), try not to obsess and worry about your veil hanging just right or those 5 stubborn pounds. With these lovely necklaces to choose from, jewelry is one thing that can be checked off of that "worry" list, and you can sit back and enjoy the day and let you and your jewels sparkle and shine away! Which of these gorgeous necklaces do you like best, and why?
---
Comments
Popular
Related
Recent