Rings are so hot this season, especially unusual cocktail rings or (even hotter!) two or three-finger rings! They're so eye-catching, and can be so much fun to wear! If you're not sure you can pull one off, buy an inexpensive one and give it a try… here's my list of 7 hot 2-finger bar rings, all less than $25, so you can play around with them and see what suits you!
---
1

2-Finger Bird Ring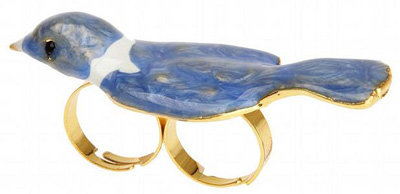 Price: $18.00 at urbanoutfitters.com
This pretty little enamel bluebird has a secret or two to share, so let him perch across two of your fingers, ala Cinderella, to tell you! Wear with a pretty dress and boots with your hair in loose waves, or with an all-business office outfit to add a little feminine flair.
---
2

Three-Finger Turquoise Rings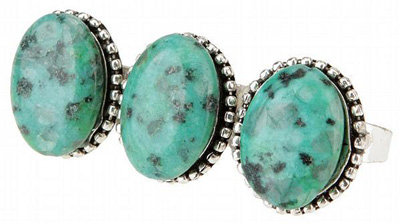 Price: $24.00 at urbanoutfitters.com
Doesn't this ring remind you of that road trip across the south-west, that jewelry stand you stopped at by the side of Route 66? It's made of silver-tone metal topped with three gorgeous natural turquoise stones, perfect for adding color to your favorite Boho outfit.
---
3

Triple Finger Rings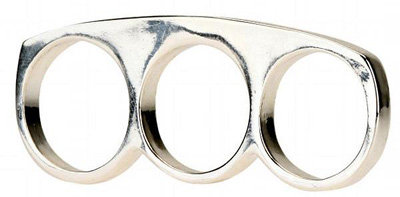 Price: $16.00 at urbanoutfitters.com
Simple, elegant, right on trend. Choose from gold-tone or silver, whichever matches your outfit best. Add a long-line necklace and a pair of studded flats or boots with loud buckles, and you're set for accessories! You're sure to get a ton of compliments on this ring!
---
4

Sheena Ring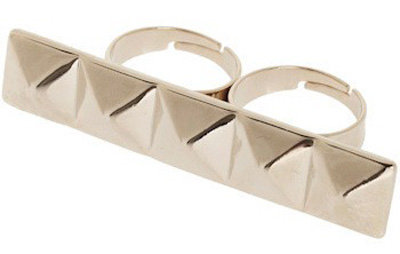 Price: $13.99 at modcloth.com
Add a little punk edge to your fall ensembles with this bold two-finger ring, glittering with silver pyramid studs. Wear it with sleek black, or a pair of distressed jeans and a graphic tee with a studded belt.
---
5

All Your Bunnies in a Row Ring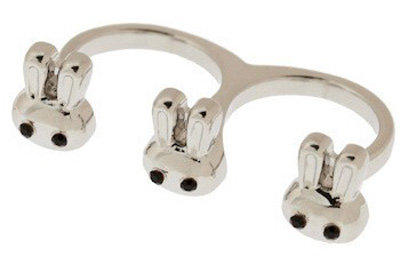 Price: $14.99 at modcloth.com
If having all your ducks in a row is a good thing, then is it better to have all your bunnies in a row? There really is one way to find out — wear them in a sweet little row with this adorable silver ring! Three tiny bunnies will peek from between your two fingers.
---
6

Shiny Double Ring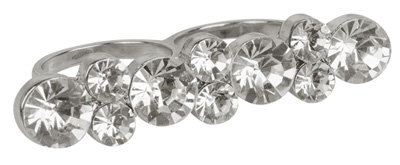 Price: $5.80 at forever21.com
Sometimes subtle won't do. Sometimes, you need glitz, glam, flash, and glitter. And if that's what you need this fall, try this eye-catching ring. Wear with a little black dress and a pretty headband, or with a flowing long-line vest and skinny jeans.
---
7

Rhinestone Double Ring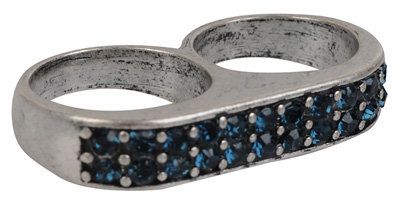 Price: $5.80 at forever21.com
This burnished steel ring offers a little flash of color with rows of blue rhinestones… wear it to add color to a modest black outfit, or with something with a loud graphic print, and a pair of spiky patent heels.
Buy and try a few of these really hot 2-finger rings and see what you think! They can add so much style to just about any of your fall outfits, and they're so much fun to wear. Which of these do you like best, and what would you wear it with? Or is this trend just not for you? Please let me know!
More
---
Comments
Popular
Recent