One of my favorite garden pastimes is to watch and listen to all the birds that gather there. Cardinals, sparrows, and finches… all of them are so pretty, and so much fun to watch! If you want to attract our fine feathered friends to your garden, keep reading! Here's my list of 7 pretty bird feeders, any of which will do the job!
---
1

Mosaic Bird Feeder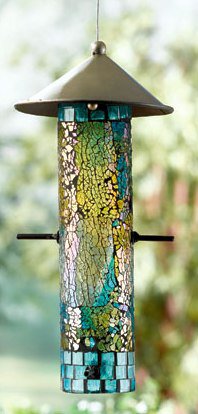 Price: $39.95 at signals.com
This pretty jewel-tones feeder can be filled with thistle seed to attract all sorts of sweet little birds to your garden, finches and chickadees alike. It has four posts for birds to perch upon, and I love how it sparkles when the sun hits it…
2

Garden Pedestal Bird Bath/Feeder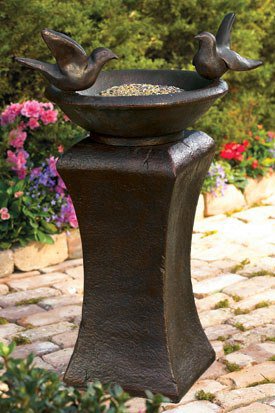 Price: $73.94 at signals.com
Is it a bird bath, a planter, or a bird feeder? It depends what you put inside, but either way, the pair of birds perched on the edge seem content to stay. It looks heavy, but it's actually very light, so you can move it from one sunny corner of your garden to another with ease.
---
3

Iron Angel Bird Feeder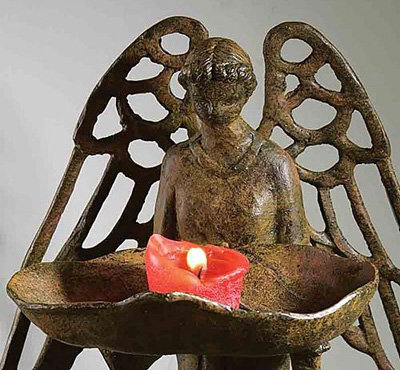 Price: $69.95 at acaciacatalog.com
So pretty, graceful, and serene! This garden angel holds a shallow bowl you can generously fill with bird seed or even just a candle or water (for a birdbath). She's elegant and tall, and is sure to attract attention from neighborhood birds and human friends alike.
---
4

Aged Metal Bird Feeder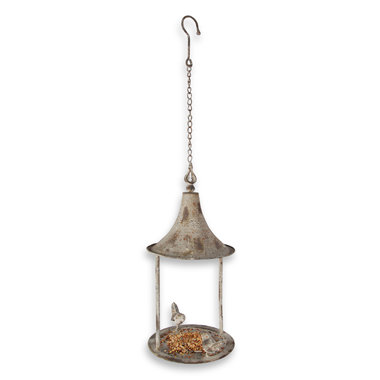 Price: $29.99 at bedbathandbeyond.com
Hang this vintage-inspired birdfeeder just about anywhere, fill with seed, and watch as your favorite feathered friends gather around. It's large enough to attract medium-sized birds and small enough for the bigger, squawky birds to ignore.
---
5

Boxwood and Song Sparrow Stake Feeder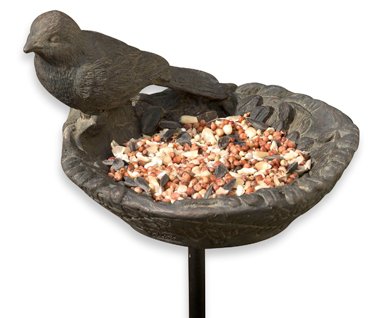 Price: $12.99 at bedbathandbeyond.com
If you have limited space, or a limited budget, this may well be the bird feeder for you. It doesn't require a tree or even a garden, just a space in the dirt where you can stake it. Fill with a handful of seed and more birds will come join the metal one perched on the edge of the feeder. So pretty!
6

Ceramic Bird Feeder on Rope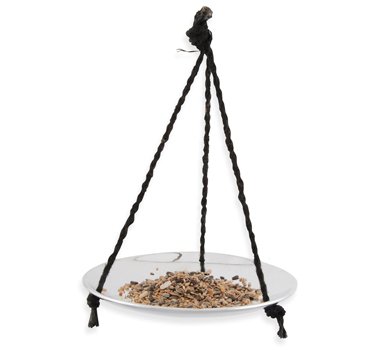 Price: $19.99 at bedbathandbeyond.com
No frills, fuss, or muss, this bird feeder is simple and to the point. Hang from the fray-resistant rope, fill with seed, and make the brightly-colored birds that appear the main attraction.
---
7

Cast Iron Bird Feeder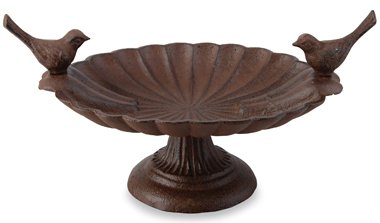 Price: $14.99 at bedbathandbeyond.com
I love this feeder with its short pedestal and the two birdie friends already there. It's heavy and substantial enough to be left out all winter long to feed the birds who don't migrate away.
Aren't these bird feeders gorgeous? I love the variety and I can't wait to buy the angel one to add to my own garden! Which of these bird feeders do you like best? Please let me know!
---
Popular
Related
Recent