When did robots become so chic? I've been seeing them everywhere lately, and I'm hooked! If you're looking for something robot-themed and truly unique, I can help! I've been searching out some new robot-themed goodies, and here's what I've found! Here's my list of 7 cute robot accessories… which to buy?!?
---
1

Hail Robot Wallet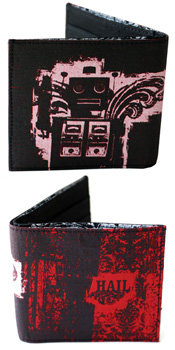 Price: $30.00 at shanalogic.com
Looking for a gift for tour robot-happy boyfriend? He's sure to love this one by Resist Today. It features a screen-printed robot on the front and has plenty of room inside for all those masculine must-haves, like ID, cash, and debit/credit cards.
---
2

Friendly Robot Necklace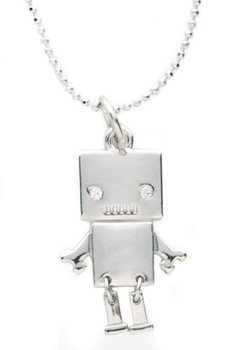 Price: $11.99 at modcloth.com
Eee! So cute! He looks top-heavy, his head so much larger than his shiny silver body, but it only adds to his charm. He hangs from a long silver chain, and would look so cute with anything black!
---
3

Robot Love Field Bag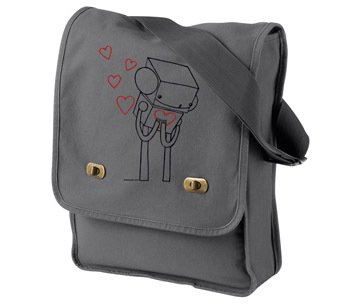 Price: $25.00 at shanalogic.com
Artists Lynette May obviously has a thing for robots, and her illustration proves it. Isn't it cute, though? I love field bags already, but this one, printed with her adorable illustration, is just too much! It's roomy enough for all of your school or shopping essentials, and if you love this, search the site for other goodies (a tee, some pins, a scarf, and a necklace) with the same design.
---
4

Retro Robot Pouch

Price: $9.00 at shanalogic.com
I love this fabric pouch! It zips at the top and is big enough to use for cosmetics, or as a wallet, or even as a clutch! It has a contrasting zipper at the top, and features the cutest little group of retro robots!
---
5

Happy Robot Necklace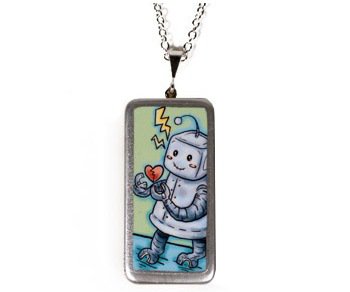 Price: $30.00 at shanalogic.com
Heather LeMay, also known for her super-cute Kitten with Sushi artwork, also renders robots just fine. This one is round, chubby, and in love! He's made of a real domino and hangs from a shiny silver chain. Wait, is he actually blushing? So cute!
---
6

Rocket Ships and Robots Space Age Pencil Bag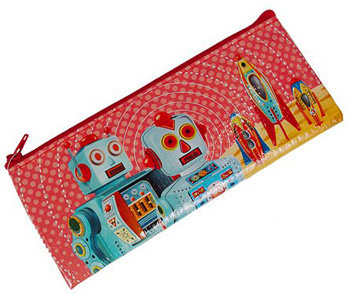 Price: $9.00 at shopplasticland.com
Keep your pens, pencils, highlighters, and more in line and handy in this zipper-topped pencil bag. It's made of sturdy PYC and features a retro-inspired graphic with two space-age robots and their rocket ships. If you like this but want something smaller, there's a matching coin purse, too.
---
7

Wind up Robot Belt

Price: $16.00 at shanalogic.com
Who says a basic black belt has to be boring? Add a little color and a little extra retro-inspired oomph with this super-cute belt! Add to an otherwise dull work outfit, maybe a shirt-dress, and watch the sparks fly!
---
8

Wind Me up Necklace

Price: $24.99 at modcloth.com
So friendly and so functional! This shiny little robot does more than just look good — he can tell the time! Also, his arms move up and down, so he's semi-posable. You just know all of your friends are going to want one, too…

Okay, so I've decided… I want them all! But if I can't have them all, I at least must have the field bag and the Friendly Robot necklace… maybe I'll ask for the rest for Christmas? Which of these cute robot accessories do you like best, and how would you wear it? Please let me know!
More
Comments
Popular
Recent