If you've ever lived in an apartment or loft where space was limited, then chances are, you've owned a futon. They've come a long way from the days of the uncomfortable metal-tube frames with a Spartan cushion. Now they're comfortable and even stylish! And there's a futon for every budget, too. Here's a list of 7 cool futons… in case you're looking…
---
1

IKEA Beddinge Lövås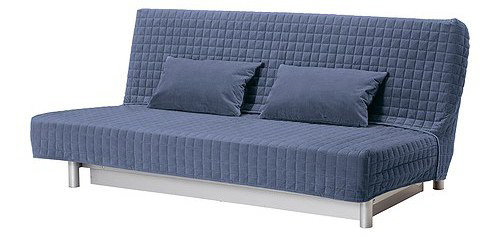 Price: $249.00 at ikea.com
I have this futon now, and it's very comfortable, both as a couch and as a full-sized bed. The covers come in a rainbow of colors, and even some prints, and there are lots of throw blankets and pillows you can add to make it look more couch-like, and less futon-like, during the day.
---
2

IKEA PS Håvet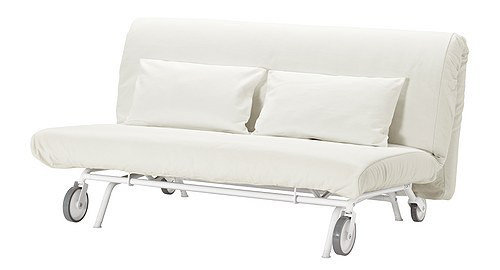 Price: $449.00 at ikea.com
I love the look of this futon, totally functional with those whimsical (but handy!) wheels! This one's super-comfy, too, and if you don't have room for a futon couch, it also comes as a chair, which turns into a twin bed, rather than a full.
---
3

CB2 Flex Orange Sofa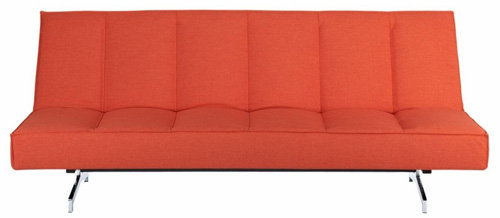 Price: $999.00 at cb2.com
Orange! Wow! I love this color, but it's not for those with a beige-type personality. No worries, though; if you can't handle the orange, or it just doesn't match your décor, this futon is also available in sleek jet black.
---
4

Pottery Barn Futon Sofa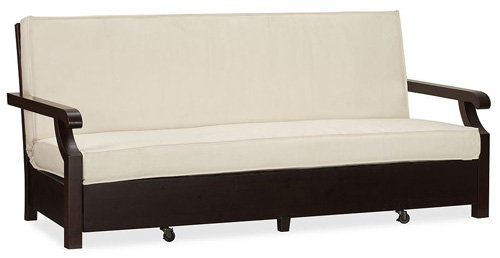 Price: $1,199.00 at potterybarn.com
As with everything else Pottery Barn makes, this isn't just a functional futon, it's a gorgeous piece of furniture, sure to last for decades. It's pretty enough to use as a sofa, even in the nicest of living rooms, but it's so incredibly comfortable, you'll never get rid of your guests!
---
5

Mocha Sofa Bed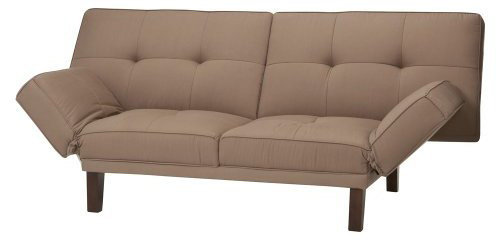 Price: $179.99 at target.com
I didn't even realize Target sold futons until I saw this one in their store. It's so cool, very urban chic, perfect for a dorm or an artist's studio or loft. It comes in a few other colors, too, in case the light brown doesn't match your décor.
---
6

Chocolate Convertible Sofa Bed
Price: $449.99 at target.com
This may look like lush, expensive imported leather, but it's actually easy-to-clean, comfortable microfiber! I like that it can just fold down on one side, or both, and that it's so modern-looking. It'a slo gotten a bunch of great reviews from actual owners, which is always a plus!
---
7

Gabrielle Convertible Sofa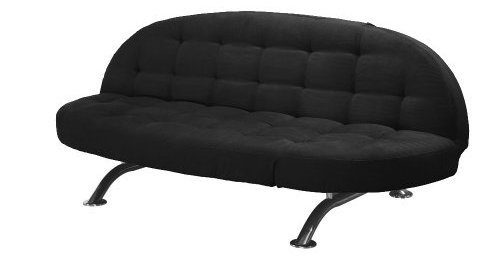 Price: $369.99 at target.com
Wow, is this ever a unique-looking futon! It's shaped like an oval, rather than a rectangle, and it looks so much more comfortable than most! It converts in several different ways, perfect for when you're not sure exactly how you can best use your space. I love it!
Those are just a few new futons you can use, with at least one in every price range and style! Which of these futons do you like best, and why? Or are you completely anti-futon? What would you use instead? Please let me know!
More
---
Comments
Popular
Recent