It may sound a bit unorthodox but I have a friend that uses USB memory stick to keep his passport scans whenever he goes abroad. The guy says, "Somebody may steal my passport but I doubt anybody will find my flash drive worth stealing." I, in the other hand, use the flash drive for other, less unusual stuff, like storing my fav tunes, work in progress, notes and lessons which may come handy on the exams or which I know my classmates will ask to borrow sooner or later. The point is this – no matter what you keep on your USB stick or how often do you use it, you can't ever deny its usefulness. And these days, they go beyond useful – they reflect personal style, have multiple purposes and could even make a cool gift. So, if you're browsing for a new USB flash drive, here's the list of 11 ones I like:
---
1

Building Block Flash Drive
Price: $34.99 at perpetualkid.com
This definitely proves that, you can never be too old to play with the building blocks! I call the pink one and, with 4 gigs of storage space, I have no doubts it will serve my need just perfectly.
---
2

Green 'n' Yellow Meletta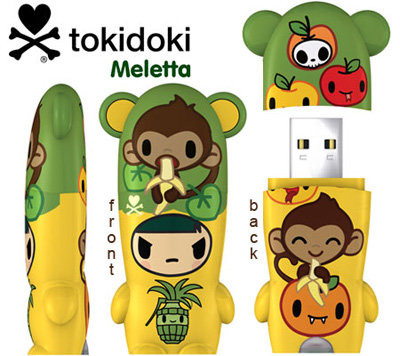 Price: $34.95 at perpetualkid.com
If you have a passion for Tokidoki brand or you just want a USB flash memory stick that stands out, yellow/green or black/hot pink version of Melleta has it both. 4 GBs are more than enough to temporarily store your documents, files and even some favorite songs or videos. Plus you can count on it to be sooo different that no coworker will mistake it for his own again.
---
3

Bossy Bear Flash Drive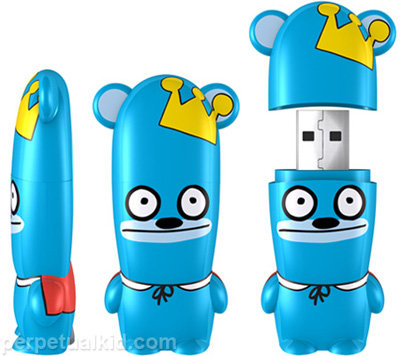 Price: $34.95 at perpetualkid.com
David Horvath's comic book character, Bossy Bear, has finally became Mac and PC compatible. Hurray! It even comes with a unique present so you won't get 4 Gigabytes of empty space waiting for you to fill it up but a set of wallpapers and skins- and that includes avatars and desktop icons of this crazy bear.
---
4

Star Wars Collection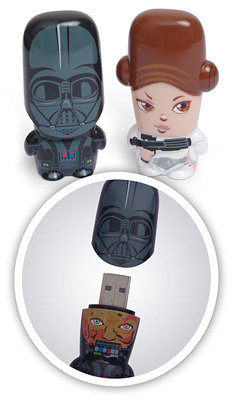 Price: $34.99/pc at thinkgeek.com
You can collect them all, pick your favorite character or surprise your favorite Star Wars fan with a cool collectible that actually serves a certain purpose. Neat!
---
5

Lighter + USB Flash Drive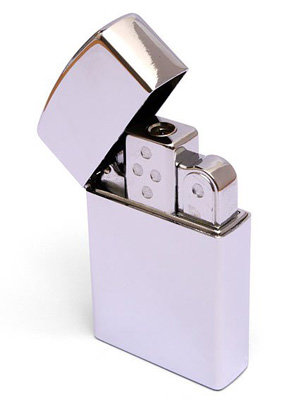 Price: $ 39.99 at thinkgeek.com
An elegant metal lighter is always welcome and if it comes with 8 GBs of storage space even better! Both things are completely usable and not to mention cool and unexpected to be found together… just don't try to use them both at once.
---
6

Itsy Bitsy Flash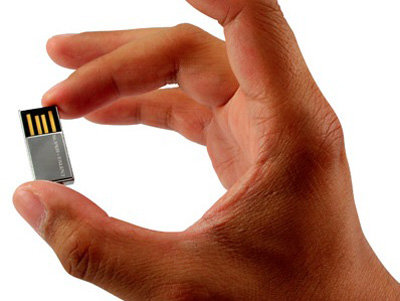 Price: $24.99-$139.99 at thinkgeek.com
Don't let the size fool you – this teensy weensy gadget comes with 8, 16 or 32 Gigabytes of storage space ideal for the ones who like to have all of their files at hand in all times. Now, my needs don't require so much memory so you won't see me buying it but I just had to list it in case somebody finds it useful.
---
7

Prankster

Price: $12.99 at thinkgeek.com
Every tech freak will love it so, if you know one yourself, I got you covered for his/her next birthday present. The device itself doesn't stand out from any regular memory stick and it does everything except storing data– It turns the CAPS letters on, moves the mouse pointer around and even types on its own. Not really practical and it has no other purpose but to confuse the person operating the "crazy computer" but hey, we could all use a little fun sometimes.
---
8

Multifunctional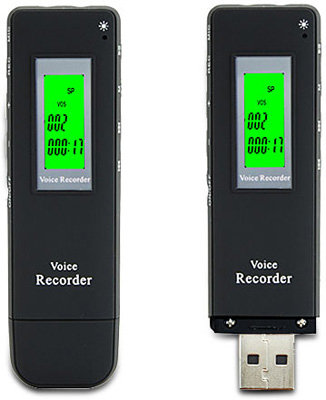 Price: $49.99 at thinkgeek.com
This one is certainly not the prettiest little piglet but it sure is a very practical one. So practical in fact, that I've decided to look past the style. So, you'll have 2 Gigs to store your files on the go and a very own voice recorder/mp3 player/phone call recorder all in one!
---
9

Sparkly USB from Juicy Couture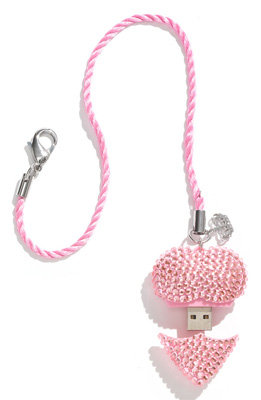 Price: $68.99 at shop.nordstrom.com
Incredibly stylish and all covered in pink crystals- I'd say this is definitely a cool accessory and a nice, girly present, that is if you don't mind the price.
---
10

Aromatic USB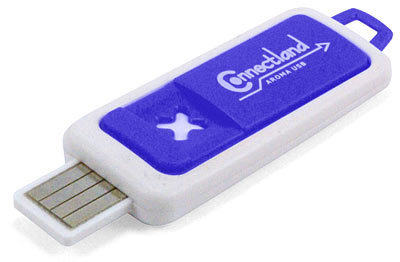 Price: $5.99 at thinkgeek.com
I'm not sure what it does but, since I doubt this money could buy you a 2 in 1 gadget I'll just go with the obvious and say it's a USB aromatic oil burner. It even comes with the little bottle of soothing and relaxing lavender old. So, is there a better and a cheaper way to cope with your cranky coworkers?
---
11

Swiss Knife, USB and Much More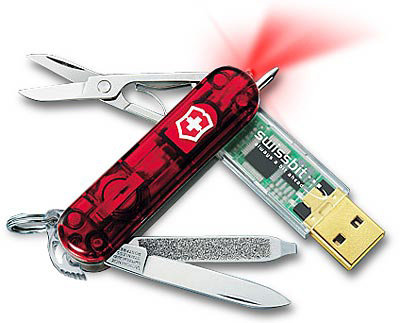 Price: $54.99-$99.99 at thinkgeek.com
Nail file – checked! Pocket knife – checked! Ballpoint pen – checked! Screwdriver – checked! LED light – checked! Scissors – checked! USB Flash Memory stick – CHECKED!
This might be a silly question but I'm going to ask it anyways – Do you use a USB memory stick often and what for? I know some people even have separate ones- one for work-related docs and one for music, pictures and other private files. What characteristics you look for when choosing a USB stick? Is it the size, the storage space, the looks, compatibleness or all of the above?
More
Comments
Popular
Recent