Necklaces are beautiful and they make perfect gifts. I remember getting my first necklace from my husband, I still have it and take good care of it. Of course, I cherish everything he gives me, even the smallest of gifts. Below, I am going to give a list of the top 8 necklaces to give your girlfriend. Take note that it does not have to be her Birthday or holiday, this can come out of the blue…
---
8

Ivory Enamel and Turquoise Bib Necklace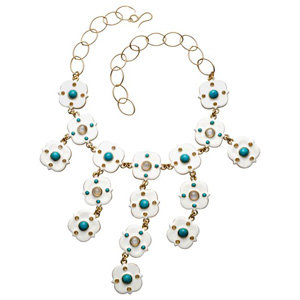 Price: $1,595.00 at vivre.com
If your girlfriend has a taste for fancy jewelry, then this one is perfect. It is inspired by Marrakech, which is a mystical charm. It flaunts a wide array of moonstone and turquoise cabochons that have been set in ivory enamel and accented with fourteen gold Vermeil. The chain length is adjustable and it measures thirty inches on the longest link.
---
7

Stephen Webste Purple Sugalite & Sterling Silver Necklace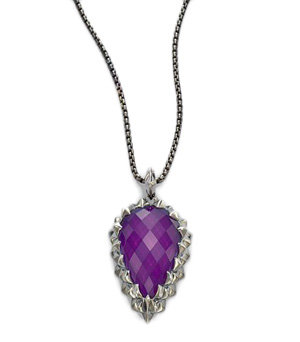 Price: $555.00 at saksfifthavenue.com
I love this faceted teardrop. Of course, I probably draw to it, because it is purple and purple is my favorite color, but nonetheless, I think it is an amazing looking ring. It has a lobster clasp. The chain length is thirty inches and the pendant length is about one and a half inches.
6

Virgins, Saints & Angels San Benito Magdalena Necklace Gold/Turquoise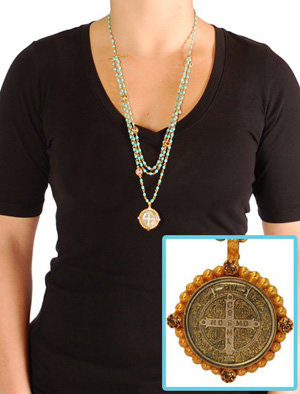 Price: $245.00 at bluebee.com
This one is lovely. This one will be the star of any outfit that she wears. It would look best with a dress or a top that has a V-neck or scoop. This way, it puts the necklace on showcase.
---
5

Emitations Zenas Wish Necklace Leaf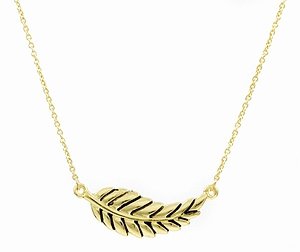 Price: $25.99 at drugstore.com
I bet this necklace will be on her wishlist if she knew about it! It is said that when you wear this necklace, your wish is going to come true. The leaf necklace is made from a shiny gold tone nickel free and metal free.
---
4

14 Carat Sky Blue Topaz Sterling Sliver Floral Necklace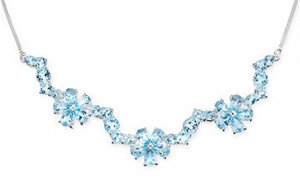 Price: $125.00 at ice.com
Now, this is a necklace made for a princess. I love the baby blue tint to it! It is charming and youthful. It features 14 carats worth of sky blue topaz gemstones. The gemstones will definitely draw attention.
---
3

Diamond Crown Key Pendant Necklaces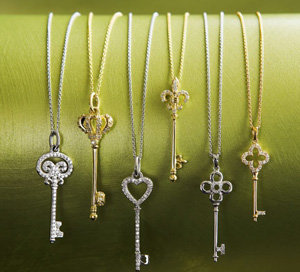 Price: $985.00 at neimanmarcus.com
This is a diamond crown key necklace, which will surely set her off. It is adorned with pave diamond insets. It has a lobster lock closure and is made in the USA.
---
2

The Long Chain Zipper Pendant Necklace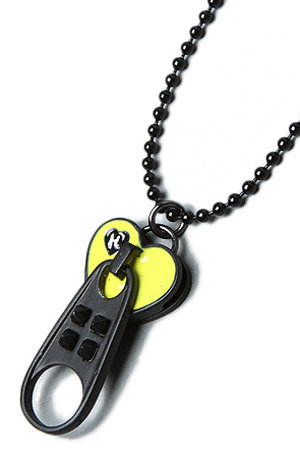 Price: $30.00 at karmaloop.com
This may look strange to some, but I actually dig this one! The zipper necklace is cute. The yellow heart that the zipper is connected to really adds the unique look to it. It wouldn't look as good if it were not for the yellow heart.
---
1

27 Carat Cubic Zirconia Sterling Silver Necklace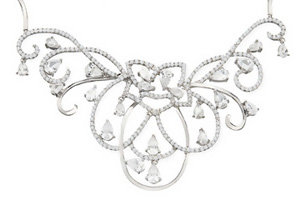 Price: $145.00 at ice.com
This one is cute, don't you think? If you have a glamorous girl in your life, then what better way to please her than with a glamorous necklace? This necklace looks like it is fit for a princess. What do you think?
There are so many beautiful necklaces out there. As a little note, before you go shopping for one, make sure you have a price in mind. Don't spend too much, if you cannot afford it. Whatever you get her, I am sure, if she loves you, she will be happy with it. So, what necklace are you going to decide upon?
---
Popular
Related
Recent