To me, polka dots mean summer, whimsy, and fun. It's easy to wear them wrong, though, and just look odd, so I've been doing some digging and found these great, and easy, polka dot accessories.
---
1

Consume Cap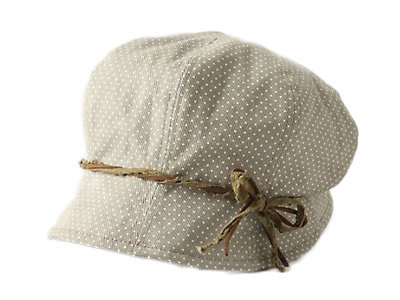 Price: $48.00 at anthropologie.com
Tuck your hair into this cap and forget the fly-aways and static, or simply a standard bad-hair day. You'll look stylish and winsome and feminine all at once. I love the neutral khaki color and the creamy scattering of sweet polka dots. Pair with absolutely anything in your closet, but wouldn't this look especially lovely with a casual shirt-dress and sandals?
---
2

Rebecca Taylor Dotted Denim Jacket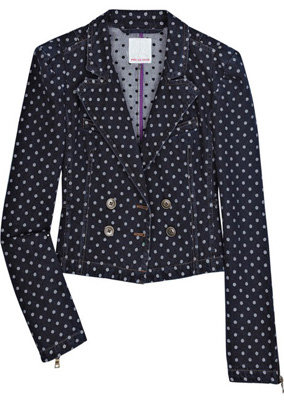 Price: $325.00 at net-a-porter.com
Looking for a great way to add style and warmth to a pretty summer dress? Layer this cute cropped denim blazer over it and go! I love the dark denim with the contrasting white polka dots… and the double-breasted fit is very flattering!
---
3

Satin Polka Dot Headband

Price: $3.80 at forever21.com
Headbands are very trendy this season, so why not add some dottie pizzazz to your wardrobe with a few of these cute bow headbands? Choose from black with white dots, or white with black. Wear with anything in your closet for an extra eye-catching appeal!
---
4

Sweet Dot Coin Purse

Price: $3.80 at forever21.com
Stash your loose change or tiny treasures in this itty-bitty polka dot coin purse! It's so cute, so little, so sweet, all in pink with little black dots and a pert little bow. Clip on with the attached key-ring so it never gets lost…
---
5

Polka Dot Crew Socks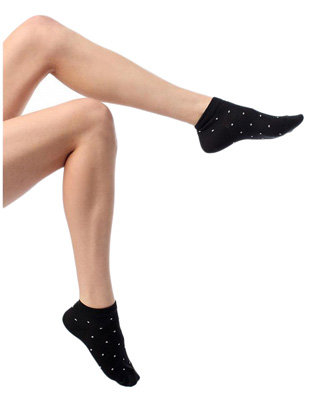 Price: $4.99 at urbanoutfitters.com
These ankle-length crew socks are perfect for wearing with little tennis shoes or flats, or for padding around the house on Saturday mornings! They're black with a scattering of tin white polka dots. I love them!
---
6

Dot Ribbon Belt

Price: $12.99 at urbanoutfitters.com
I love wearing loose dresses and rompers in the summer, and adding a belt for a flattering fit! Or tie a pretty ribbon belt (like this one!) around the waist of a shirt-dress for a preppy look. I love the yellow color, and of course, the sweet little polka dots!
---
7

Irregular Choice Dot Print Heeled Shoes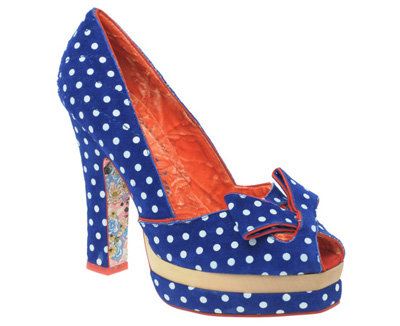 Price: £80.00 at asos.com
Eee! Have you ever seen shoes more marvelous than these? Where do I even begin… the bright blue, the tiny dots, the bow at the toes, the platform heel, the floral fabric detailing? I'd pair these with nautical-inspired shorts and a crisp white tee…
---
8

Vintage Rainbow Sprinkle Purse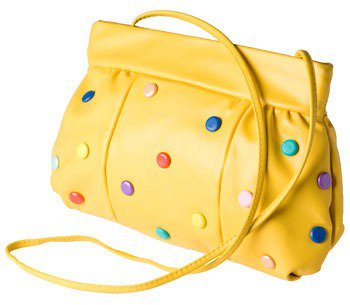 Price: $29.99 at modcloth.com
Say what you will about the jaw-dropping styles and trends of the 1980's… I was there, I know how odd some of them were! However, this vintage purse would be right at home now in 2010, with a rainbow of dots scattered across a bright yellow background.
Add a few of these pretty polka dot accessories to your summer wardrobe, and you'll add a touch of fun to everything you wear! Which of these dotties do you like best, and how would you wear it? Please let me know!
More
Comments
Popular
Recent