Most of my wardrobe is grey, black, or white, which doesn't sound very spring-y, does it? So it's time for me to update my closet with some color, and what better way than some pretty blue accessories? I wasn't sure where to start, so I've done some digging, and these are the best of the blues!
---
1

Floral Essence Heel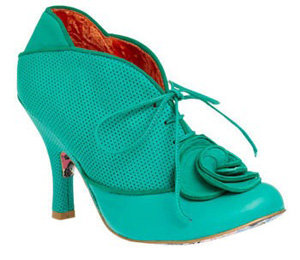 Price: $124.99 at modcloth.com
What's not to love about this bright blue shoe? Let's see, there's the color (oh!), the tulip styling (oh my!), the pretty floral detail at the toe (love it!), and the floral pattern at the heel… wear these with absolutely anything in your closet… like a demure floral dress, denim romper, skinny jeans…
---
2

Kissin' Seahorses Tote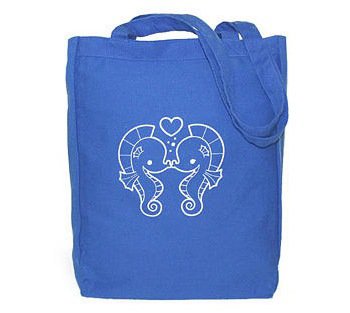 Price: $16.00 at shanalogic.com
So cute! These smitten little seahorses are ready to help you lug your school books, vintage vinyl, groceries, and more. This pretty blue tote is big enough to carry just about anything (it measures nearly 14" by 11" by 5"), and it's made of sturdy cotton. Perfect!
---
3

Robot Love Necklace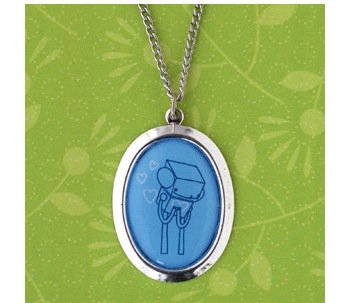 Price: $16.00 at shanalogic.com
Artist Lynette May has a cult following now, people who adore her "robot with scattered hearts" illustration, and now he graces a pretty silver-tone cameo. The pendant dangles elegantly from an 18" silver chain, ready to hang close to your heart… this would make such a sweet gift for someone you love… or even to keep for yourself to add a little blue to your wardrobe…
---
4

Bitty Button Earrings

Price: $8.00 at shanalogic.com
Are you looking for a tiny pop of color? Wear these sweet, tiny blue buttons and dazzle with demure subtlety and distinct indie style. They're dinky, delicate, measuring approximately 6mm with silver-plated posts and butterfly-style backings. Wear your hair in pretty loose waves and let these peek through when you toss your head and smile…
---
5

Unicorn Ring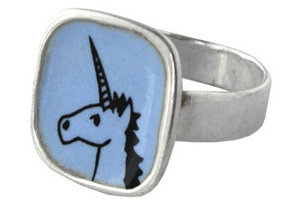 Price: $65.00 at shanalogic.com
This charming sterling silver ring is made-to-order when you decide you're ready to wear a little blue magic. Choose your size (whole size 5 through 8) and add him to your shopping cart, then artist Mark Poulin will make him, and send him right to your home…
---
6

Blue Panda Cell Phone Charm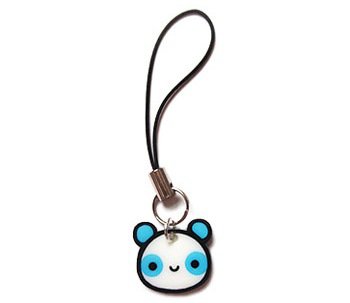 Price: $5.00 at shanalogic.com
Cell phone charms have been popular for ages in Japan, and they're just starting to take off here. Why not be ahead of the trend and add this sweet little kawaii panda to your cell phone, especially if your celly is a boring black or plain silver. So cute!
---
7

Turquoise Poise Trench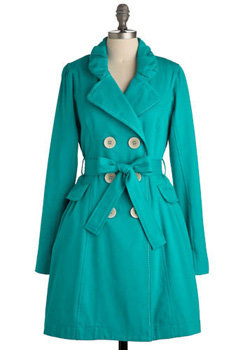 Price: $109.99 at modcloth.com
Most trench coats are boring beige or dull grey, but certainly not any trench you would ever wear! This cotton coat by Nick & Mo is gorgeous, a bright splash of color for any misty spring day. I love the ivory buttons, the double-breasted styling, and the pretty belt at the waist.
---
8

Kate Spade 'Galaxy Swirl' Necklace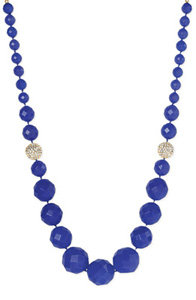 Price: $75.00 at shop.nordstrom.com
What a unique way to add a little color, and a little class, to a work outfit! I love the cobalt blue beads and the glittery pavé details… so sparkly! Kate Spade has definitely got a winner with this necklace! The 26" length is perfect for wearing over a top, or even letting it peek from inside a button-down blouse…
I love love LOVE those blue shoes from item one, don't you? I can't wait to buy them and WEAR them! Which of these pretty blue accessories do you want to wear? How would you wear them? Please let me know… I need some ideas!
More
Comments
Popular
Recent