There are some beautiful rings out there. If you are a guy that is having a hard time finding a good engagement ring, then I am going to help you out. Below, I am going to give you 10 engagement rings that I personally like.
---
10

3/4 Carat Diamond 14K White Gold Bridal Engagement Ring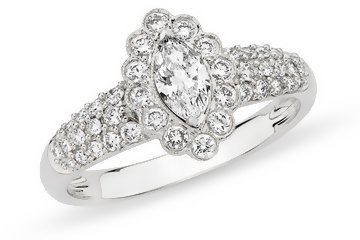 Price: $1,195.00 at ice.com
With this gorgeous engagement ring, you can create an instant heirloom. It features a marquise cut diamond centerpiece. It has a delicate band design of diamond studded white gold. I must say, this would be a treasure for eternity.
---
9

Sterling Silver Wedding Band and Engagement Ring 2-pc. CZ Set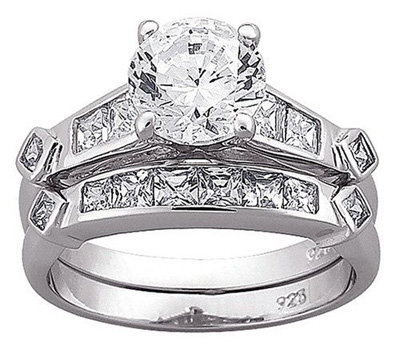 Price: $59.95 at target.com
I know, this one is cheap, but not everyone is able to afford those expensive diamond rings. This one shows off a wide array of faux diamonds. It is made of genuine sterling silver and CZ.
Trendinig Stories
More Stories ...
8

1/7 CT. T.W. Marquise Diamond Engagement Ring in 10K White Gold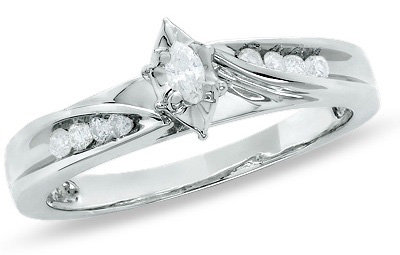 Price: $349.00 at zales.com
Wow, this is a pretty good deal on an engagement ring. Could you imagine the look on her face when you present this one to her? The beauty and sparkles are flying from the marquise center stone diamond.
---
7

Shayla's Engagement Ring - Asscher Cut CZ & Pink Heart CZs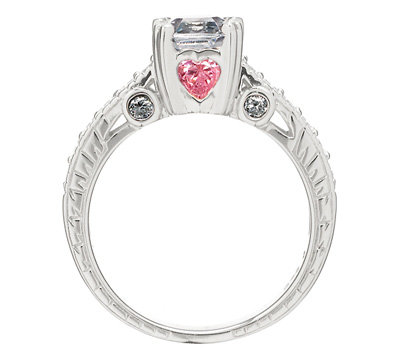 Price: $89.00 at emitations.com
I don't know what it is about this ring, but I like it. I know the price is cheap, but to some, that is a good thing. I like the pink heart that is on the side of it. I think that really does add something. Of course, I like it because it adds color.
---
6

3/4 CTW. Semi Mount Diamond Engagement Ring with round and Baguette Diamonds in 14K Two-Tone Gold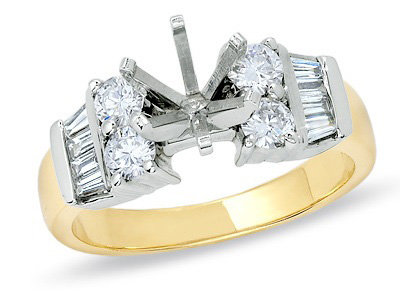 Price: $1,332.00 at zales.com
This is a 14k two-tone gold semi mount engagement ring. It has a lovely setting for the center stone that you choose. If you want a unique looking engagement ring, then this would be a good choice.
---
5

Naples Fancy CZ Flower Ring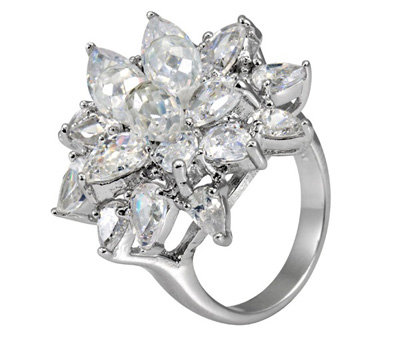 Price: $99.00 at emitations.com
This is a beautiful setting and I know it will look gorgeous on her finger. This is something that she will cherish for a long time. The flower full of diamonds really is in bloom!
---
4

2-5/8 CT. T.W. Fancy Yellow Radiant-Cut Diamond Framed Ring in 18K White Gold (SI1-SI2)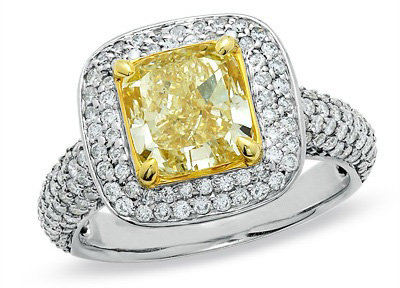 Price: $16,199.10 at zales.com
I admit, this one is expensive, but if you can afford it, then it is well worth it. It is a beautiful ring and I know her eyes are going to shine when she sees it. This stunning ring is going to leave her speechless.
---
3

Emerald Cut Diamond Engagement Ring with Baguettes and Diamond Baguette Wedding Band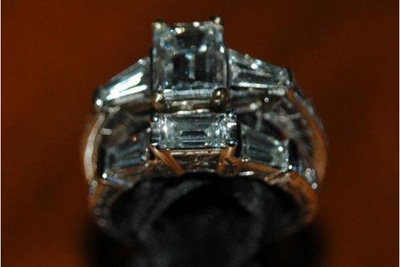 Price: $9,000.00 at portero.com
One look at this and we know that it is a beautiful ring. It is a 14K white gold diamond engagement ring. It is set with an emerald cut diamond in four prongs. The emerald cut diamond weight 1.51 carats and is rated H color, SI 1 clarity.
---
2

Jewel of Ocean 18k White Gold 4.35 Ctw Oval Sapphire 1.66 Ctw Diamond Ring Sz 6.5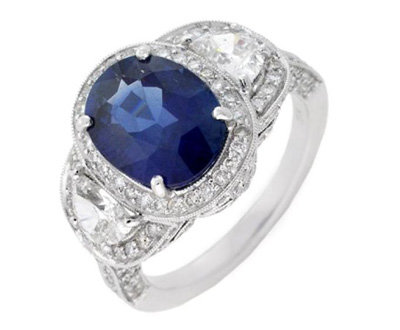 Price: $$38,571.00 at portero.com
Wow, this one really is beautiful. I love the blue diamond that is in the middle. If the deep blue color of sapphires turn her on, then she will definitely be turned on with this one. It goes from a pale blue to a deep, enchanting blue that is almost black. This beauty really is something. Sapphires are thought to have healing powers and it is said that a necklace made of pure sapphire will cure a sore throat.
---
1

4-3/4 CT. T.W Certified Heart-Shaped Fancy Yellow Diamond Framed Ring in Platinum (VVS2)
Price: $45000.00 at zales.com
Oh, what do you have to say about this one? Out of all of them on my list, this one is my favorite. I love heart rings, ever since my husband gave me one. The one he gave me is two hearts connected together, but hey, I would settle with this one too! This ring truly is a treasure that she will not want to let go of! Guys, make sure you can afford this one first!
There are so many engagement rings out there that are beautiful. They are hard to choose from, but if you spend a lot of money on one, you should get it appraised and make sure you get the certificate with it. Look at it closely for any flaws and imperfections. So, can you find your engagement ring online?
---
Comments
Popular
Related
Recent