My great-grandmother's signature color was purple, so whenever I see a gorgeous purple bag or lavender shoes, I always think of her. This season, the shade is everywhere, and it's so fun to wear! Do you want to add a little purple to your wardrobe? Here's my list of eight perfect purple accessories!
---
1

Don't Step on My Heart Heel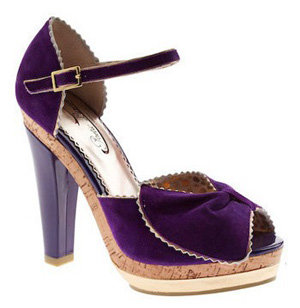 Price: $129.99 at modcloth.com
If I could only buy one pair of shoes this season, these would be the ones! I adore the bright purple suede bow detail on the toes, and the gold trimming, and the hint of cork at the base. I'd pair these with a floral-print dress and maybe a pair of sparkly gold ankle socks…
2

Lavender Stalks Messenger Bag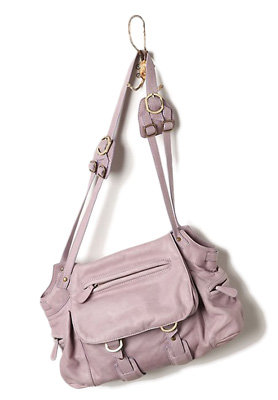 Price: $385.00 at anthropologie.com
Looking for a sensible way to wear purple? This sturdy, handy messenger bag is a subtle lavender shade, perfect for adding a pop of color to a grey outfit, or a floral-print one. The bag features a cross-body adjustable strap and loads of pockets for stashing your necessities right where you need them…
---
3

Shrinking Violets Booties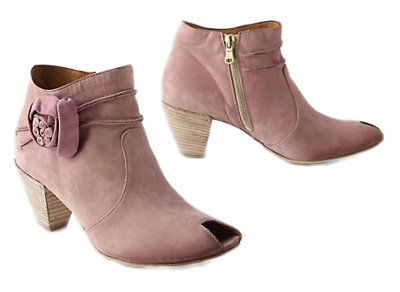 Price: $219.95 at anthropologie.com
Don't let the name, or the delicate color, fool you… these booties aren't meek or mild-mannered at all! They feature a kicky western-inspired design with a stacked heel, surprise peep toe, side zip, and rosetts detailing…
---
4

Crop of Purple Necklace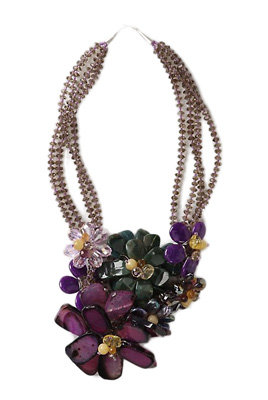 Price: $198.00 at anthropologie.com
Why not add some pretty purple interest at your delicate neckline, and call attention to your pretty face? This necklace is just the way to accomplish both, made of sparkling, bright jasper, quartz, agate, and freshwater pearls…
---
5

Into the Wild Jacket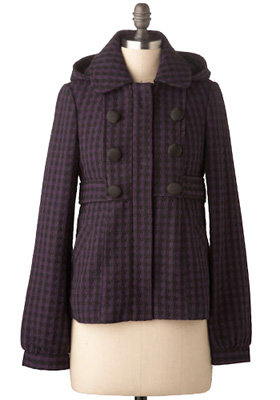 Price: $69.99 at modcloth.com
Spring may have sprung, but here in Michigan, it's still chilly and a girl still needs a light jacket. This one's perfect, done in pretty purple and black plaid, with two rows of perky buttons down the front and a hood (in case of rain).
---
6

Suisun Valley Bag in Vineyard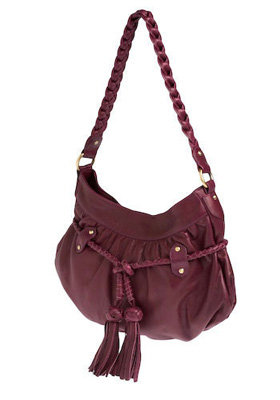 Price: $349.99 at modcloth.com
This is far and away the prettiest hobo bag of the season, partially due to its red-wine hue, and also because of its bold, beautiful details! I love the braided cord and shoulder strap, and the tassels at the front add the perfect couture touch…
---
7

Purple Octopus Necklace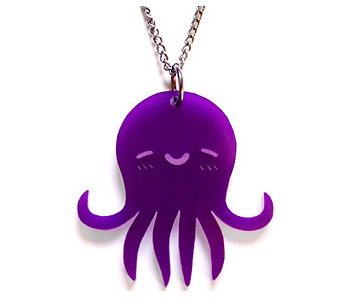 Price: $14.00 at shanalogic.com
Artist Claire Belton adds her suggestion for how to wear purple this season with this sweet blushing octopus in the brightest of hues. He hangs sweetly from a silver-tone 18' chain, and is perfect for adding a hint of whimsical kawaii cuteness to any of your outfits!
---
8

Swallow Hairclips in Purple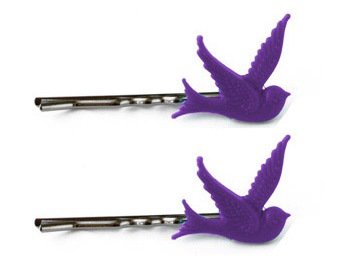 Price: $8.00 at shanalogic.com
Maybe you choose to wear your pop of purple in your wavy hair, possibly to hold back your bangs or keep that pretty updo in place. Then these flying swallows, which adorn a pair of silvery bobby pins, are just the accessory for you!
With so many gorgeous purple accessories to choose from, it's going to be impossible for me to pick a favorite… but I am completely smitten with the Suisan Valley Bag… it's perfect! Which if these pretty purple goodies do you like best? Or is there another lavender or violet shoe or bag or belt that makes you swoon? Please share!
---
Comments
Popular
Related
Recent