Every self proclaimed fashion diva knows and loves Prada! There's something luxurious about the name itself don't you think? And as with everything Prada makes, their purses are the ultimate fashion accessory. Take a look for yourself! Here's presenting the 10 Most Stylish Prada Bags...
---
1

PRADA Raso Pleat Clutch - Red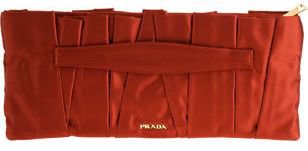 Price: $ 850.00
barneys.com
The Raso Pleat Clutch bag in red screams stylish! This purse is also available in black and navy. This is one of my favorite purses out of the Prada collection. This purse is designed with a pleated fold and a hand strap in the front. I like this bag because it would add just the right splash of dramatic color to an outfit. And who doesn't like a little drama in their outfit. Wear this at your next black tie event or work party with your favorite little black dress.
---
2

PRADA Flap Clutch – Black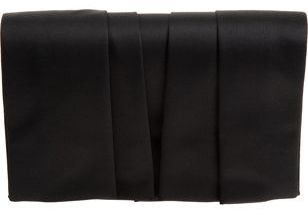 Price: $ 795.00
barneys.com
Oh she's so glamorous! Not Fergie. I'm talking about the Flap Clutch in black. This purse is small, has enough room for essentials, and would be stunning with any formal attire at your next big party. The pleated front with the hidden button closure makes this clutch purse appear very sleek and clean. At only 7 inches wide and 5 inches tall you're going to barely notice you're carrying it. Plus side? Fellow guests of your next big party will melt with jealousy!
---
3

PRADA Large Saf + Tess Briefcase - Amarato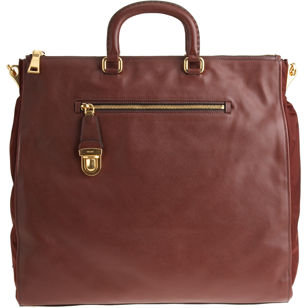 Price: $ 1495.00
barneys.com
For every sexy outfit you wear to work, you need a briefcase like this one. This Large saf tess briefcase in Amarato is perfect for the professional woman! With a front zipper pocket you have a place to store your keys and stuff you don't have to fish through a big briefcase. This briefcase has a removable shoulder strap and rolled handles. Besides being able to fit a laptop into this briefcase you can fit your books, magazines, essentials, just about everything. Wear this briefcase with anything! Thank God it is both functional and stylish.
---
4

PRADA Stones Clutch - Black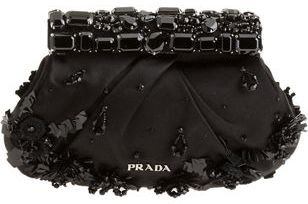 Price: $ 1495.00
barneys.com
Elegant, light weight and just about THE most stylish bag Prada has to offer. This black satin clutch has an intricate design of sequins, beads, and swarovaski crystals along the snap closure and along the bottom. I'm not much of a purse girl but when it comes to fancy get togethers like weddings, formal dinners, and dances, I would have loved to have this little clutch more then a few times . After accessories are a must and if you're going to look your fanciest you might as well have a nice purse to go along with it!
---
5

PRADA Vela Backpack – Black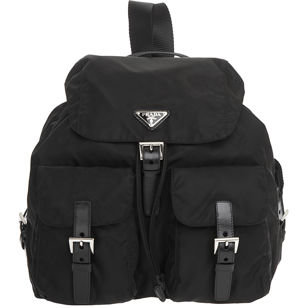 Price: $ 665.00
barneys.com
Are you in school? Do you carry around a lot of things? Do you find carrying things on your back easier then carrying your bags on your shoulders? If that's the case this back pack by Prada could be your answer! This Vela backpack in black has a drawsting top with an buckle closure, two flap pockets in the front with a buckle closure, and two adjustable shoulder straps. If you absolutely must carry around a back pack you should strive towards a stylish one like this one. Also because it's black this backpack will match with anything. And it's perfect for your"back to school"look!
---
6

PRADA Saffiano Wallet – Ivory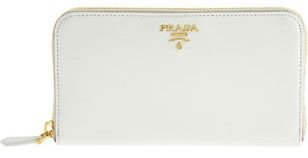 Price: $ 450.00
barneys.com
I hate carrying big purses around. I hate being in the store and having to carry it on my shoulder or leaving it in the shopping cart and not being able to walk away from it without worrying that someone might scoop it up. Because of that, I try to stick to wallets and small sized purses. And this Saffiano wallet in Ivory is one of the most fashionable wallets I have ever seen. The ivory color really gives this wallet an ultra clean look. If you find the necessity of carrying around a purse to be a burden like myself then invest in this wonderful wallet.
---
7

PRADA Large Tote - Black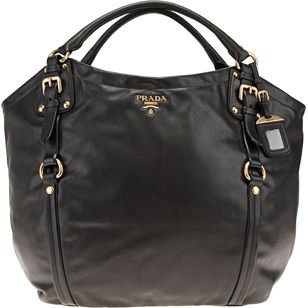 Price: $ 1495.00
barneys.com
One of the most stylish bags that serves the most purpose out of these Prada bags this season is the Large Tote bag in black. This tote bag is large enough to fit a laptop, notebooks, books, and your regular personal belongings. I would buy this bag just for work! It's much more stylish then the usual laptop case or a briefcase or backpack and with all the same amount of room! Definitely a good buy for those of you who have to lug around a lot. You can lug just about anything around in this huge bag and look good doing it!
---
8

PRADA Antik Gathered Clutch - Black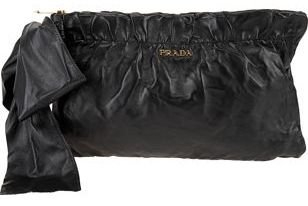 Price: $995.00
barneys.com
Not a big purse fan but looking for just the right little purse?How about this stylish yet simple little clutch Prada has to offer? The Antik clutch purse in black has a gathered leather design with a top zipper. This purse also has two smaller pockets on the inside of the jacquard print interior. What makes this purse so lustworthy? In my opinion the dramatic leather bow on the side makes the purse. I'd bring this clutch with me to a party in one of my favorite dresses. I'm hosting this fab party pretty soon and I might just buy this for it.
---
9

PRADA Stones Clutch - Black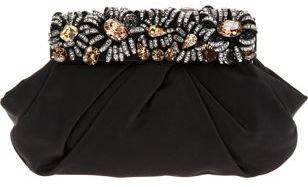 Price: $ 1495.00
barneys.com
We talked about a similar stones clutch purse previously but I think this one is way more stylish! I love the way the beading, sequin, and crystals are placed in the perfect spots. Similar looking to the stone clutch I wrote about before, this clutch doesn't have the embroidered accents on the bottom or all around the purse simply on the snap closure leaving the gathered satin at the bottom plain. Not as dressy looking as the other clutch this one is still a very pretty evening purse that would be perfect for any nice event you need to attend. This clutch is worth having in your closet!
---
10

PRADA Mini Drawstring Pouch - Black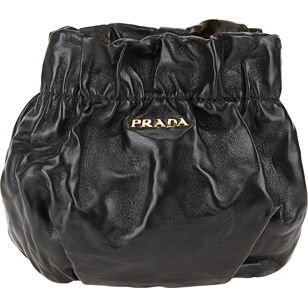 Price: $ 695.00
barneys.com
What if you're going to a concert, or downtown, or to a nice restaurant, what are you going to carry? Try this mini drawstring pouch black bag from Prada. Astylish little accessory that is just big enough to fit your wallet,lip gloss, and mirror. Super convenient and super stylish!
Now that you've gone through the list of the 10 Most Stylish Prada Bags you can see for yourself why Prada is so recognized in the fashion industry! A little pricey you say? Of course! These are designer hand bags! See something you like? Go get it! If you haven't found something you like you can find other Prada bags in the links provided. This top 10 list was chosen based upon votes from a group of women friends. What's your favorite Prada bag?
More
Comments
Popular
Recent