Summer always makes me want to buy a new handbag. I'm not sure if it is the warm weather that puts me in the mood for this spending spree or if it's the new outfits that I seem to find on sale. Looking good is important to a woman, right? Of course! I see so many cute handbags, that I decided to make a list of the top 8. There are always more that want to creep onto my list, but I resisted the urge to mention them all. It was hard to decide on which was my absolute favorite, so the list isn't in any order of preference. I just love them all!
---
1

Total Bag by Roxy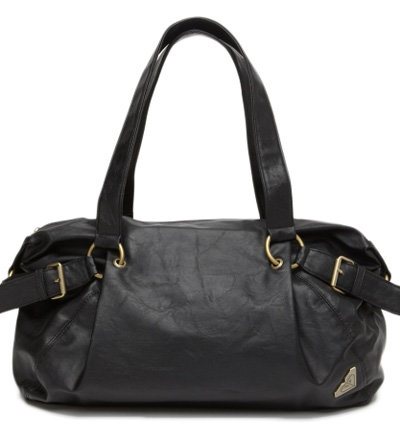 Price: $36.00 at roxy.com
I find that having a basic black handbag that goes with anything is a necessity. This bag is simple, yet it has character. Even though it has buckles and metal rings attached to it, I didn't feel it came off as being too retro or flashy. It looks just like leather, but the high price that comes with a leather bag isn't attached to this one. The vinyl used to create this little accessory doesn't have that cheap look to it that so many other faux leather handbags have.
---
2

MARC by Marc Jacobs Natasha Shoulder Bag at Neiman Marcus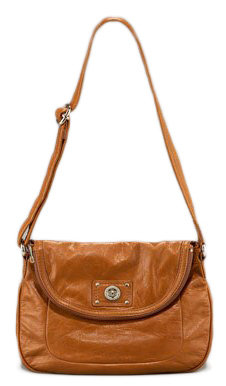 Price: $328.00 at neimanmarcus.com
Every girl needs at least one shoulder bag that serves its purpose without making her shoulder ache. The tan leather is so soft and supple. That is one of the best things about leather. I also enjoy the smell of leather as well. The gold accents on this purse go great with the tan coloring. I like the way the flap covers the zippered portion inside and is closed with a simple turnlock. The magnetic-action on this flap makes it easier to quickly close and have it stay in place while turning the lock. There are even two open pockets on the inside, making it easier to quickly slip a coin purse or sunglasses right into them and avoid fighting with too many zippers.
---
3

IZOOM Cross Body by Nine West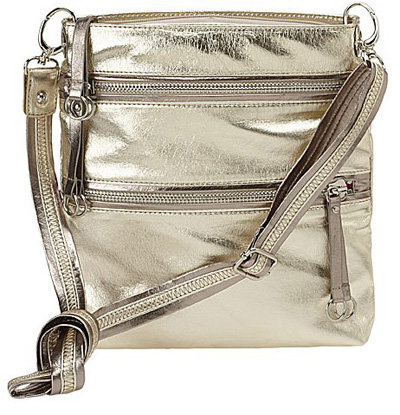 Price: $39.99 at ninewest.com
I thought the silver color on the outside of this bag made it really stand out from the rest. I always seem to associate glitter, sparkles, bright colors, and silver-tones with warm weather. Even though I tend to get frustrated with too many zippers on a purse, I really liked this bag! I think it was because the main zipper to the inside of the purse didn't lead to multiple pockets with zippers as well. The long adjustable shoulder strap allows for easy and safe carrying.
---
4

The Sak "Cambia" Large Tote from Dillards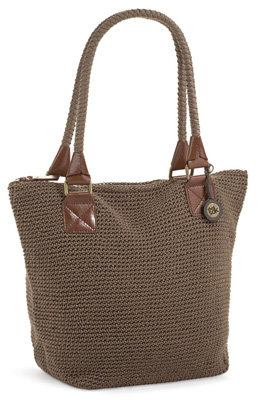 Price: $59.00 at dillards.com
I really like how this handbag is deep, has plenty of pockets on the inside for small stuff, and only requires one zipper to enter it. I get lost in the madness of purses with zippers, when they run on the larger side of handbags. This bag comes in black, taupe, and, my favorite, Marrakesh. I find it to be a truly summery handbag with lots of potential during the other months as well.
---
5

ASOS Pineapple across Body Bag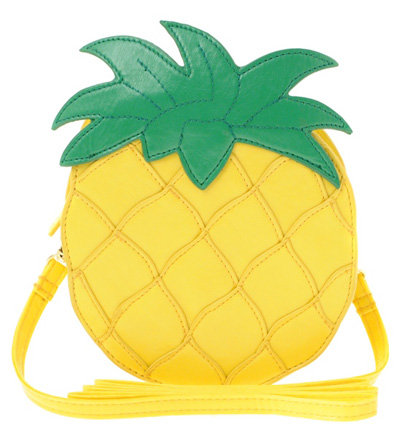 Price: $16.91 at asos.com
I just thought this little purse looked fun. It is bright and cheery, the way summer time makes me feel as well. It has a single zipper opening at the top to add to its simplistic design. The strap is long enough to go over one shoulder, across the chest, and dangle the handbag on the opposite hip. I find that wearing handbags in this fashion is not only more comfortable, but it keeps them from easily slipping off my shoulder. The outer material is 100 percent chlorofibre. This stuff looks like leather, but isn't. It's the perfect size for carrying just the necessities.
---
6

Peeking Pleats Bag from Anthropologie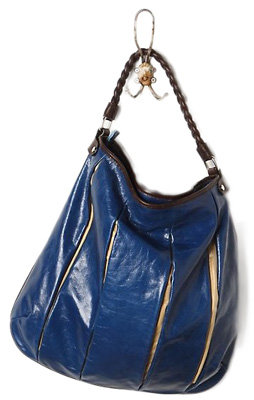 Price: $228.00 at anthropologie.com
I like the deepness of this handbag combined with the short handle. The leather outside has multiple gussets for allowing just a little bit more room inside. A single zipper is used to close the entire bag, making this a great bag for loading up quickly. The glazed look compliments both color choices available. A deep inner pocket allows for even a book to be easily placed inside. I felt this bag had all the characteristics of the perfect summer purse.
---
7

Luna by Billabong

Price: $49.50 at swell.com
I think this color is fabulous! It reminds me of tropical waters. I really like the wide handles and the little zippered pocked on the front. This would be a perfectly accessible space to put my car keys and cell phone, instead of having to dig through the inside of the handbag. Pockets are an amazing invention! The tassel adds a nice touch to the front of the handbag as well.
---
8

Ecote Summer Stripe Bucket by Urban Outfitters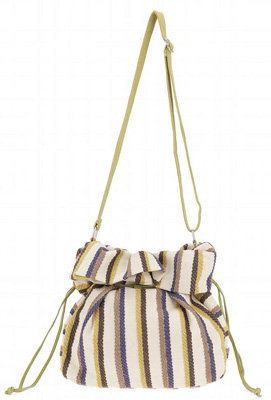 Price: $48.00 at urbanoutfitters.com
There are two color schemes to choose from with this bucket-style handbag. The combination of wood, suede, cotton, and a variety of mixed metals makes it really stand out among the rest of the handbags I've found. I like that it isn't a huge purse, but it can still hold everything necessary for the day. I've always been drawn towards bucket-style bags and stripes, so this is the perfect combination. The shoulder strap is adjustable, allowing for it to be an across the body handbag. The hidden zippers right inside the top of the purse keep items in the purse, but won't detract from the simple bucket appearance.
I hope you enjoy seeing the list I've come up with. I'm sure you have your own ideas about which purses suit you best for the summer. Were there any handbags among the 8 that I found you really liked? If so, let me know! Also, if you've come across some amazing purses you liked even more, feel free to share!
More
Comments
Popular
Recent