Whether our kids like it or not, it's almost time for back to school. On the back-to-school list, right after the jeans and gym shoes, is a backpack. It's got to be stylish, functional, and sturdy, and above all, cute! If you're at a loss about where to find a cool bag for back to school, I can help! I've scouted around for a couple of weeks, and here's a list of 7 of the coolest, cutest ones!
---
1

GAP Printed Convertible Roller Backpack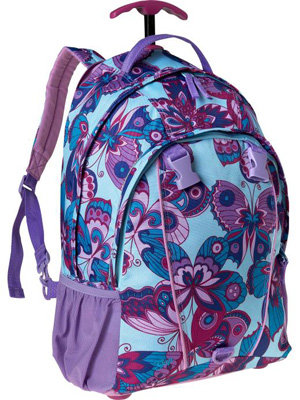 Price: $36.50 at gap.com
Have you seen how much kids have to carry? Let's see, there's textbooks, supplies, lunch, a water bottle, gym shoes… how are little ones supposed to carry all of that? No worries. This backpack, available in a cute butterfly paisley or heart print, converts from a backpack to a rolling bag, perfect for toting even the heaviest, bulkiest school stuff.
---
2

Crazy 8 Polka Dot Backpack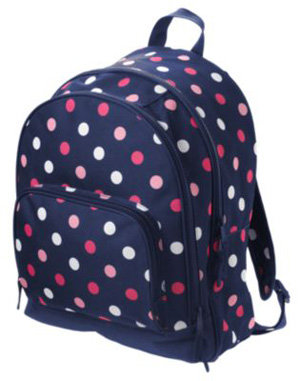 Price: $11.81 at crazy8.com
Is your little one crazy about dots? Then this might be the backpack for her! It features a cute all-over dot pattern on a solid blue background. And it's roomy enough for all her back-to-school supplies. Perfect!
---
3

Gymboree Giraffe Backpack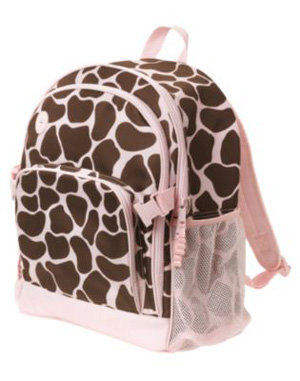 Price: $20.00 at gymboree.com
Animal prints are in right now, so on trend, but why go for a run-of-the-mill cheetah or zebra print? This backpack comes in a pretty brown and cream giraffe print with bright pink accents, and is so cute! It's also got built-in pouches and pockets to keep everything tidy and organized.
---
4

GAP Printed Messenger Bag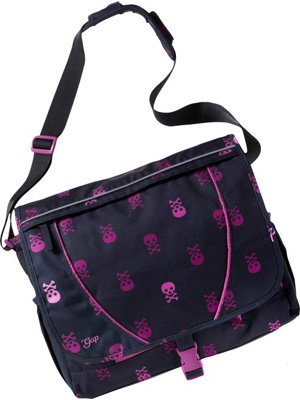 Price: $26.50 at gap.com
I love this bag! It's not a backpack, but a comfortable, functional messenger bag, designed to sit across the body. The print features cute graphic skulls on a dark blue background. On the outside, there's a mesh pouch for a water bottle, too!
---
5

Gymboree Guitar Heart Backpack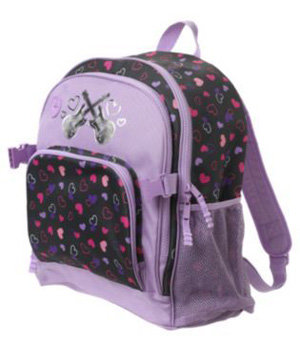 Price: $20.00 at gymboree.com
If your little girl is into Hannah Montana, but you just can't force yourself to buy her a back-to-school bag with Miley Cyrus on it, I'm right there with you. But here's a bag you can compromise on, with just the right rock-and-roll feel but without Hannah Montana.
---
6

Old Navy Patterned Messenger Bag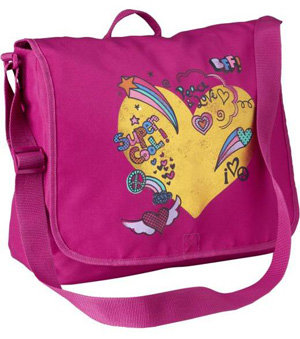 Price: $9.00 at oldnavy.gap.com
For the price, this cool messenger bag can't be beat! There are two designs to choose from — bright pink with a tattoo heart or dark blue plaid with bright pink hearts — and each has plenty of pockets for storing textbooks, notebooks, and more.
---
7

Justice for Girls Sequin Zebra Convertible Messenger Bag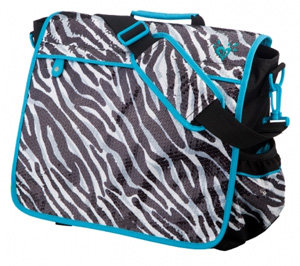 Price: $44.90 at shopjustice.com
What girl of any age doesn't love a little extra sparkle and shine? This backpack and messenger bag is covered in glittery sequins, all over a cool zebra print and piped in bright blue. The straps convert the pack from messenger bag to backpack and back… and it also has a built-in laptop protector.
My daughter chose the skull-printed messenger bag from the GAP, but she also really liked the ones from Old Navy… which of these do you think your child will like best? Or have you already found one they just had to have? Please let me know!
Top gap.com
More
---
Popular
Recent