When the news swept across the nation that John Hughes has passed away, many designers went back into the past and brought back some of the most popular school girl styles from his films such as "Ferris Bueller's Day Off," "Sixteen Candles," and "The Breakfast Club" into this year's fall-winter fashion.
Many of the schoolgirl classics have started to turn up on all fall-winter 2009-2010 runways. I am personally thrilled for the "School Girl" trend to make such a great come back. And what about you, do you look forward to seeing this era being brought back to the world?
---
1

Purple Checkered Dress - High Marks at a Detacher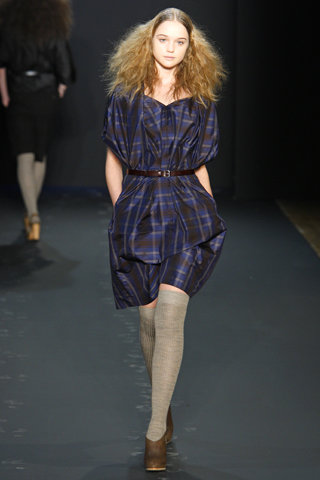 Just as the name implies, this is a purple checkered dress to die for. This is so 1980's fashion, but it has a more fabulous modern look to it. It'll give you that "school girl" look or that "business" look which is oh so hot right now. When you wear it, I would suggest some light brown stockings and purple shoes to go along with it.
---
2

Black and White Uniform Thinking at Burberry Prorsum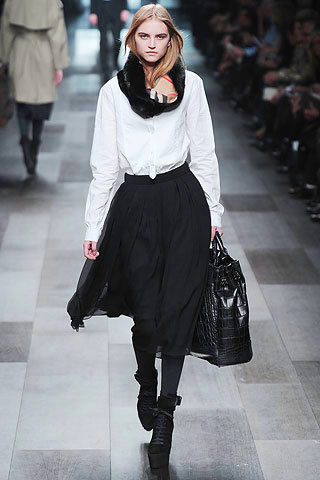 This Burberry back to school look sits on a classic white top and a black bottom. It will give you that comfortable yet rather chic school girl look. An outfit like this would really flatter someone that is around 5'4, but if you are taller or shorter, I am sure it will look good on you as well. Would you change anything about this outfit? I think I would do something with the end of the sleeves. You know, like add some ruffles to them or roll them up a bit. Oh, and I'd definitely add some seriously glamourous wide belt to spice things up. But overall, I give this one a thumbs up.
---
3

Brown Overcoat - Covering the Topic at Chloe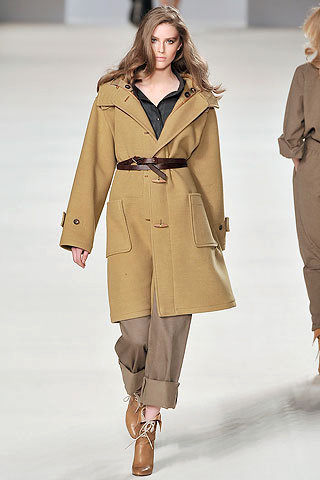 This is a light brown overcoat that will go great with a pants outfit. I am not sure if I am fully digging this style as it looks a bit too large. However, I believe it would look great on the right person and I do like the cute pockets that are on the front of it. The medium length is another thing that I like. Again, it just looks too baggy for something I would wear. I guess you could get it in a smaller size to change that.
---
4

Green and Grey Striped Sweater - Sweater Weather at DKNY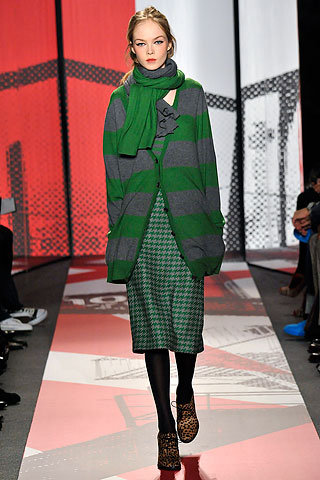 This is a green and grey striped sweater that would flatter anyone who likes the color green. This is one of those sweaters that you do not have to button up to make it look good. You can just pull it together in the middle and still get that fashionable look. It really does seem warm and comfortable with the side pockets to put your hands in when you are feeling a bit chilly. What would I change about this sweater? Well…I'm not sure as I think it looks good. Do you see anything on it that you would change?
---
5

Pink Sweater, Tan Jacket and Brown Pants - on the Move at Dsquared2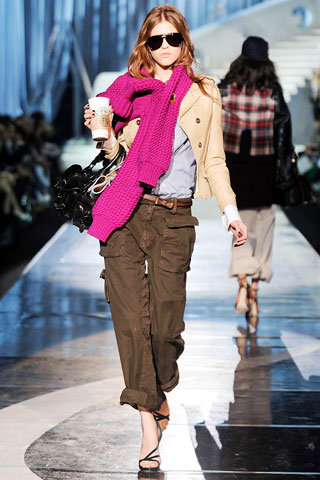 I think this overall look is a quite flattering. In fact, I think I saw a celebrity wearing something similar to it, but I cannot remember which celebrity it was. Kate Hudson? The jacket is tan, the pants are dark brown and the sweater is pink. Generally, I would say that this pink does not go with brown, but it seems to really be adding something to it. When you remove the pink sweater now that we have seen it this way, it would probably look a bit on the bland side. This style is easy to achieve and would be great for everyone who's after a low-key school girl look.
---
6

Black Cap - the Head of the Class at the Gap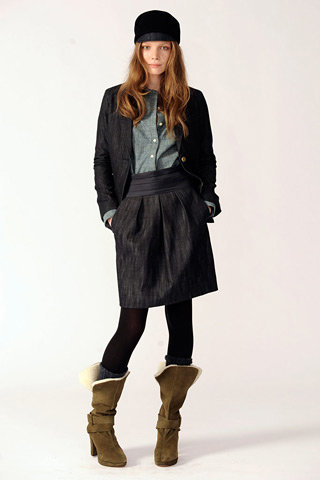 This black cap is stunning for everyone. If you have short hair, then it may not look as good as it does with long hair. The jacket and skirt in this picture actually go quite well with the hat. The brown boots also add something to the overall style. With this style, I would have to make the shirt brown – the same color as the boots. What do you think?
---
7

Black Pants, Grey Jacket, Red Hat - Suspended at Generra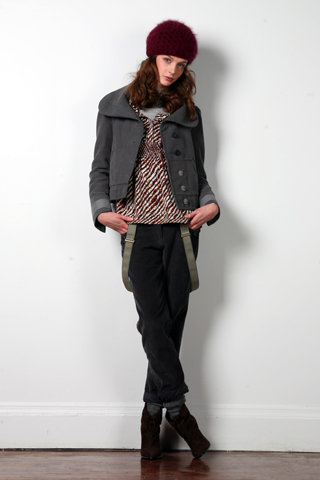 With this style, we are really talking about fashion at its best. The red hat really does look flattering. I also think the grey jacket is neat. I especially like the big buttons on it, the combination of black and grey buttons is definitely interesting. This shirt also stands out and goes great with the outfit. As for the pants, I know many of you may not dig this, but I like those straps hanging down. Do you think those straps would look even better if they were in another color? Maybe a red, the same color as the hat?
---
8

White Long Sleeve Shirt - Giles' Blank Page of a Button-down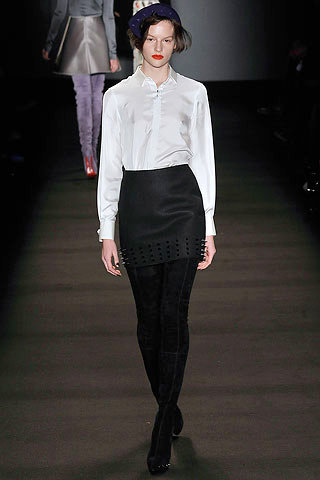 This white long sleeve shirt goes great with nearly any outfit. I think it is so Molly Ringwald, do you notice that as well? It would look great in the office. I like how the buttons at the top do not stand out like many other shirts. Overall, I would not change the way this outfit looks. Would you? Is there anything you could possible change with this shirt?
---
9

Long Black Overcoat from Hanii Y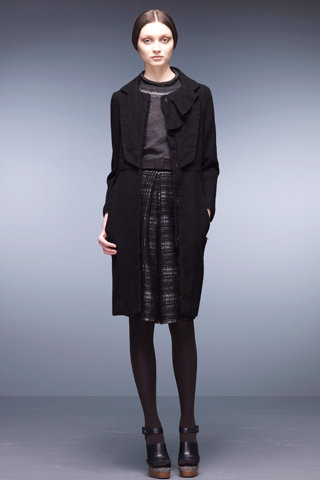 This is a long black jacket and I believe it is going to make it popular this fall-winter. I do like it overall but I wish there was just a bit of color somewhere. I think adding big buttons on it would really add something to it. The buttons could be black, red or white in color. What do you think? It would really make the jacket stand out and not look plain. Or maybe a scarf?
---
10

Green Dress - Ready for Recess at Luella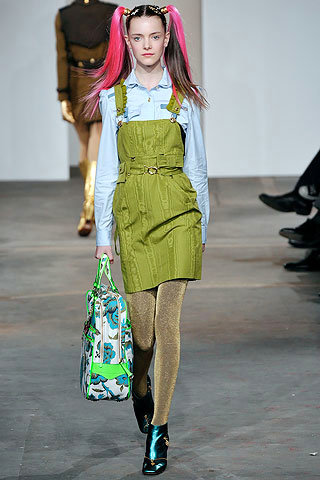 Okay, this is so totally school girlish! This outfit just screams school girl at recess and I think that is who it would look good on. Adding your hair up in pig tails just add something to the outfit. It's a school girl version of a mini skirt, but wearing tights under it will make it look fine. A black undershirt with this dress would look better than a blue one, but that is just my opinion.
---
11

Grey Overthrown - Making the Grade at Marc by Marc Jacobs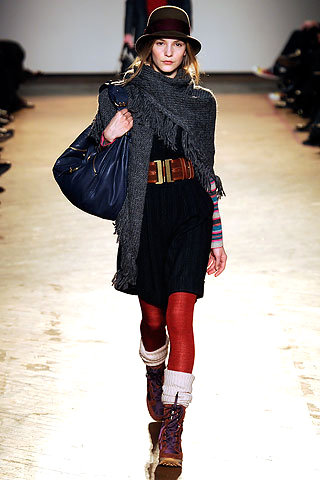 This grey overthrow adds a lot of style. It comes down on the side and wraps around the neck. Around the waistline, it is open, but you have little strings hanging down that are only about four inches long, but they add to the overall appearance of it. If I could change something about this, I would probably make the strings hanging down a different color, but it is no big deal.
---
12

The Black Sweater - Bookish Beauty at Marni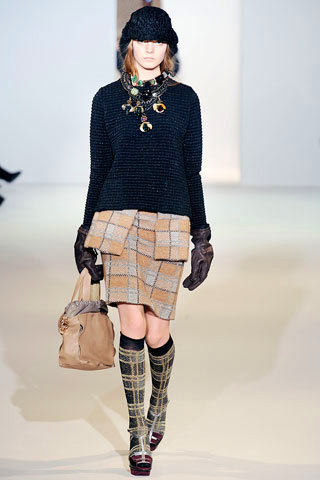 If you are looking for that school girl look, then this should definitely be hanging up in your closet to wear. As you see in the picture, the long sleeves look great with a skirt. However, if you would like to wear it with pants, then it would look great as well. I don't think there is any room to change it as it's great as is.
---
13

Short Jacket - Higher Learning: Proenza Schouler's Short Tweedy Jacket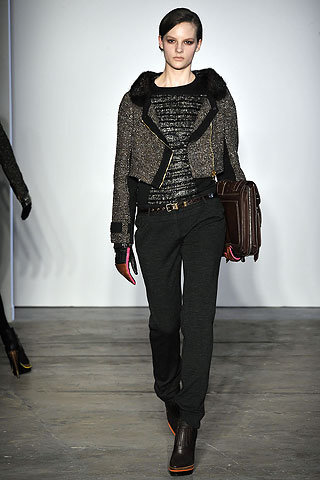 This is a short, trendy jacket. I could see some fabulous business women wearing this as well. It would also look great for an evening out. The clasp that holds it together in the middle adds to the appearance. I like the fact that it does not cover up the shirt that you are wearing underneath. Do you see anything that you would like to change about it? Do you think it should be a bit longer?
---
14

Short Grey Dress - United Bamboo Earns plus Points with Its Neat Pinafore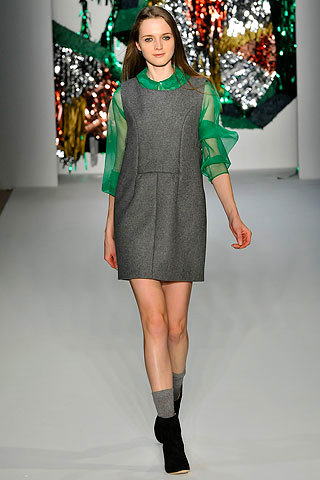 This dress is grey, short and has two grey lines going down the middle for a design. I think that this dress should be worn with tights under it. The lines going down the middle of it do bother me a bit and it may look better if they weren't there. Overall, this is a great dress to wear this fall. What do you think? I think the green shirt under it in this picture adds to it.
---
15

The Cape - Too Cool for L'ecole - Y-3's Dashing Cape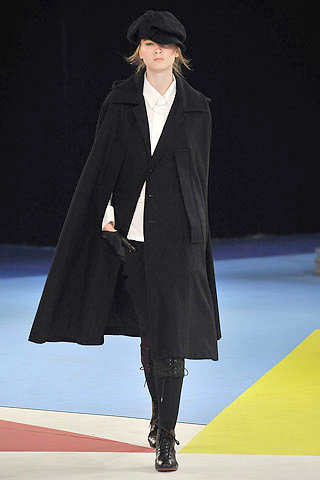 This is such a cool European look. It's as if the model stepped out of the page of a 19th century novel! Although, it might be hard to pull off a cape in real life, I still think this outfit is absolutely wonderful!
So, do you like "Back to School" trend that's so popular right now? Which outfit do you think would look best on you?
Photo Credit: Style.com
More
Comments
Popular
Recent