Oh, Prada wallets! Thank God Prada understands this one basic tenet of fashion — we women want even the most utilitarian of objects to be stylish while still being functional. That's why each of their wallets this season is gorgeous, but still work in the ways we want them to. Here are my picks for the top nine Prada wallets this season.
---
1

Prada Coin Purse with Flap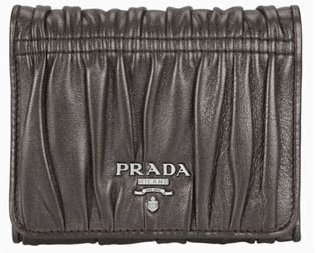 Price: £270 at prada.com
Do you need the most basic of all wallets? Then this one is ideal for you. All you want is a small, sleek coin purse with a slot for each of your eight charge cards or pieces of identification. Available in inky black or the darkest graphite grey with gold-plated hardware and a snap to close. Slide this into your purse or pocket.
---
2

Prada 10-slot Wallet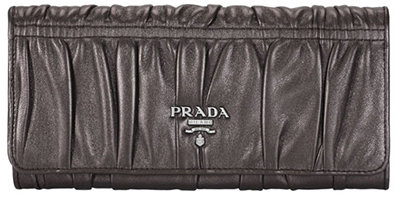 Price: £285 at prada.com
This wallet is almost large enough to carry alone as a clutch bag. It's available in rich embossed black or dark graphite grey leather. This wallet features ten slots for charge cards and a zippered pouch. With gold-plated hardware and a snap to keep it all together. It may even hold your checkbook and some photos of your sweetheart(s).
---
3

Prada Flat Clutch with Zipper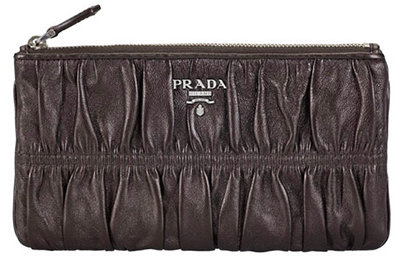 Price: £145 at prada.com
Embossed leather in plush black or very dark grey with gold-tone hardware and a zipper along the top. Lined with Prada-logo fabric and large enough to hold all of your essentials, such as a compact, cash, credit card, identification, condoms, your cell phone, parking pass, and a lipstick. Simple and elegant!
---
4

Prada 4-Compartment Wallet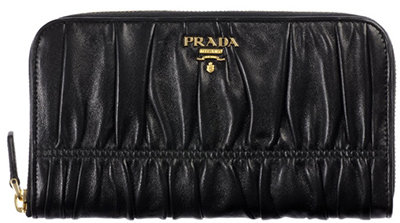 Price: £290 at prada.com
A little wallet for a girl who has a few more needs. This wallet features eight credit-card slots, a zippered coin purse in the middle, and four compartments for paper currency (or other small treasures). Gold-tone hardware on sleek black Nappa leather. Ruche'd across the middle for flair and elegance.
---
5

Prada Simple 4-Compartent Wallet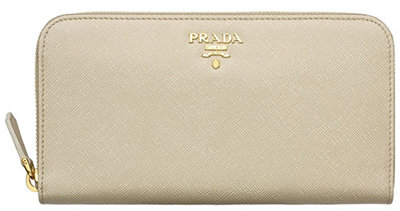 Price: £245 at prada.com
A variation on number 4. Simpler lines, without the ruching and in supple Saffiano leather in stark black or waxy white. With the same gold-plated hardware and a zipper to close. Has convenient slots for your charge cards and identification, along with a change purse in the center and four other compartments for paper currency.
---
6

Prada outside Zipper Wallet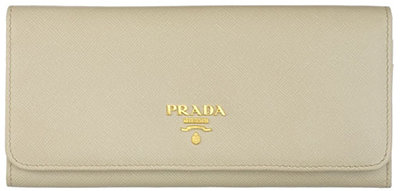 Price: £230 at prada.com
Available in black or white Saffiano leather, this wallet offers the convenience of a zippered change purse on the outside, with another zipper pouch inside, along with ten charge card slots. Snap closure on the outside, and gold-plated hardware.
---
7

Prada Key Holder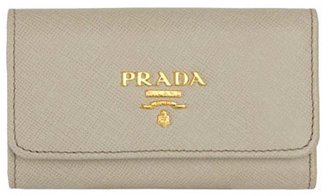 Price: £105 at prada.com
This wallet offers something that none of the others have — six key hooks, so you don't have to carry a bulge of keys in your pocket (thus ruining the sleek look of an outfit). Available in black or white leather with gold-plated hardware and two snaps to close. This key purse also has a slot for a charge card or identification. Tiny, convenient, stylish… perfect!
---
8

Prada Coin Purse with Flap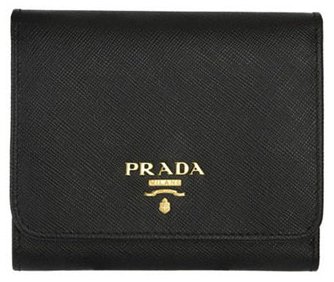 Price: £220 at prada.com
Very similar to item one, with the addition of a secure compartment at the back for paper currency. With eight slots for credit cards and identification, and a handy charge pouch, this would be the wallet for me! Available in black Saffiano leather with gold-plated hardware and a snap to close.
---
9

Prada Coin Purse with Snap-Hook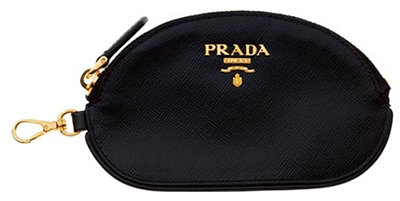 Price: £120 at prada.com
Small and simple! A zippered coin purse in black leather with gold-plated hardware and a snap-hook to fasten to your handbag, larger wallet, or key-ring. I love the rounded shape. It's streamlined and simple, but still elegant. I want this one, too!
I'm going to have to buy myself the last two items, or at least one of them… they're both exactly what I want in a wallet! Among these 9 Prada wallets there is one that's exactly right for you… which one is it? Or is there another one you're in love with? Please let me know!
More
Comments
Popular
Recent