There are lots of things I really love about vintage clothing. Sometimes it's the superior workmanship, or wearing something that has a history. Perhaps most of all I love knowing that I won't see anyone else wearing the same thing. Some of the most amazing vintage garments are dresses, so here are a selection from the most glamourous gowns for you fellow fashion fans to droll over.
---
1

1930s Long Crepe Rhinestone

Price: $582.25 at cgi.ebay.com
There probably aren't many occasions when you could justify spending $600 on a dress, but if you can find one – such as your wedding – then this beautiful crepe dress could fit the bill. It really oozes film star glamour, from the days when stars really were stars.
---
2

1930s Red Wine Velvet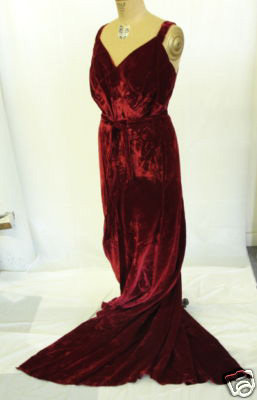 Price: $249.99 at cgi.ebay.com
Another stunning evening gown, that reminds me of many films I've seen from the era. You'd need to be tall to carry off this dress, but if you could it would look truly amazing. The rich ruby red colour would make you feel like a film star, too.
---
3

1940s Leslie Fay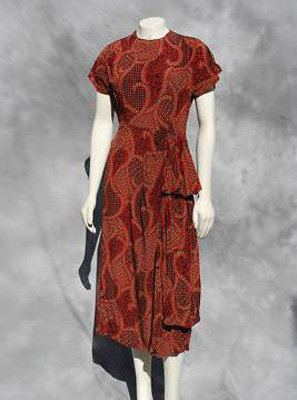 Price: $250 at cgi.ebay.com
This one is more of a day dress, but for someone into the 1940s this would make a great addition to a collection. Imagine setting your hair, slipping into this dress, and then heading off to meet your soldier sweetheart …
---
4

1940s Red Taffeta Swing Dress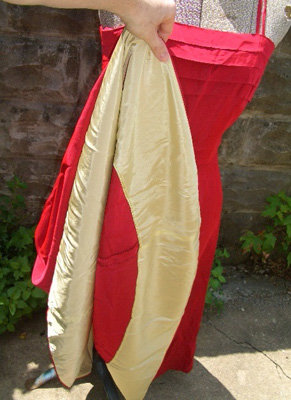 Price: $70 at cgi.ebay.com
If you're really into 1940s dancing, then this dress would be perfect. Its gorgeous red colour is beautifully contrasted with an ivory hem which would look stunning when dancing. The price is excellent for a vintage piece as well.
---
5

1950s Silk Chiffon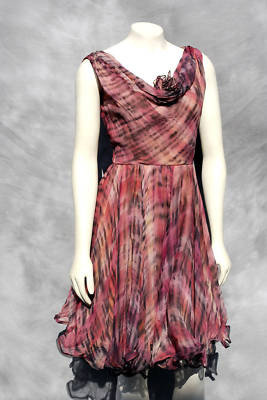 Price: $200 at cgi.ebay.com
This dress is really unusual – if you have a special party, you can be sure that no-one else will be wearing anything quite like it! It looks rather like a very classy tie-dye fabric. You'll love wafting around the room swishing the swirly skirt.
---
6

1950s Peach Chiffon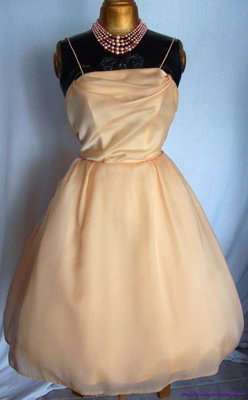 Price: $124.99 at cgi.ebay.com
This would be beautiful to wear to a wedding (although you might look a bit like a bridesmaid). It would also work well for lots of other special occasions. Or you could just hang it on the wall and admire it …
---
7

Mollie Parnis Maxi Dress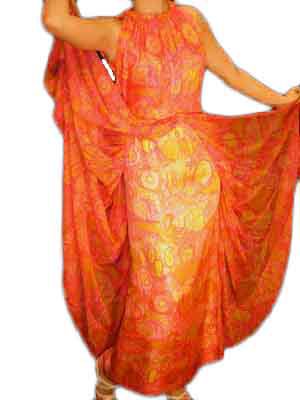 Price: $225 at cgi.ebay.com
Psychedelic, man! This will knock everyone's eyes out, with its bright pinks, yellows and oranges, and would look absolutely stunning on dark or tanned skin.
---
8

Black Halter Neck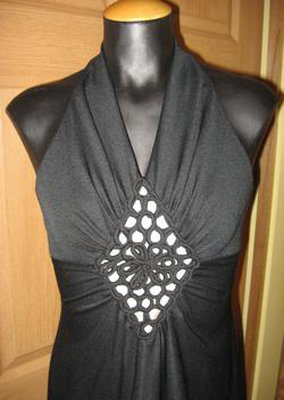 Price: $34.99 at cgi.ebay.com
This looks like something Liza Minelli would wear. With its halter neck and diamond shaped inset, I can just see her lounging around at Studio 54 calling everyone 'darling' and laughing that unique laugh of hers.
Are you a vintage fan? Which is your favourite era? What do you love about vintage clothing?
More
Comments
Popular
Recent